The top photo of Marc Savoy was taken at Festivals
Acadiens in September 2005. The photo of Ann Savoy was taken at Fest for All in Baton Rouge on May 7, 2006, when
she was performing with her new group, Ann Savoy and Her Sleepless Knights. The photos below were taken in 1999.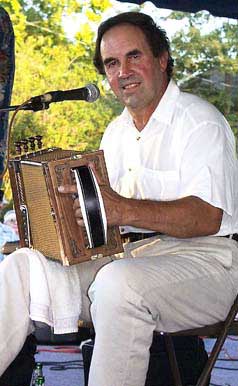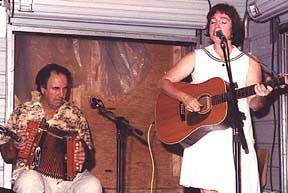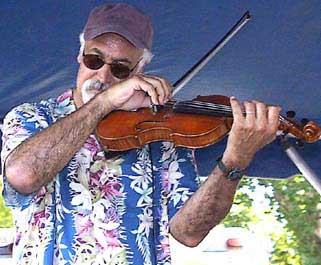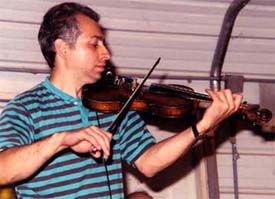 The pictures of Marc and Ann Savoy were taken in 1999 during performances in Eunice and Mamou. The Savoys frequently play with Michael Doucet, shown during a Savoy-Doucet performance in Eunice, and with Ken Smith, shown immediately above during a Savoy-Smith performance in Mamou.
2007: Click here for information on the Savoy Family Band's second CD and on the second Back to Basics CD.
Click here for information on Adieu False Heart, recorded by Ann Savoy and Linda Ronstadt and here for Marc Savoy's instrumental accordion CD, Back to the Basics Savoy Style.
Ann Savoy's Official Web Site has information on all of her activities, including her new group, Ann Savoy and Her Sleepless Knights. Click here for an informational page on the Savoy Family Band.
Click here to for 2001 pictures of Marc and Ann Savoy and the Savoy Family Band and information on the 2003 Savoy Family Band CD.
Click here for 2002 photos and information on Ann Savoy's new CDs, including the Vanguard Release of the Grammy-nominated Evangeline Made and her movie appearance in The Divine Secrets of the Ya-Ya Sisterhood.
Click here for 2004 photos. The Savoys are in the movie America's Heart and Soul.
Click here to go to LSUE's page on Creole Bred. Released in May 2004 by Vanguard after the success of Evangeline Made, it features Creole and Zydeco music.
Born in 1940 on a rice farm near Eunice, Marc Savoy is a central figure in the revival and preservation of traditional Cajun music: as an accordion player who has recorded in collaboration with other major figures in Cajun music, as a builder of some of the best accordions in the world, and as a proponent of an undiluted Cajun musical tradition who invites other musicians to his Savoy Music Center east of Eunice every Saturday morning from 9 to noon for jam sessions. In Barry Ancelet's Cajun and Creole Music Makers, Savoy describes his early fascination with the accordion and his decision, after completing a bachelor's degree in chemical engineering, to remain in Louisiana and build accordions. He also recounts his efforts over a number of years to continue to improve the design of his instruments. Just as he was not willing to compromise the very high standards he set for himself as an accordion-maker, he will not accept any changes to Cajun music that sacrifice its integrity to satisfy popular tastes.
Ann Allen Savoy was born and raised in Richmond, Va. She learned French when she was a child, and she also majored in French in college. Her musical interest began in her childhood, and she began playing the guitar at age 12. She met Marc Savoy at the 1975 National Folk Festival in Washington, D.C., and they were married the following year. Her book, Cajun Music: A Reflection of a People, is an essential source for anyone interested in Cajun or Creole music. It includes music and lyrics in French (including phonetic pronunciations) with English translations to many traditional songs, interviews with dozens of musicians, many of whom have now passed from the scene, many old photographs, plus historical overviews and articles on instruments, and musical styles.
Sam's Big Red Rooster, a 2000 release from the Savoy-Doucet Cajun Band, contains a wonderful collection of old and new songs, filled with joy and sorrow. The biggest surprise is the title song, a great accordion tune in which Marc Savoy offers a kind of Cajun rap, voicing the barnyard viewpoint of a rooster--"Moi je cours les poules tous les grand journées / Que ça pond des oeufs pour Sam manger." Michael Doucet sings and fiddles Iry LeJeune's "Duralde," and Joel Savoy (Marc and Ann's son, who recorded the CD at Studio Savoie Faire near Eunice) plays lead fiddle on "La Bonne Vie," one of several original compositions by the Savoys on the CD. There are wonderful versions of "Jolie Bassette," "Mardi Gras Jig," and "Un Tramp sur la Rue," plus a haunting evocation by Ann Savoy of the tragedy experienced in Southwest Louisiana when Hurricane Audrey struck in 1957 ("C'était Dessus un Triste Samedi"), and other songs that make this CD one to listen to again and again. Once again, Ann Savoy has provided extensive liner notes, including French lyrics with English translations. The CD was honored by New Orleans' OffBeat magazine as the Best Cajun Album of 2000.
Other Savoy-Doucet CDs include Two-Step d'Amédé, Home Music with Spirits, and Live! At the Dance. Doucet is also included with the Savoys on the 1980 cassette, Oh What a Night, now out of print. The Savoys performed with fiddler Ken Smith on Now and Then. Marc Savoy performed in 1976 with Dewey Balfa and D.L. Menard on an album titled Under a Green Oak Tree, available on CD and cassette. Savoy performed in 1979 with the late fiddler Walter "Cheese" Read, available on the CD Cajun House Party. All of the recordings were made for Arhoolie Records.
In 2002, Arhoolie released The Best of the Savoy-Doucet Cajun Band, containing 19 cuts dating back to 1981. The liner notes include profiles of the musicians and Chris Strachwitz's account of his involvement with the group as producer.