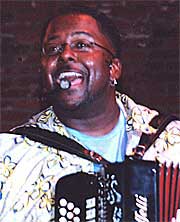 Sean Ardoin is the son of Lawrence Ardoin and grandson of Alphonse "Bois Sec" Ardoin, who is a cousin of Amédé Ardoin, a truly legendary figure whose music is at the root of both the Cajun and Zydeco traditions. If he wants to, as he did on the night these photos were taken at a Contraband Days performance in his hometown of Lake Charles, he can bring that heritage powerfully to life singing his version of Canray Fontenot's "Barres de la Prison" or performing an extended version of Clifton Chenier's "Going Home" as a tribute to all of the Zydeco musicians who are now gone but who are certainly not forgotten in Southwest Louisiana. But Sean Ardoin's own version of Zydeco may seem a radical departure from the "old school": funk, rock, some reggae, and whatever else sounds Kool. Everything is blended into the music with Zydeco accordion riffs at the core and a Zydeco beat that keeps dancers moving.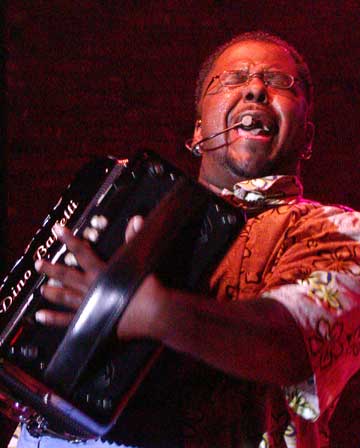 However, as Ardoin told Herman Fuselier, the Lafayette Advertiser's "Bayou Boogie" columnist, he rejects the term "nouveau zydeco": "The truth is we have inherited the music and because we're the current generation that's playing it, we decide what it is."
Ready or not, Zydeco fans are definitely going to hear from Sean Ardoin and ZydeKool. In the fall of 1999, Sean left the band headed by his brother, Chris Ardoin and Double Clutchin' to form his own group. Sean Ardoin and ZydeKool released a self-titled album, produced on his own label and released in early 2000. Then he signed on with two of the most powerful forces in Zydeco: Stanley "Buckwheat" Dural Jr. and his manager, Ted Fox, recording the CD Pullin', released in 2001 under the Tomorrow Recordings label. Through that association, he also was booked to perform on the Black Entertainment Network's hit ComicView show.
Pullin' and Sean Ardoin quickly earned several honors: the album was chosen as one of the top 10 CDs of 2001 by Offbeat Magazine, which named Ardoin as Best New Zydeco Artist.
In the title track, Sean Ardoin makes it clear that he is born into Zydeco, but he will shape it in his own way: "I came through the door pulling, handling my own business." On the other hand, he also dispels any rumors of a split between himself and his brother, Chris Ardoin, who leads the band Double Clutchin': "Don't get mad at me because my family's tighter than yours." And, based on the two brothers' interaction with one another during Sean's last performance as drummer for Double Clutchin' during the Plaisance festival in 1999, there truly was no animosity over Sean's decision to form his own band.

Sean Ardoin fills up two full panels of the CD liner acknowledging the people who have helped along the way. Though he is faithful to his own creative impulses, he knows that we all need to value the support and advice of others, as the list of musicians whom he thanks demonstrates: Geno Delafose, Chubby Carrier, Brian Jack, Terrance Semien, Dirk Powell and Christine Balfa, Rockin' Sidney, Lil' Brian, J. Paul, Step Rideau, Jerome Batiste, Dave Lemelle, Beau Jocque, and Sid Williams.

Musicians who are members of ZydeKool on the Pullin' CD are Henry "Trip" Wamsley and Chuck Bush on bass and rhythm guitar, with Bush also on lead; Raymond Williams and Drew Donaldson on rhythm guitar; Walter "Bully" Judge on rubboard. Ardoin plays both accordion and drums on the CD and does the lead vocals.

The interplay among the musicians, especially in the vocals, and Sean Ardoin's emphasis on lyrics that tell stories and convey a real meaning are among the especially distinctive achievements of this CD.

For information on more recent recordings, go to Sean Ardoin's Official Web Site and check out the cuts available on his MySpace page.