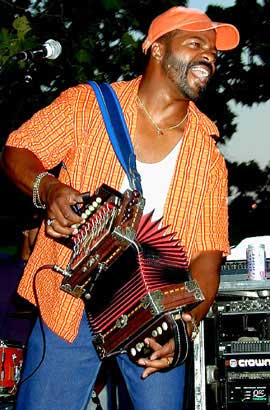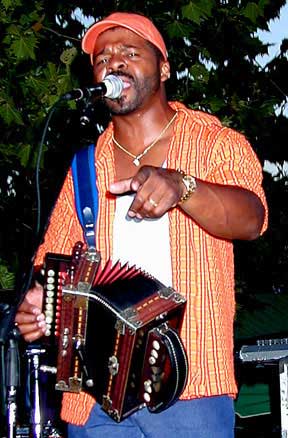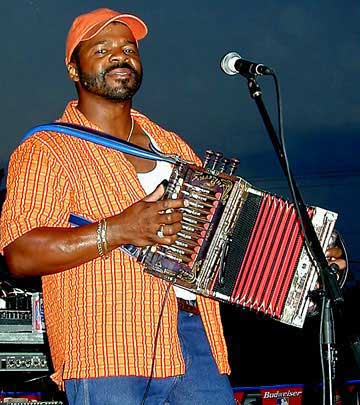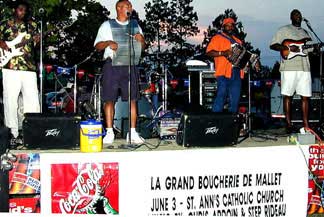 Step Rideau and the Zydeco Outlaws are pictured at La Grande Boucherie de Mallet, held at St. Ann's Catholic Church June 3, 2000. Chris Ardoin and Double Clutchin' performed during the afternoon. During the interval between bands, there was time to sample a variety of traditional Creole foods, including what may have been the best backbone stew ever cooked anywhere at any time on earth. As the sun was setting, Rideau mounted the trailer that served as a stage and began pumping out fast zydeco songs that got both old and young on their feet. Visible behind the dancers in the photograph below are some of the booths and canopies where families gathered located in an open space on the church grounds in front of the church cemetery. Mallet is the original home of zydeco musician Terrance Simien.
Step (Stephen Joseph) Rideau is based in Houston now, but he is a native of the small St. Landry Parish town of LeBeau. Rideau grew up listening to Creole and Zydeco music, including the music of his late grandfather, Wallace Chambers, a drummer and guitar player. He liked to go to zydeco dances in area clubs, but as a young man he had no plans to become a musician himself.
After the Lafayette-area economy collapsed when the price of oil dropped precipitously in the mid-1980s, Rideau moved to Houston, where in 1986 he went to work in construction. He also began attending zydeco dances at area Catholic churches. After watching Boozoo Chavis perform, he became determined to learn to play the accordion himself. Rideau told interviewer Roger Wood that he bought a dilapidated Hohner accordion in a pawn shop for $45, practicing on his own before he got an opportunity to sit in with a band at a church bazaar. He next purchased a good button accordion, practiced some more, and soon was sitting in with Boozoo Chavis and other zydeco legends. He formed his own band, The Zydeco Outlaws, got gigs at area clubs, and before long was playing at the Continental Ballroom, which used to be a zydeco mecca in Houston.
In an interview with Herman Fuselier, Rideau credits the late Rockin' Sidney Semien with teaching him about the music business. Semien, who went to school with Rideau's mother, was a native of LeBeau (he is buried in the cemetery at the Immaculate Conception Catholic Church in LeBeau). Taking Rockin' Sidney's advice, Rideau became part owner of Bridge Entertainment, Inc., so that he maintains control of the sale and distribution of his music.
His first CD, released in 1995, was titled Here Comes Step Rideau. Other CDs include Steppin' On, I'm So Glad, and Don't Ask Why. In Standing Room Only, released in 1998, Rideau includes "Love in the Barn," sung in French; "An Cayenne," sung as a tribute to Rockin' Sidney; songs from Boozoo Chavis and John Delafose; and Rideau's own compositions.
More recently, Rideau has moved toward music that incorporates hip-hop and other influences, inviting guest rappers to perform, fusing music from rural Louisiana where he was raised with the urban sounds of Houston.
Rideau and the Zydeco Outlaws play very frequently at clubs, festivals, and trail rides throughout Southwest Louisiana, including, of course, at the Immaculate Conception Catholic Church in his home town of LeBeau.