Damon Troy, July 4, 2003


Damon Troy and Louisiana Beat are shown in this section during a down-home noontime performance in Crowley on July 4, 2003. Band members are Bryan Perrin on piano (and twin accordion), Kevin Cormier on guitar, Mark Miller on bass, and Kevin Stelly on drums.

Damon Troy's second CD, Blowin' Like a Hurricane, released in 2000, is mostly in English, but he includes two new French songs, "Who's Gonna Make the Pretty Girls Dance?" and "The Prayer." His 2002 CD, What Next, which offers a nice variety of high energy numbers and romantic ballads, is almost entirely in English. However, during the live performance shown here, Damon Troy gave the crowd a generous helping of Cajun favorites, including a traditional acoustic set. After playing "The Creole Stomp" (shown below), Damon switched to steel guitar and they played "The Duson Waltz," followed by "Les flammes d'enfer."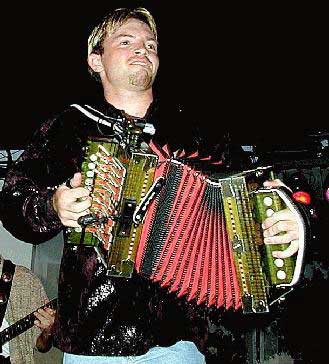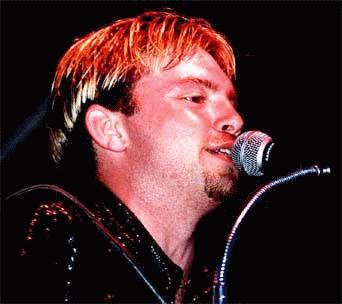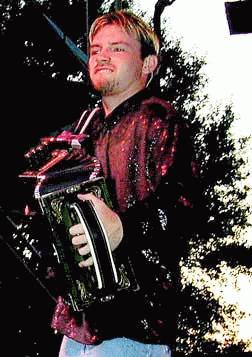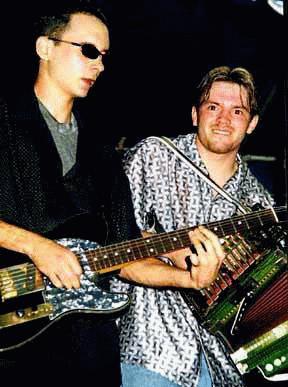 The individual pictures of Damon Troy were all taken during the 2000 Breaux Bridge Crawfish Festival. The shot of Troy with lead guitarist Kevin "Turtle" Cormier was taken at the Eunice Fall Fest in November 1999. The picture below of the band was taken at the Crawfish Festival.
Damon Troy and Louisiana Beat are a high energy band performing French and English songs with a sound reminiscent of Wayne Toups. Attempting to photograph Troy as he moves quickly around the stage can be like trying to take pictures of an athlete's maneuvers in a fast-paced competition. Dressed in his trademark shiny shirts, he commits himself totally to his music and to conveying his love of performing to the audience.
With the release of his first CD in 1999, titled Damon Troy, the young musician has gained a wide following in Southwest Louisiana. The band performs regularly at festivals and at night spots throughout the region.
The CD includes versions in French of Cajun standards like Aldus Roger's "Triangle Club Special," "Little Girl Next Door," "Petite ou La Grosse," and "Big Mamou" (sung mostly in English), as well as the zydeco song "Les Haricots Sont Pas SalÚs." English songs include "Misery," written by Blaine Gaspard, who plays acoustic guitar, bass guitar and sings with the band, "Radio Up, Windows Down," "I Can Sure Love You," "Secrets That You Keep," and "Fool."
Other musicians performing on the first CD include Kevin "Turtle" Cormier, lead guitar and vocals; Philip "Gold Dust" Knowlton, piano, synthesizer and vocals; Kevin "Kirby" Stelly, drums; Troy "Zydecajun Wildman" Gaspard, drums.
The CD was released on Sugartown Records in New Iberia, (337) 560-4700.