Click here for high resolution photos of Terrance Simien on Flickr.

Click here to visit Terrance Simien's Official Web Site or here for his MySpace Page.

Congratulations to Terrance Simien and the Zydeco Experience, the first recipients of the newly established Grammy Award for the Best Zydeco or Cajun Album, given in Los Angeles Feb. 10, 2008. The album LIVE! Worldwide presents Terrance's best work, performed to crowds across several continents. Terrance and his wife, Cynthia, labored long and hard to get the category established, so it is especially fitting that the first award go to a musician who in every way is an outstanding representative of Zydeco and all of Louisiana music.

Photos in this section were taken at
Downtown Alive! in Lafayette Nov. 2, 2007.

2007 CD:
LIVE! Worldwide

Terrance Simien's 2007 CD LIVE! Worldwide has been nominated for a Grammy in the new Best Zydeco or Cajun Album Category.

From Mali in West Africa to Australia to Mexico to Europe and even to Cuba (at a U.S.-sponsored event in the Swiss Embassy), Terrance Simien can easily lay claim to being America's most widely traveled ambassador for zydeco. Not only does his 2007 release LIVE! Worldwide offer a sampling of live recordings made in recent years during his tours, but the selections incorporate musical elements from other cultures that Simien has blended into his own unique version of worldwide zydeco.

The quality of the live recordings is uniformly excellent. Simien's voice on stage is just as smooth and expressive as in hisstudio recordings, with the added excitement of hearing cheering fans.

Individual cuts offer their own musical journeys, traveling, for example, from "Iko Iko" to "When the Saints Go Marching in" to "Brother John" to "Jambalaya" and back to "Iko Iko." Other cuts include "Dance Everyday," "Zydeco Boogaloo," "Uncle Bud," "Mississippi," "You Should Know Your Way by Now," "Hey Pocky Way / Fire on the Bayou / People Say," "Mardi Gras in the Country," "The Pianist" (featuring keyboardist Danny Williams), "Pet De Kat Krew," and "Johnny Too Bad." The CD closes with an a capella version of "The Star Spangled Banner," dedicated to Americans in the Armed Services.

After his long and ultimately successful campaign to add a Zydeco-Cajun category to the Grammy Awards, it is fitting that Terrance Simien receive a Grammy nomination for this CD in the new category. Live! Worldwide not only displays the musical excellence of Terrance Simien and the Zydeco Experience but also is a tribute to his efforts for many years to bring zydeco to the far corners of the globe. The CD was released by AIM Trading Group in Australia.

2006 CD:
Across the Parish Line

Go to Terrance Simien's Official Web Site for more information.

Click here for photos of a gathering on June 13, 2007, celebrating the successful campaign to initiate a Zydeco/Cajun Grammy category.

Terrance Simien's 2006 CD is titled Across the Parish Line. In his more than two decades as a top zydeco musician, Terrance has traveled all over the world, far beyond his native St. Landry Parish. His musical roots are still in the rural community of Mallet and the Creole family that nurtured him, but he also has developed a deep appreciation for his culture's ties to distant lands, from the West Indies and Caribbean islands to Africa and beyond.

His music incorporates—or, better yet, creolizes—these influences into a smooth, rich musical blend. Listeners get to join Terrance on his journey, exploring new sounds and new possibilities along paths that connect together in surprising ways. In the opening song, "You Should Know Your Way by Now," Terrance reaffirms his pride in his Creole heritage at the center of his music. The rest of the CD lets us experience Terrance's odyssey, the music from other lands and the many friends he has made everywhere.

"Corrina" offers a fusion of reggae and zydeco with a nod to the Taj Mahal version. According to the liner notes, "Dance Everyday" was inspired by the music of Youssou N'Dour from Senegal. The mostly French lyrics celebrate the joy of life as a dance, a feeling also conveyed by the African percussion and Terrance's sweet accordion melody.

The most unexpected song may be "¿Cómo Viviré, Mi Cholita?", which features David Hidalgo from Los Lobos and was inspired by a 2005 trip to Cuba to play at the U.S. Interest Section of the Swiss Embassy in Havana (the first zydeco band to perform in Cuba).

The CD includes a 1985 version of Clifton Chenier's "You Used to Call Me" on which Paul Simon contributed four-part harmony. According to the liner notes, Terrance was 19 when he made the recording with Simon, who was in Louisiana learning about zydeco as he worked on his Graceland CD. Only 500 copies of a 45 of the song were pressed for use mainly as a promo. After that, the recording stayed in the vault for 20 years, but the experience working with Simon led Terrance to explore more complex harmonies in his music.

Other guest musicians on the CD include Marcia Ball, who joins Terrance in a beautiful duet version of Willy Nelson's "Always on My Mind," and, from a 1999 recording of "Twilight," Garth Hudson and the late Rick Danko of The Band. Other cover songs have lyrics that apply to the catastrophe of Hurricane Katrina: Bob Dylan's "Mississippi" (with lyrics altered to refer to New Orleans) and a soulful version of Randy Newman's "Louisiana 1927."

The CD offers the first complete version of "Closer to You," co-written with Dennis Quaid, who sang it to Ellen Barkin in the1985 movie The Big Easy. "Nobody But You" is an original love song that Terrance wrote as another expression of his love for his wife, Cynthia.

Terrance takes the bouncy melody of "The Crawdad Song" (the one that begins "You get a line and I'll get a pole…") and creates a lively tribute to Pet de Kat Krewe.

The CD closes with a remix of an earlier cut, "Ta Pa Gonne avec Ça," which blends old-time Creole accordion with an international beat interweaving repetitions of French lyrics about zydeco dancing in a truly unique sound: "Tous les jours c'est pas la même chose." With Terrance Simien, as this CD richly demonstrates, each day is a different journey, and we are fortunate enough to be able to travel along.

The photos of Terrance in the traditional Senegalese hat were taken at Downtown Alive! in Lafayette in 2004. According to the very interesting and informative liner notes to his CD Across the Parish Line, the hat was given to him by Miss Guidry, his elementary school teacher. It is an additional way, beyond his music, of making a connection with his African heritage. The other photos were taken at El-Sido's in Lafayette during the 2005 benefit, held each year by Sid Williams before Thanksgiving to help the unfortunate have a nice Thanksgiving meal.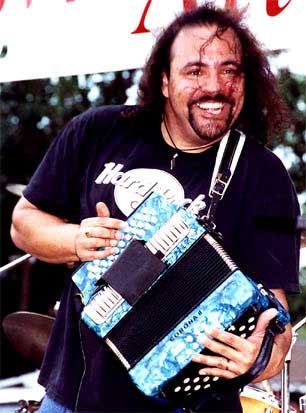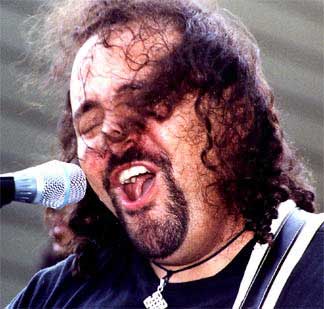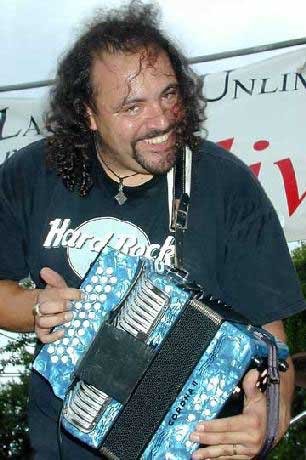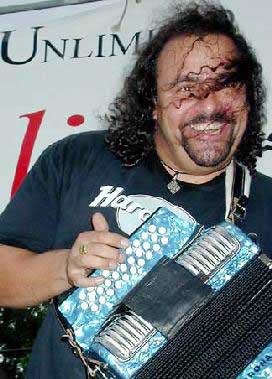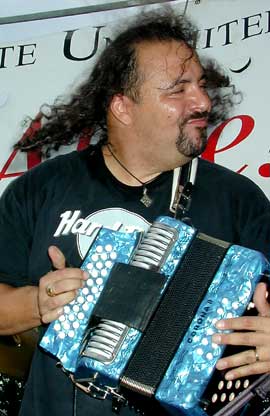 Be sure to visit Terrance Simien's Official Site for the latest information, tour dates, more pictures, and contact addresses. Teachers: be sure to click on the link titled "Creole for Kids!"
Born in 1965, Terrance Simien grew up in Mallet, about 10 miles east of Eunice. While still a boy, he began singing in St. Ann's Catholic Church in Mallet, finding in music a powerful way to express the many dimensions of the spirituality that runs deep and wide in the Creole culture of Southwest Louisiana.
Simien also came to idolize the soulful singing of Aaron Neville and the late Sam Cooke, whose own career began in gospel music. As a teenager, Simien's musical interests broadened to include the Zydeco music that was performed at church dances and also at Richard's Club, located just down the road a little east of Lawtell. While Zydeco has a strong sensual appeal, it is certainly also soul-stirring music that from its beginning has found a home a dances sponsored by Creole Catholic churches.
While still a teenager, Simien learned to play the accordion, formed his own band, and, with his brother Greg, who is now a Catholic priest, began to write songs. In 1984, he gained attention with an appearance at the World's Fair in New Orleans.
In 1986, Paul Simon considered using him on his Graceland album. Although Simien wasn't included on the album, a recording of the two performing Clifton Chenier's "You Used to Call Me" was released as a single.
Then, in 1987, Terrance Simien and his band, the Mallet Playboys, appeared in the hit movie The Big Easy: they are the house band playing at Tipitina's, the New Orleans club where Dennis Quaid takes Ellen Barken. Simien and Quaid co-wrote one of the movie's songs, "Closer to You."
As he matured as a musician, Simien was open to a variety of musical influences: soul, funk, reggae, and rock. Simien's first album, Zydeco on the Bayou, which was released in 1990, offers this eclectic mix. His deeply moving version of "Will the Circle Be Unbroken," sung as a tribute to Clifton Chenier, is still played frequently on Zydeco radio programs in Southwest Louisiana in memory of musicians who have passed on.
In 1993, Semien released There's Room for Us All, which includes a guest appearance by a New Orleans funk band, several reggae-influenced numbers with guest appearances by former members of the Neville Brothers' band, and traditional Zydeco with "Uncle Bud," "Dog Hill," "Zydeco Boogaloo," and "A ma maison."
His 1999 release, Positively Beadhead, is on the Tone-Cool label, part of Rounder Records. A "Beadhead," according to the liner notes, is a dedicated Simien fan who especially anticipates that moment in his performance when he tosses beads to the crowd in the style of the New Orleans Mardi Gras. The name is also a Louisiana version of "Deadhead," the title given to fans of Jerry Garcia and his band, The Grateful Dead. "Grandma's House," one of the songs on the CD, describes a paradise where the recently departed Jerry Garcia is singing with Janis Joplin. Jimi Hendrix, and Sunnyland Slim.
Most of the other songs, including "All Her Lovin'," "The Old Road," "Paradise," and "Same Dog," were written by Simien, whose sweet, smooth voice glides along through lyrics that tell stories of love and desire or deliver images that flow along with the melody. He also includes two instrumentals, "La Neuville Danse" and "Macque Choux" (the name refers to the Creole/Cajun version of stewed fresh corn).
To develop the Mardi Gras theme, Semien includes his own "Mardi Gras in the Country" and a New Orleans Mardi Gras song, "Shake Your Tambourine."
The CD offers a six-minute soulful version of "Jolie Blonde" and covers of "500 Miles" and "Keep on Smilin'."
Musicians on the CD include Danny Williams on keyboard and vocals; Dowell Davis on drums and vocals; Ralph Fontenot on frottoir; Wayne Dalcourt on guitar; Nick Lewis on bass; and Nicole Yarling on fiddle.
Jam the Jazzfest, an EP disk, was released on the Tone-Cool label in 1998 with five cuts, including "May Your Music Live On," a tribute to Eunice's John Delafose.
In summer 2001, Tribute Sessions was released by AIM Records of Australia. Semien offers his own interpretations of the music of Canray Fontenot ("Les Barres de la Prison") and of Zydeco legends Rockin' Sidney Simien ("My Toot Toot," "If It's Good for the Gander"), Clifton Chenier (a 5-minute version of "I'm Coming Home," "Zydeco Cha Cha"), John Delafose ("Joe Pete Got Two Women," "Ma Negresse"), Rockin' Doopsie ("That Was Your Mother" from Paul Simon's Graceland album), and Beau Jocque ("Yesterday"). He also sings "Rome Wasn't Built in a Day" by Sam Cooke, one of Simien's main musical idols, by Rick Danko and The Band, and by Bob Marley ("Waiting in Vain," an example of Simien's fusion of Zydeco and reggae). Interspersed between the cuts are Simien's own engaging stories about his relationships with the musicians to whom he pays tribute and about the development of Zydeco.
In 2002, Simien released Creole for Kids, designed to present the history and culture of the Creole people of Southwest Louisiana in a format accessible to children. State Senator Donald Cravins, a native of Mallet (and long-time Zydeco promoter), provides the narration as Poppee, the oldest living Bald Cypress tree who has seen the development of Creole culture over the centuries, from slave times to the present. Simien performs music to illustrate the narrative: "Creole Mardi Gras Run" (there's also some of the old Creole Mardi Gras chant on the CD); Amédé Ardoin's "Midland Two-Step" as an example of music from the house dances; "Zydeco Extravaganza" (Zydeco Force's tribute to the club scene); Simien's own "Take Me to the Trail Ride"; "Oh My Lucille," a tribute to Clifton Chenier, the King of Zydeco; and Simien's songs about crawfishing and Creole cooking. Simien has given live performances "Creole for Kids" around the country. The CD is further evidence of his strong commitment to supporting the preservation of the culture in which he was raised and in which all of his music has its roots. His web site includes more information about the CD and related educational activities.
---
Most of the photographs on this page were taken in May 2001 at Downtown Alive! in Lafayette: Terrance Simien with his wild hippie hair and Hard Rock t-shirt singing soulful Zydeco, a moving tribute to Boozoo Chavis, beautiful Creole waltzes, and traditional two-steps. The two photos in the bottom left column were taken in Lawtell in 2003. Click here for a few more photos taken in Lawtell.