UPDATE: In 2003, Moïse and Alida Viator with Eh, La-Bas! released a CD, Mermaids of the Canary Islands, and in 2006, their final CD, Creole Fusion. Hurricane Katrina separated musicians in the band, and everyone has now moved on, but, for some truly different Louisiana French music, it's worth tracking down these CDs.


---




The photo above was taken at Festival International de Louisiane, held in Lafayette in April 2001. Click here for more photos from 2001.

Creole is a word whose reference changes depending on where you live in Louisiana. But that process may itself be central to the meaning of Creole: transformations that mix and blend and create something magical, wondrous, exciting, irresistibly appealing. That describes the Creole music of Moïse and Alida Viator with Eh, La-Bas! on their 2003 CD, Mermaids of the Canary Islands, recorded in Eunice at Fred Charlie's Acadiana Sounds Recording Studio.

| | |
| --- | --- |
| Alida Viator is shown performing Cajun songs during the 2003 Eunice Mardi Gras. On the CD, she displays her mastery of Creole fiddling styles, and her brother, Moïse, is equally adept on guitar. Their different vocal styles, ranging from Alida's sassiness to Moïse's explosive version of New Orleans skat, add to the richness of the Creole mix. The CD credits list the other musicians in Eh, La-Bas!, including, most notably, their father, Étienne Viator, on percussion and vocals, as well as other players on piano, sax, trumpet, bass, and Moïse on gitjo. | The CD features the sounds of New Orleans Creole jazz, filled with Cuban and Caribbean rhythms in songs like "Vandèr Pistach" and the Haitian song "En Saw," which segues into "Jou Dan Tan Kreyòl" in French and English. But the Viators' creolization encompasses much more, for example, Creole versions of "Rockin' Pneumonia," "Dinah," and Donovan's "There Is a Mountain," as well as the Creole song "Kan Mo Te En Piti" mixed with bits of "Wipe Out," "Blue Moon," and "Sea Cruise." Sounding both coy and seductive, Alida offers her version of a 1927 jazz song, "Short-Dress Girl," with added French lyrics about alligators that make crossing a bayou in a dress even more perilous. Also on the CD is an example of New Orleans Creole music that found its way into Southwest Louisiana when, in 1956, Yvonne LeBlanc with Nathan Abhsire recorded the Creole/Cuban song "Mama Inez" (the inspiration for a BeauSoleil song titled "Cubano Bayou"). The Viators perform "Mama Inez" in the New Orleans Creole style with a few licks of rock guitar tossed in. And there's also the Viators' version of "Malinda," a Canray Fontenot song influenced by his exposure to music of the Caribbean he heard at folk festivals. From the islands, from New Orleans, from the prairies of Southwest Louisiana, it all comes together in the Creole music of Mermaids of the Canary Islands, a CD overflowing with joy and energy. |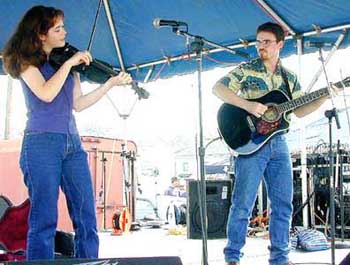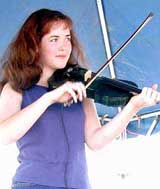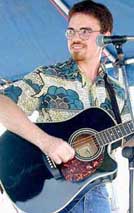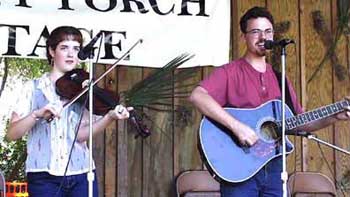 Moise and Alida Viator have performed at festivals and other events all over Louisiana, as well as across the United States and in Canada. They are shown above in 1999, at the Eunice Fall Fest in the top three photographs, at the Southwest Louisiana Zydeco Festival, and, in the bottom photo, at Festivals Acadiens in Lafayette.
Click here for pictures from April 2001.
Moïse and Alida Viator are a brother and sister team whose first album, "Mo Belle Créole," offers a diverse collection of songs sung in Louisiana Creole French: traditional Cajun songs like "One-Step de Choupique" and "Joe Feraille," New Orleans Creole songs like "Salut, Dame" and "Madame Pedeaux," Southwest Louisiana Creole songs like "Madame Étienne" and "Dansez Codine," a Creole version of the New Orleans pop hit "Fortune Teller," plus original songs. Moïse and Alida are joined by other musicians like David Greely from the Mamou Playboys, zydeco musicians Chuck Bush and Paul Edwards, D'Jalma Garnier and Ward Lormand from Filé, and others, including New Orleans jazz musicians on several numbers. Zydeco, Cajun, Creole, jazz--those are just some of the combinations of sounds offered on this CD. Étienne Viator, father of Moïse and Alida, a law professor who is also an excellent musician, co-wrote one song and sings on several of the 20 cuts on the CD. Their mother, Deborah-Helen Viator, also does harmony vocals and plays bass guitar on several cuts.
In 1999, when the photos were taken, Moïse and Alida Viator had been playing Cajun and Creole music for eight years. Moïse, 18, was enrolled at LSUE, majoring in pre-medicine, and Alida was 15. In addition to their musical performances, Moïse and Alida work with their mother making violins, a craft they learned from 80-year old Adner Ortego, who also plays fiddle on the CD, which includes a couple of his songs. The Viators live in Tasso, a rural community near Eunice.