Walter Mouton Jr. is a legendary Cajun musician whose reputation rests almost solely on his live performances at Cajun dances. His band recorded "The Scott Playboys Special" as a single in 1970, and his music is also heard on the sound track to the film J'ai êté au bal, but he is best known for his Saturday night performances at Breaux Bridge's La Poussière Club. He started playing there some 35 years ago, beginning his weekly gig in the mid-1980s.

Mouton, who was born in 1938, put together the first version of the Scott Playboys in 1952 when he was 13. Original members were Rodney Miller, John Allen Guillot, and Leeman Prejean. According to the biography compiled by the Cajun French Music Association, which named him to the CFMA Hall of Fame, the Scott Playboys performed at such establishments as the Colonial Club in Estherwood, the Reno Club in Kaplan, T-Maurice in Bosco, the China Ball Club in Bristol, the Triangle Club in Scott, Jolly Rogers in St. Martinville, and Happy Landing in Arnaudville.

The band kept going by changing with the times, adding country and western as well as rock and roll songs to their repertoire to try to meet dance hall requests. But with the revival of Cajun music, the band has for a long time been able to play only the music that they love: Cajun songs with a beat designed for dancing. As Mouton told Dominck Cross in an article in the Baton Rouge Advocate highlighting the dedication of the 1998 Festivals Acadiens in his honor, "I consider myself a dance band as (opposed) to an authentic Cajun band." Other band members are Chris Lougon on steel guitar; U.J. Meaux, fiddle; Buddy Myers, bass; Ronald Prejean, drums.
Note: Uray Jules Meaux, a mainstay in Cajun music for decades, died July 7, 2006.

Click here for photos of Walter Mouton and U.J. Meaux at the Balfa Heritage Weekend in 2004.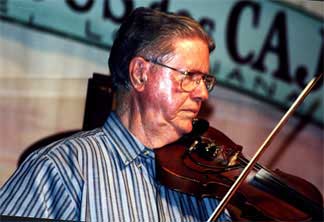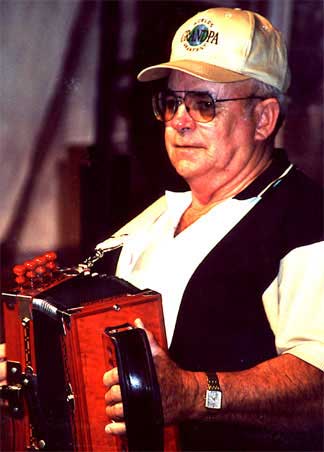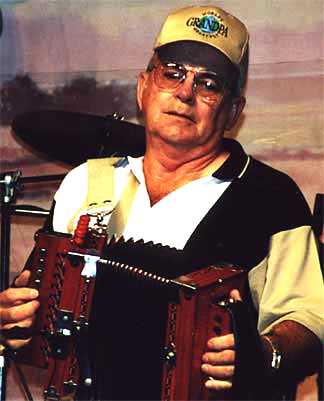 Walter Mouton Jr. is shown performing with the Scott Playboys, including U. J. Meaux on fiddle, at the Liberty Theater in Eunice during spring 2000. Mouton occasionally plays at festivals outside of Louisiana, but for the most part he enjoys performing every week at a nightclub in Breaux Bridge. The bottom photograph was taken in 1999 at Festivals Acadiens.