Shown below are photos from Saturday's Roots Heritage Day (April 21), which extended from late morning until late evening. Click on thumbnails to access larger photos.

Dances were held under a big tent, while workshops and jam sessions were offered at nearby locations.

| | |
| --- | --- |
| Community members sold a variety of Cajun and Creole dishes (including cochon de lait roasted on a Cajun-converted charette), and arts and crafts were also on sale. | The transformed charette (click for larger photo) |

Still photos, of course, do not offer much beyond a sense of the visual ambience. For videos, trying searching "Balfa Camp" or similar terms in YouTube and be sure to check out the photos and videos at CajunTunes.com.

Click here for photos of the evening dances held April 20, 22, 23, 24, 25 and 26.

Overview of Dewey Balfa Cajun
and Creole Heritage Week
The 2007 Dewey Balfa Cajun and Creole Heritage Week, held April 20-26 at Chicot State Park, attracted about 105 campers coming from some 40 states and six foreign countries. The daytime activities were limited to the campers, but each evening members of the surrounding communities joined the campers for dances featuring top Cajun, Creole, and Zydeco bands. Roots Heritage Day, shown in the photos on this page, was open to everyone, both campers and community members from throughout the region.

The Heritage Week, sponsored by Louisiana Folk Roots, is named in honor of the late Dewey Balfa, a phenomenal musician who played a key role in reviving and preserving the French cultures of Southwest Louisiana. For more information on the Balfa Heritage Week, go to the Louisiana Folk Roots web site.
---
---
Corey Ledet and His Zydeco Band
---
T-Salé
---
Bonsoir, Catin
---
Recognition: Jodi Hebert
Jodi Hebert, former executive director of Louisiana Folk Roots, was honored Saturday evening for her hard work and dedication. Making the presentation is Eric Fahey, who each year constructs the wooden dance floor for the Heritage Week, joined on stage by members of the Balfa family, who served as volunteers for the event.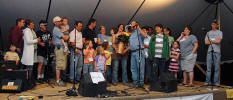 ---
Nathan Williams and the Zydeco Cha Chas
---
Dancers
---
Workshop: Juré
Cecile Broussard led a workshop on the very old juré tradition of call-response singing in which hand-clapping and foot-stomping provide the rhythm.
---
Workshop: The Music of Cyprien Landreneau
The workshop highlighted the life and music of the late Cyprien Landreneau, including recollections by his daughter, Margaret Aucoin, and son-in-law, Gilbert Aucoin (aka Chicken and Winky Aucoin), his grandsons, Louie Aucoin, playing his high-tech version of a washtub bass, and Jean-Jacques Aucoin on accordion and vocals, with Lee Tedrow on guitar and Dirk Powell on fiddle. As leaders of the band T-Salé, the two grandsons perform several songs originally played by Adam and Cyprien Landreneau, who were cousins.

---
Workshop: The Music of the Balfa Brothers
Participants included Christine Balfa Powell, daughter of Dewey Balfa; Ray Abshire, who played with the Balfa Brothers after his distant cousin Nathan left the group; Peter Schwarz, who apprenticed with Dewey Balfa, developing a very close relationship (when he died in 1992, Dewey left Schwarz his fiddle); and Courtney Granger, Dewey Balfa's grand-nephew whose vocals and fiddle style carry on the Balfa tradition. For some videos of the workshop, go to CajunTunes.com.
---
---
Jam Sessions
Leading the sessions are, from left photo, Jeffery Broussard, Courtney Granger, and Kristi Guillory.