After the cancellation of the 2005 party in the aftermath of Hurricanes Rita and Katrina, everyone was really eagerly anticipating the 2006 event. The weather was warm but dry when hundreds of fans from near and far (as distant as California) gathered starting 5 p.m. Saturday, Sept. 30, 2006, at the Northwest Community Center Pavilion in Eunice for the 9th annual Geno Delafose Fan Appreciation Party. Geno and his guest musicians supplied nearly six hours of great zydeco music. Geno and his family and friends also prepared a free supper, with a choice of barbecue pork or chicken with potato salad and peas, plus cake for dessert–all free courtesy of Geno Delafose.

After Geno and French Rockin' Boogie played for nearly two hours, Same Ol' 2-Step took the stage to provide more than an hour of more hard-hitting zydeco while Geno went around the pavilion personally greeting each of his fans. Other guest musicians included Brandon Ledet, Willis Prudhomme, Miguel Fontenot, and Corey Ledet.

By about 10:30, Geno was back on stage to close out the show, ending with his revved up zydeco versions of "The Back Door" and the "Eunice Two-Step" and his own cover of "Promised Land."

Black, white, young, old, and all ages in between– everyone had a great time. Next year's fan appreciation party can't come too soon.

Click on thumbnails to access larger versions of all photos except the two large photos of Geno at right.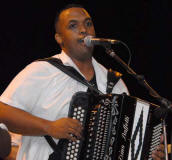 Corey Ledet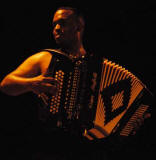 Corey Ledet
\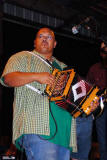 Brandon Ledet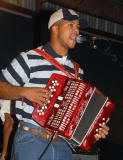 Wayne Singleton of
Same Ol' 2-Step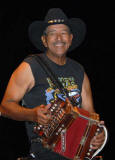 Willis Prudhomme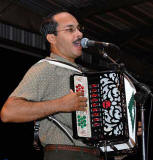 Miguel Fontenot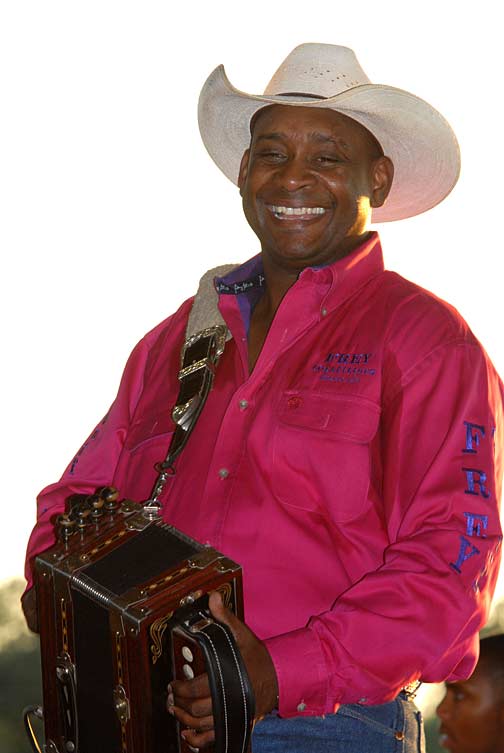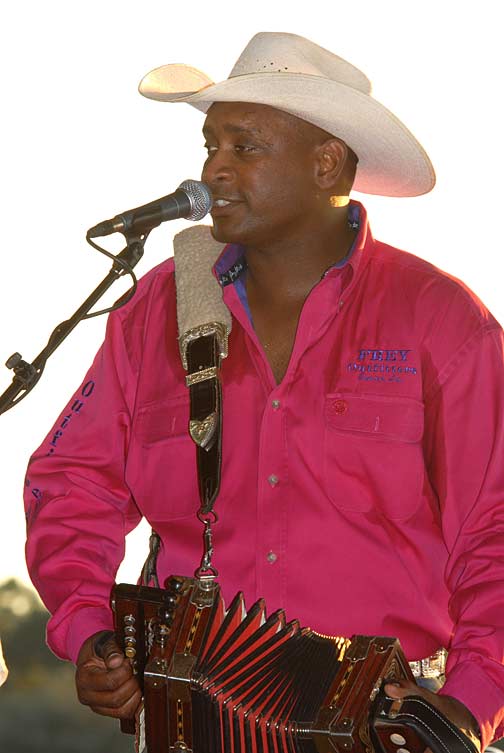 Click on the photo above to see a larger photo of the family members
and other volunteers who helped out at the Fan Appreciation Party.
Click here to go to the opening page on the fan appreciation parties.