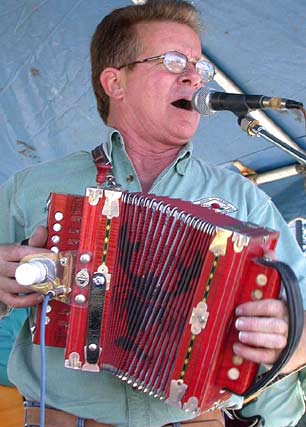 Jesse Legé and the Southern Ramblers opened the main stage at 10 a.m. performing, among other numbers, their signature song, "Les mémoires de mon coeur."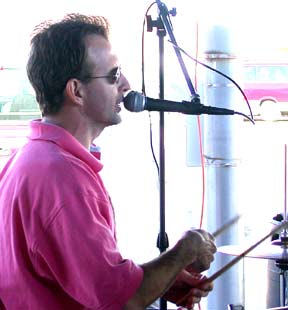 The picture above and the two below it are from the performance Saturday afternoon by Kenneth Thibodeaux and Cajun Dance. Ray Thibodeaux above is shown on drums and vocals.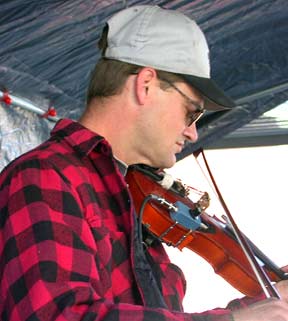 When he is not playing accordion with Travis Matte and Lagniappe, Jason Frey is Cajun Dance's fiddler.

Kenneth Thibodeaux is shown on accordion. Mark Latiolais, who regularly plays guitar with Paul Daigle and Cajun Gold, performed with Cajun Dance at the festival.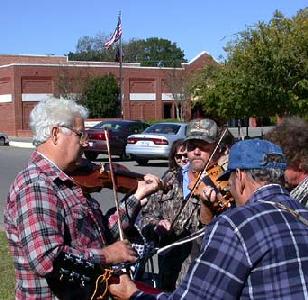 Harry LaFleur, at left, a member of the CFMA Hall of Fame, joined in for an impromptu jam session with his fiddle partner Bubba Frey and other musicians.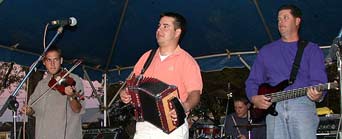 Kevin Naquin and the Ossun Playboys performed during the regular Saturday live radio broadcast of the Liberty Theater show. Instead of broadcasting from the theater, the program originated from the main festival stage.
Jeremy Frugé and the Zydeco Hot Boyz performed on the Second Street Stage.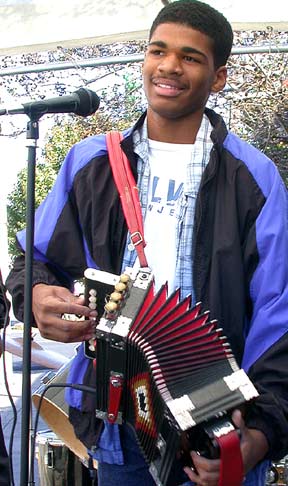 Cory Young & Zydeco Teen Excitement, an Opelousas based-band, also performed on the Second Street stage.
Horace Trahan and the New Ossun Express performed in the early afternoon, attracting a good crowd of dancers to the pavement on Park Avenue next to City Hall (see below).