La Bande Feufollet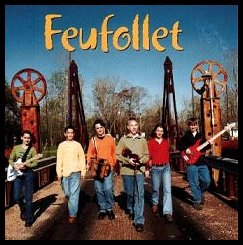 "Belle Louisiane"


Two years ago the youth ensemble Feufollet astounded Cajun music listeners
with their auspicious debut that was an incredibly focused body of quality work.
Refusing to rely on the often, played 'cute' card, this cadre of gifted musicians,
then an average age of 12, instead demonstrated how passionate they were
regarding their cultural art.
This time out, producer Steve Riley wasn't about to let his young prodigies rest on their laurels and instead challenged them with vocal harmonies and more complicated arrangements.
As a result, the young loins of Feufollet devoured everything Riley threw at 'em to deliver one of the year's most exemplary recordings.

Fiddler Chris Segura is blossoming into a hallmark fiddler with his pristine
tonality and lightening-quick bow strokes as heard on "Lake Arthur Stomp."

Accordionist Chris Stafford exhibits a wide palette of styles, never dipping his
brush into the same colors twice. Oftentimes, he can be quite driving ("Le
2-Step de TÍte Dure") or gracefully sentimental as noted on Dewey Balfa's
"Orphan's Waltz."
Additionally, the multi-instrumentalist Stafford does twin fiddles with Segura for a mind-boggling rendition of "McGee's Medley" that segues into a romping foray joined by all.
Perhaps one of the disc's most powerful moments comes from Stafford's "Cauchemar de 1755" ("Nightmare of 1755"), a haunting melody inspired by the Grande Derangement. Here, the inventive Stafford plays lead, second and harmony fiddle, kicks a bass drum to reenact gunfire while Riley assists on guitar, triangle and fiddle sticks.
After the song's closing moments, team Feufollet chants in French things that were
probably said then such as 'where's my family?' that overall, casts an ethereal
effect.

Yet, the pair of frontmen wouldn't sound as stellar without the rock-solid
support of beat heater Michael Stafford (Chris' younger brother), the unerring
bass playing of Matt Cormier and the guitar work of the group's heart and soul
Ashley Hayes.
Brittany Polaski, who handles the most of the lead vocals, sings
with a pleasurable mature voice.

While the highlight moments are many, the creativity profoundly deep and the
music's beauty often renders tears of joy, that may not be what's heard on the
initial listen.
More than likely, it'll be the progressive pop-flavored, rock-out of
Kristi Guillory's "Fier d'Ítre Cadien" and the dreamy, folksy "Belle Louisiane"
that's actually a first time recording of a Zachary Richard ballad.
Still, the adept
Feufollet bridges the gap from the trad to the rad, which couldn't be better
illustrated than the French and English-sung renditions of Los Lobos' "Evangeline."
'She is the queen of make believe Evangeline,' Stafford sings on
lead vocals with Polaski's soulful harmonizing.
With Feufollet, nothing here is make-believe.