"Charivari: an exciting new sound in Cajun music rooted in tradition

while exploring cultural diversity.

These guys go at it like the world was a Mamou, Louisiana wedding

celebration on Mardi Gras day!" -Michael Doucet
Includes: "The Monkey and the Fiddle," "The Woman I Never

Forgot," "Torchon's Reels," "I'm Lonely Tonight," "I Don't Want to

Work," "Femmes," "Pascal's Egrets," "I Want to Dance with Y ou,"

"Jolie Basset te," "Kissell's Reel," "La Derniere Fois," "Arc de

Triomphe Two-Step"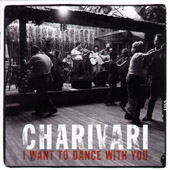 Imagine an old wooden house somewhere in the Cajun prairies of

Southwest Louisiana...it is surrounded by drooping live o aks and

stout pecans which are in turn surrounded by vast fields, some

dotted with cattle and some waving with crops...the sun is long gone

and is in tact on the verge of rising again...the lamp still burns in the

kitchen and y ou would like to go to bed but your friends, a band of

noisy merry makers, refuse to leave. They sing and play their

instruments, bang on pots and pans, eat your food and drink your

whiskey, and the harder y ou try to get them to go the more they

seem resolved to stay. The sounds of their revelry drift out from

the house, through the trees, across the fields and reach just as far

as your nearest neighbor's home, whose lighted window lets you

know that he, too, hears the joyful racket...

Your guests are Charivari, traditional perpetrators of noisemaking

and general rowdiness in Cajun Louisiana. The original function of

these all-night visitors was to prevent, in a teasing fashion, anyone

who was getting married for the second time from enjoying the

typical pleasures of a wedding night. But the meaning has expanded

to include any sort of chaotic house party in which the host, willing

or not, is prohibited trom determining how the night shapes up. When

the Charivari arrive on your doorstep, determined to make your

house into the center of their festivities, you will be in for a long

night of music and good times, no matter what type of refusal y ou

might make. They will not take no for an answer"
In the case of this CD, the Charivari paying you a visit are a group

of musicians steeped in the soul of their Cajun tradition. Mitchell

Reed, though still a young man, is one of the greatest Cajun fiddlers

in Louisiana. Randy Vidrine, who hails trom the town of Ville Platte,

has a voice that reaches back to the days before amplification, when

men sang in the highest realm of their range to get maximum volume

and power trom their voices. Randy sings straight trom the dust of

the prairie, trom the old house parties, where a good Charivari had to

rise above quite a din. Zach Huval is an innovative accordionist who

lets his fingers fly without reserve. He pumps the sound out of his

instrument, alternately growling in the low register and finding little

unseen flowers in the high end. Rounding out the group are Lois

Sprague on bass and Ben Goodwin on drums, who lay down a

relentless, churning groove throughout. To top it off, the group is

joined on this disc by several local musicians, whom y ou could

perhaps imagine wandering along the dusty roads on their way home

trom various gigs, hearing the racket across the fields, and being

drawn over to join the party. Such luminaries as Michael Doucet, Sam

Broussard, Brazos Huval and Kevin Wimmer answered the call with

their soulful performances.
Dirk Powell