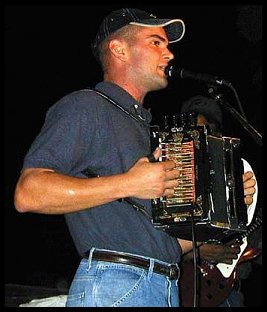 Both albums were released on the Zydeco Hound label by Acadiana Records of Eunice.
For more information
on the New Ossun Express, contact Horace Trahan, (337) 896-4144.
In "Don't Worry About Horace," a song included on the New Ossun Express' debut album Get on Board, Horace Trahan answers those "messy people" who object to the new direction his music has taken.
The entire album, which features his new zydeco sound, should help assure fans of traditional music that, while Horace is performing in a new style, he still knows how to sing and play from the heart. A second album, Reach Out and Touch a Hand, released in early 2001, confirms that judgment.

Trahan and the New Ossun Express offer their versions of Zydeco favorites from Southwest Louisiana while also giving us some new songs. Like the first album, the second release includes songs from musicians at the center of the rural Zydeco tradition like Boozoo Chavis and John Delafose.

Horace credits Geno Delafose and his mother, JoAnn, with providing him with encouragement. He began moving in his new direction in July 1999, and subsequently put together a band that, in addition to his own accordion playing, features Paul (Slim) Washington on guitar, John (The Sheriff) Best on scrubboard, and Paul Delafosse on drums.

Daniel Gaspard played bass on the first CD. Fiddler Brazos Huval joined the band on bass for a while, and, on the second CD, James Prejean is featured on bass.

The new song on the second CD receiving the most play on radio is probably "That Butt Thing," a celebration of a certain part of female anatomy in the earthy tradition of rural Zydeco. Also new are "We Gonna Party on Down" and "Sassy Girl Two-Step."

Trahan and The New Ossun Express offer their versions of Boozoo Chavis' "Uncle Bud" and Willis Prudhomme's "Crawfish Got Soul," as well as "Monkey and the Baboon." French songs include John Delafose's "Lake Charles Two-Step," "Pointe aux Pins," and "Ou Ye Yie," with Paul Delafosse handling vocals on the latter song.

The second CD also offers Clifton Chenier's "Comin' Home Tomorrow" and "My Name Is Horace Trahan,"adapted from Chenier's song.

The most popular song in area clubs from the first album has been "High School Breakdown." The song is based on the drumbeat that Trahan remembers when he played percussion at Carencro High football games. Many of the other cuts on the first album cover songs by Boozoo Chavis ("You Talk About Your Baby," "Oh Yeah," "Zydeco Hee Haw") or John Delafose ("Find My Woman," "One Hour Too Late," "Poor Man Two-Step"). Also included are Trahan's versions of Iry LeJeune's "Big Road Waltz" and Dewey Balfa's "Lanse aux Paille Two-Step," as well as "Eunice Two-Step." Paul Delafosse, who handles backup vocals on a number of songs, is the lead vocalist on "The Blues Is All Right."