Story of Raamsdonksveer 2008

Pictures from Derk Habers en Jan Ghuijs !!
Again it was a wonderful festival in Raamsdonksveer.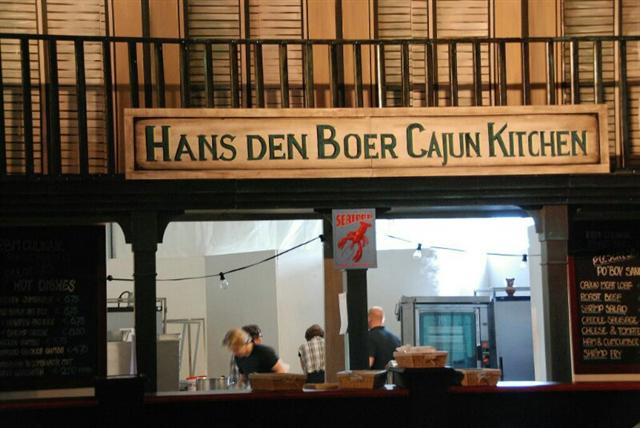 A completely different tent had been put up and ,you know, where I come from this is called a Pagoda tent.
Just like last year the space inside was divided into a big hall and a smaller one "The House of Blues".
Moreover it was remarkable that not a bit of light entered through the white tent.
The artists were great all along the festival. The interchange between Zydeco and cajun was excellent and also the fans of quite heavy stuff came into their own. The cajun music was in good hands with Little Cailloux, Aedon, Sarah Savoy and the Francadians and Zydecane.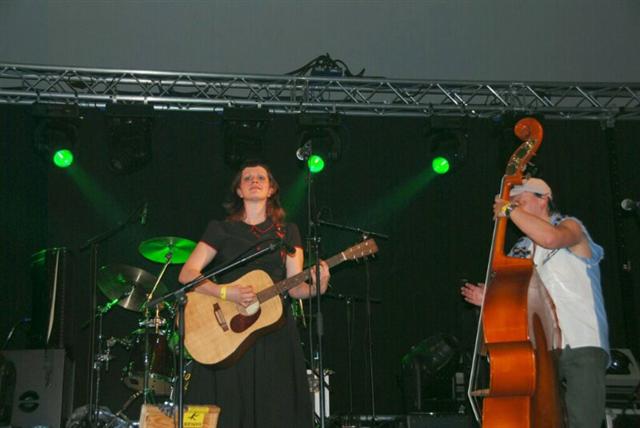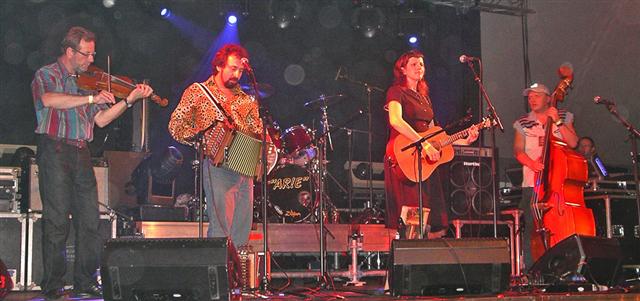 I was happy to see that the violinplayer in the Belgian band had joined the group again after she had a nasty accident with her hand and wasn't able to play for quite some time.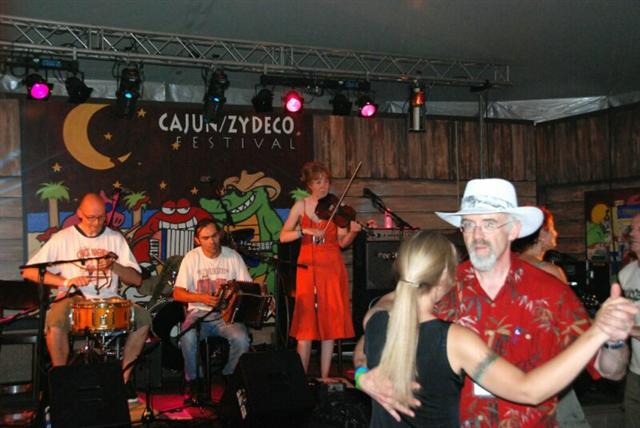 Wim Nagtegaal was also back with his new band Aedon and I really liked them.Sarah Savoy and her band were outstanding. She has a voice that suits her songs perfectly and you can very well see that she is enjoying herself while playing. Her French band did very well too, the more remarkable because there were 2 substitutes in the band..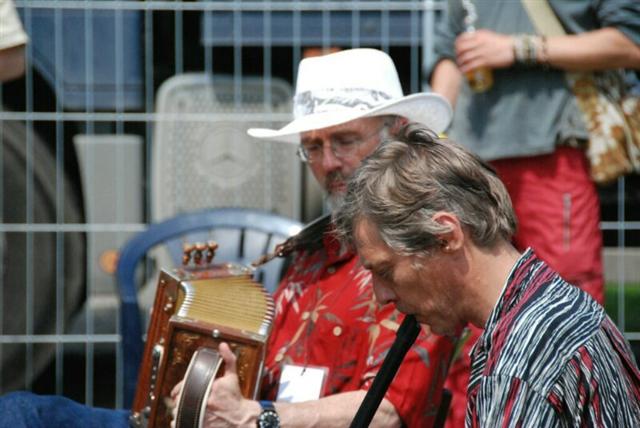 To me Zydecane was a revelation because with stand-in accordeon player Chris Miller they played solid cajun and also zydeco during which Chris changed from fiddle to one row accordeon and chromatic accordeon. The drummer in action was a marvel to look at and it was a miracle that the drums were still in one piece after the performance. To play the zydeco part therewere the Zydeco Playboys, The River Zydeco Houseband and Dwayne Dopsie and the Zydeco Hellraisers.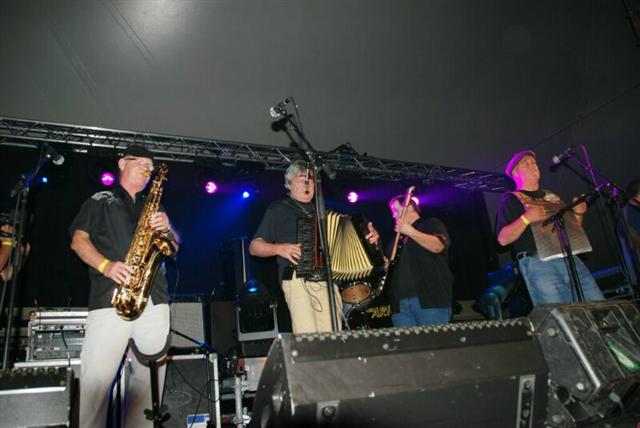 As I said before Zydecane also played zydeco, but they were the only ones to use the one row accordeon. For the rest they used the chromatic instruments and Dwayne Dopsie did a combination of diatonic and chromatic, because the 3 row accordeon that Dopsie uses has a bass-side which is normal on a chromatic accordeon.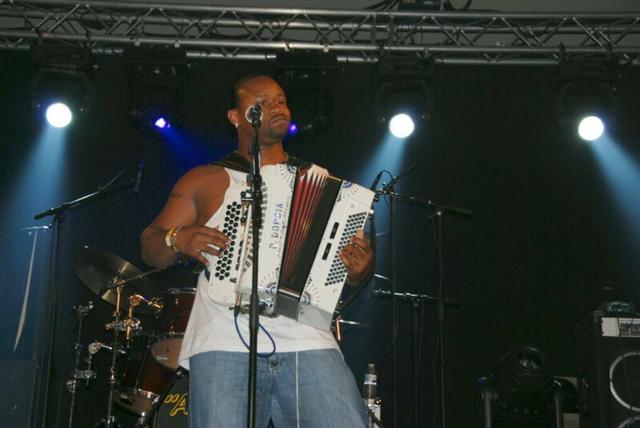 So much for comparing it to an accordeon, because the white 3 row accordeon sounded like a jet-plane and that is something you have to appreciate. He knows how to play his instrument and he doesn't hide it for a moment. His fellow musicians played very well and I was especially impressed by the bass-player and the washboard player. Those who love the element of show on stage were at the right address with Dwayne Dopsie and on Saturday night the audience in the big tent was one undulating mass. On Sunday it was perfect all day long, for after one dance you were soaking wet and that seems to be the habit in Louisiana as well.
It was fun to be in a bit of jamming on the camping-site where the atmosphere is always wonderful.
On Saturday the European Awards for Cajun and Zydeco were presented also. Our country did well with prizes for The Cajun Company, Les Chats Cadiens and Jo van Strien. All in all each visitor to the festival has seen and heard things that were very much worth their while.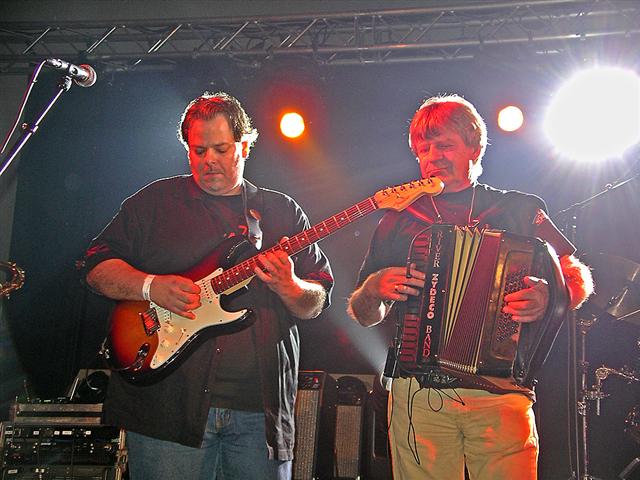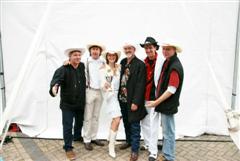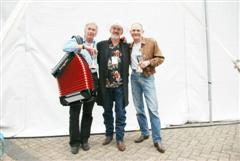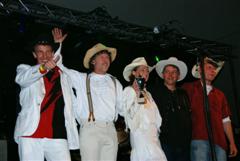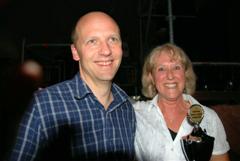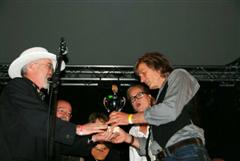 There is one minor setback though and that is the fact that other ladies are now taking care of the coffee distribution and that should not have happened. Let me say thank you very much to the people many of whom sacrifice a day off or even holidays every year and who work very hard for months at a time to make this all happen.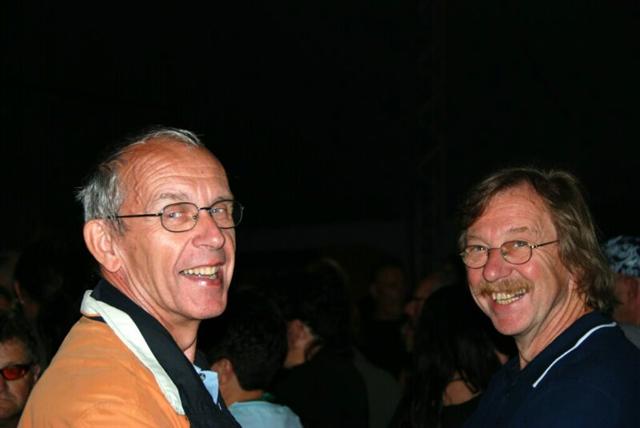 It looks like fun at the festival !!!


Last change on 19-6-08 .