This year I had an early start for I was already present on the sporting grounds of 't Veer on Thursday afternoon at about two o'clock.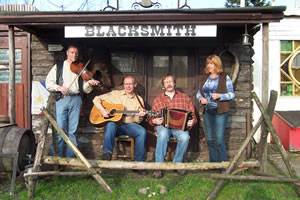 For us the festival already began on Thursday, because we (The Downtown Cajun Band) had to play in the restaurant, also called "Eddie's Tire Service", on Thursday evening. The first guests were expected around four o'clock and I thought it was almost impossible to get rid of the ruling chaos before that time. There were heavily sweating volunteers working in swamp temperatures and walking till they had blisters on their feet.
The chaos I just mentioned did not really exist, for at four o'clock all of them knew exactly what they were doing. When the first guests arrived everything was ship shape. Afterwards I heard that many had been busy preparing for the festival for a week already and had taken a week off from their work to do so. All these people make this fantastic event possible with their tremendous commitment.
On Thursday night we also witnessed the CD-presentation of the new CD from the River Zydeco Band in the House of Blues. In an over-crowded house the band played their new creation. Because of the limited space the sound volume (well tuned) didn't have to be turned op so much as in the big tent (The Barn) and so we could hear very well that they are masters on their instruments.
Without doing an injustice to the others I really enjoyed Jo van Strien's play. The two numbers with Sandra, an Austrian singer, were very special, I think.
On Friday there was a performance by Sean Vidrine for the moneylenders in the House of Blues and that was a fantastic foretaste for the rest of the weekend. On Friday night the River Zydeco Band, Des Fais Do Do and Z-Funk made their appearance in the big tent. The accordion player of Z-Funk, Gavin Lewery, is outstanding, I think, and it doesn't matter whether he plays Zydeco or Cajun.
The sparkling performance of Des Fais Do Do , you can see how they really enjoy themselves, was one to remember. In the House of Blues there was also Cajun Gumbo from Norway and that wasn't bad at all, although I prefer a Cajun violin to a Cajun keyboard.
Saturday began traditionally with a Zydeco dance-workshop led by Gary Hayman from America.
I didn't hear al the music during the daytime, for music is also made on the campsite and that's very nice too. On Saturday Des Fais Do Do played in the garage and they were exciting also due to the intimacy of the room and the interaction between musicians and audience. A highlight was the jam-session with the Cajun Pioneers.
In the Blues Palace you could hear the Alligator Express and the Zydeco Beach Party. In the Barn The River Zydeco Band performed for a fully occupied dance-floor. Parties followed, the one after the other, and seeing Sean Vidrine perform was a real treat, what energy and virtuosity, he plays a mix of Cajun and Zydeco, also known as Zydecajun. Assisted by a few great musicians of European origin he takes your breath away. For the real Cajun fanatic this was maybe the best part of the festival. During his performance Chris Hall also dropped by to play a couple of numbers with him. At a given moment Sean came up with a toy button-box to throw it into the audience, but not before Chris had played on it and I think it was very special that he managed to keep it intact and also got music out of it. On top of all that Chris Ardoin and his band came by. If musicians are really good comparing them is almost impossible to do and then all that matters is whether you like the music or the style of playing. I as a Cajun fanatic liked the music played by Ardoin very much. What a control of both the one row and the three row button-box. Contrary to Sean Vidrine Chris Ardoin was rest itself on stage, but that was fully compensated by the washboard phenomenon and the bass-player, who know their way about on their instrument. Playing bars in all sorts of bodily attitudes and if you can deal with a wash-board in that way you must have 3 brain halves and looking at that from a mathematical point of view could be called a small miracle. One hour and a half of Zydeco violence of superior quality. It's a shame that public nuisance act regulations exist on days like these because the moment to call it a day always comes too soon.
On Sunday again Bands from Europe on the three stages and one of these bands, The Cajun Pioneers, presented a CD followed by the Festival CD later in the day. As piece the resistance Chris Ardoin and Double Clutchin performed once more and that again was a happening not to be forgotten lightly. Also the performance of Gavin, Jock and Vera is worth mentioning, for they made music in Eddie's Tire Service that fits in well with what Eddie Lejeune used to do. Traditional Cajun music played by 3 experienced musicians. The afterparty was musically filled in by Allez Mama and you can very well leave that to them. The weekend was a continuous flow of highlights of accordion and button-box and all that thanks to the organisation and the vast number of people who made all of this possible.
I will be there next year, you can count on that.