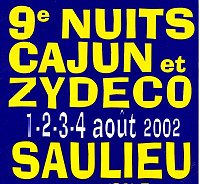 The 9th edition of this well known festival was a succes, a nice
balance between traditional cajun and modern zydeco,
and many shades in between.
I love the intimate atmosphere:
inside in the dance hall with its smooth floor, there were, at least
saturday night, a lot of people,and still it was not too crowded;
and outside on the market square where you danced under the trees,
you could feel as close to the musicians, as I have experienced
sometimes in Louisiana.
Thank you Didier Lonjard & friends!