A concert by Sean Vidrine is attended with a lot of energy bursting out on stage. The power and passion of that man is unbelievable! This young musician knows how to win the audience over to his side. That is not only because of his catching music but just as much through his liveliness on stage. Like a macho he enters the stage and than he starts working his fingers to the bone on his accordions. Effortlessly Vidrine keeps the people fascinated till the last sound. Once behind stage Sean seems to be a quiet and self-assured man, waiting for the next concert to make it all happen again. Sitting quietly in the sun behind the concerttent of the Cajun and Zydeco festival in Raamsdonksveer he is in the mood for a little talk.
'I'm from Lake Charles, Louisiana. As a little kid I heard Cajun and Zydeco music every Saturday morning. My dad was in the habit of beginning his weekend with a bit of music and he always tuned the radio into the local Cajun and Zydeco music stations. And all through these childhood years this ritual was repeated every week. When I was thirteen I got my first button-boy. Now I'm 22 and all those years I have been working to the level of playing I have reached at the moment .'
"filmpje"

Sean Vidrine
Sean Vidrine on the terrace of
"De Witte Leeuw"
August 2002

In spite of his macho behaviour on stage Sean doesn't want to have anything to do with the struggles going on in some circles within the Zydeco scene. Still the fight to be "The King" rages (it began after the death of King of Zydeco, Clifton Chenier) but on the other hand you notice that the young generation dislikes that more ane more. The hatchet should be buried says Sean, because it is not in favour of the music.
'I would like to be called King of Zydeco in the future, but that's not where my ambition lies. I just like to make music and see that the people are having a good time. A form of competition is always attended by opinions of people who probably have been stuck for years to certain music emanates. It's got more to do with trivial things. That's not for me. I just want to play uncomplicated good music and, where the people want to stuff my music is up to them. I don't want to win a war where there can only be one victor. I'd very much more want to get the audience over to my side for that interaction is for me the most important thing. '
The music that Sean Vidrine and Swamp Fyre make cannot easily be placed under the heading Cajun and Zydeco. It has to do with both, although quite some rock and roll influences are involved. The pumping and rolling piano accompaniment on his second cd (Sean Vidrine and Swamp Fyre from 2000) often makes you think of Jerey Lee Lewis. Apart from a number of covers, among them a speech-making and catching version of Dylan's "Knockin' On Haven's Door", there are also a few compositions of his own on the cd.

I regularly write my own songs, but I also play existing material. The only difference is that I don't want to copy it literally. I want to work on older material to make it more attractive to a new audience. That new version has to be pinpointed to my own style. In that way I do numbers from Beau Jacque, Steve Riley, Wayne Toups and others. It doesn't really matter where the music comes from, as long as I can put something in it from myself.'
This Sean proves with his versions of amongst others Allons a Lafayette, Jambalaya and Jolie Blonde. This up tempo cd will rock everybody. But when you have seen a Vidrine concert you will come to the conclusion that the cd no longer matches the current image. Vidrine is now busy with a new one, but it is not yet known when it will be release.
Louisiana and in particular the Mississippi delta is the cradle of popular music. Many a musical style originates here. Besides that it also seems that many talented musicians come from this part of America. Not only versatile in various sorts of music but also versatile on various instruments.
'In Lake Charles it is very easy to attract new musicians. Swamp Fyre is my permanent band, but suppose I get into trouble with one of the players, it will be no problem to get someone else. There are a lot of unemployed musicians walking about in that area. Often they are multifunctional. My keyboard player also plays fiddle and my guitar player can play bass guiter too. Normally speaking I go on tour with my band from Louisiana, but during this European tour they weren't all available. That's why I am accompanied by an English band at the moment. These are a couple of people from Z-Funk complemented by fiddler Jack Tyldesle. My big friend Chris Hall also will show up with his ten-button box to do something with me.'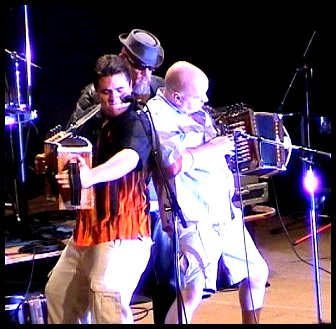 Sean Vidrine with Bryn Davies and Chris Hall
from Zydecomotion, Saulieu 2002'
Chris Hall is the keeper of the Cajun and Zydeco scene in England. He is the man behind various bands, amongst which the present Zydecomotion. Apart from that he is also manager of many other bands, and he is always on the look out for new talent.
Sean Vidrine is surrounded on stage by various ten-button boxes. During modulations he changes accordions in an undisturbed way and goes on next impressing us all with his very dynamic act on the edge of the stage. During the concert in Raamsdonksveer guest player Chris Hall throws in the act of playing a real solo on a plastic kid's accordion while in an accordion duel with Sean. When finished he throws the little instrument into the audience. Sean imitates him by throwing a number of cd's in various directions into the public as well. Then he picks up this ten-button box again and enters the song perfectly timed.
'I play the accordion in C, D and Bes tuning. A ten button-box has its limitations in a certain way regarding timbre. By working with 3 different tunings you make our music a little more colourful and attractive to the listeners. A complete concert in just one chord has the tendency to get boring soon. Normally I just play the ten-buton boxes. Very rarely I try something out on a three-row accordion, but I want to stick to the ten-button boxes as much as possible. Most of the time I play on La Louisiana, because the sound of that make appeals most to me. Normally speaking a one-button box has 10 knobs, but nowadays I am using ones with nine knobs. The depth sounds, under the first knob have been left out because I don't actually use them. As a result of that the instruments become somewhat more compact and lighter.'