| | |
| --- | --- |
| The Cajun Music Hall of Fame and Museum is a project of the Cajun French Music Association. It was made possible through thousands of hours of volunteer labor by CFMA members from many towns and cities and through support from donations also raised by volunteers. The building itself is a one-room country store that dates from the 1930s, the kind of structure--either a store or a home--in which dances were held earlier in the 20th century. | |
| | |
| --- | --- |
| | CFMA members choose the musicians and other persons who made significant contributions to Cajun music for inclusion in the Hall of Fame. Their photographs hang on the walls of the museum along with biographical sketches of their lives. The museum also houses various vintage musical instruments as well as such artifacts as a Model A electrical generator used to power microphones at country dances in the era before utility service reached the countryside. Old records and other memorabilia are housed in display cases. |
| | The museum has added a display with mannequins of Joe Falcon, born near Rayne in 1900, and his first wife, Cléoma Falcon, born in Crowley in 1905, who together made the first commercial recording of Cajun music in 1928. In the center is Lionel LeLeux, who was a fiddler and fiddle-maker born in 1910 in Vermilion Parish. He performed with the Falcons, Lawrence Walker, and Don Montoucet and The Wandering Aces. |
| | |
| --- | --- |
| Musicians performing at the grand opening were Linzay Young, Jason Babineaux, Shelton Manuel, and Joel Savoy. | Additional musicians will added to the ranks of the Hall of Fame annually. The names of the initial inductees were announced at the grand opening of the Cajun Music Hall of Fame and Museum November 29, 1997. Family members of deceased inductees were on hand to be recognized, and many of the living musicians were there in person. |
The Cajun Music Hall of Fame and Museum is located next to the Eunice Museum at 240 South C.C. Duson Drive, a block east of the Liberty Theatre. As of 2009, hours are 9 a.m.-5 p.m. Tuesday-Saturday. Phone (337) 457-6534. Admission is free. Donations to support the CMHFM are welcome.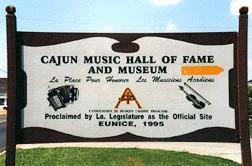 1997 CFMA Hall of Fame Inductees

Fernest "Man" Abshire
Nathan Abshire
Amédé Ardoin
Dewey Balfa
Alphe Bergeron
Shirley Ray Bergeron
Joe Bonsall
Amédé Breaux
Sidney Brown
Vin Bruce
Harry Choates
Octa Clark
Elton "Bee" Cormier
Lesa Cormier
Lionel Cormier
Camey Doucet
Jerry Dugas
Joe Falcon
Ledel "Blackie" Forestier
Oren "Doc" Guidry
Adam Hebert
Leroy "Happy Fats" LeBlanc
Iry LeJeune
Rodney LeJeune
Dennis McGee
D.L. Menard
Walter Mouton
Austin Pitre
Belton Richard
Aldus Roger
Floyd Soileau
Lawrence Walker
1998: Phil Menard, Ivy James Dugas
1999: Andrew Cormier; Nonc Allie Young, Houston LeJeune
2000: Phillip Alleman, Harry LaFleur
2001: Dallas Roy, Anthony "Tony" Thibodeaux, Pete Bergeron
2002: Rufus Thibodeaux, Cleoma Breaux
2003: Larry L. Miller, Robert Bertrand, John Loyd Bertrand
2004: Edward L. Gary, Jimmy C. Newman
2005: Pierre Varman Daigle, Darrell Higginbotham, Vorris "Shorty" LeBlanc
2006: Reggie Matte, Clifton Joseph "Cliff" Newman
2007: Terry Huval, Elias "Bobby" Leger, David "Dave" Soileau
Updated in May 2009.
Return to Central Acadiana Gateway Main Page
Updated May 2009