Mardi Gras Archive: Final update of this page completed in 2009.
During Mardi Gras, the small town of Mamou attracts thousands and thousands of visitors who come to experience a traditional Cajun Mardi Gras.
| | |
| --- | --- |
| A street dance is held Monday evening before Mardi Gras. Each year, tops bands like Steve Riley and the Mamou Playboys perform before a huge crowd that packs the streets for blocks. Everyone really gets in the spirit when the band plays the traditional "La Chanson de Mardi Gras," which goes in part, "Les Mardi Gras viennent de tout partout, / Mais principalement de Grand Mamou. / Les Mardi Gras viennent de tout partout, / Tout à l'entour du moyeu." | |
| | |
| --- | --- |
| | On Mardi Gras, music begins about 11 a.m., and the crowd grows throughout the day, dancing in the streets and celebrating. The music is continuous. |
Meanwhile, the Mamou Courir de Mardi Gras is riding through the countryside, collecting ingredients for the evening gumbo. The all-male Mamou courir remains faithful to the old traditions. The riders accept the authority of the capitaine, who sets out the rules before the ride begins. The capitaine and co-capitaines, wearing their colorful capes, are the only riders who are not masked.
Accompanied by a wagon carrying musicians and by other trailers transporting participants who do not have horses, the riders stop at homes in rural Evangeline Parish where they sing, dance, and cut up while begging for chickens and other makings for a gumbo.

Co-capitaines Wayne Soileau and Boyd Landreneau ride along side James Warner "Buff" Fontenot, at right,
capitaine, in a scene from the 1998 courir.

A large crowd gathers at one of the
rural stops in 1998 where the Mardi Gras are chasing chickens being thrown from
the roof of a house.
---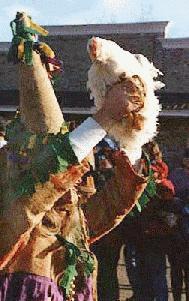 The courir arrives back in town some time after 3 p.m., but there is no firm schedule. The riders do not throw trinkets: throws are not part of the traditional rural courir.
They act rowdy, some dancing atop their saddles or even attempting a headstand as they ride down the street. But the wildness is all part of the tradition, part of the merriment and raucous celebration enjoyed by a large crowd of people of all ages who line the streets several deep for blocks. The music, dancing, and partying continue late until the evening, but everything stops before midnight, when Ash Wednesday begins.
Return to Mardi Gras Main Page