What's CAJUN?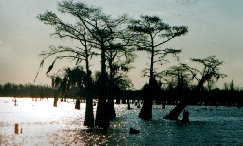 The word "cajun" is derived from "acadien".
The frenchspeaking inhabitants of Louisiana are imigrated from France to
Nuova Scotia in Canada originally, to them a place like paradise, "Arcadia" (means paradise).
In the 17th century they've been thrown out by the English, and after a long diaspora (journey),
called "le grand derangement") many of them finally settled in the south of Louisiana,
at that time a rough swamp area.;
They callled themselves "acadiens", what in the mouth became "cajuns", and they could manage
themselves surprisingly well in that uncomfortable region of swamps, bayou's and mosquito's .
The cajuns make music based on old french dances like gavotte and minuet;
they play it on traditional instruments like fiddle, accordeon and 'tit fer (triangel)


The words are mostly in french ( but not the french you learn in school!
The language is rather different: for example fais-do-do: this means a dance, a party)
For many years the cajun culture is ignored and suppressed by the government
(for example it's wasn't allowed to speak french in schools!), but since the years
of '70 there has come a revival , pioneered by people like Dewey Balfa *,
and from then on the cajun culture is blooming; people speak english and french,
also in public. Still there are many english words in the cajun french language.
In the Netherlands the cajun culture is mostly known by the cajun kitchen:
spicy food with a mix of meat / fish and vegetables, like jambalaya (a ricedish)
and gumbo (a ratatouille soup with a.o. chicken)


Dewey (l.) and Will Balfa
Dewey Balfa is a fiddler / singer, and pioneer in the cajun music,
with his brothers the Balfa Brothers. you can see him play in a well known
movie by Walter Hill: "Southern Comfort".
Dewey Balfa plays in the movie on a fais-do-do together with Marc Savoy.
After his death in '92, his daughter Christine Balfa continues the tradition
but more modernised, with her own band: Balfa Toujours
When you like to know more about the cajun culture and history,
I advise you to look in the: Encyclopedia of Cajun Culture

this page is updated op 20-02-17