Click here for photos of Three Generations of Castilles performing at LSUE.

Hadley J. Castille is a veteran Cajun fiddler who has been both an ambassador for Cajun music around the world and a strong supporter of efforts in South Louisiana to preserve the Cajun language and culture. The son of a sharecropper who farmed cotton in the rural community in St. Landry Parish known as Pecaniere near Leonville, Castille uses memories of these earlier times in a number of his songs, describing the home where he lived, the medicine man known as Beau Geste who sold homemade concoctions to help make a living, and the town of Leonville along the banks of the Bayou Teche as it was decades ago.
While still a young teenager, Castille learned to play the fiddle from Cyprien Castille, his uncle, and his father, Francois Castille, played accordion. Hadley Castille, together with his son, Blake, who plays guitar in his Sharecropper Cajun Band, has written many original songs. His song "200 Lines: I Must Not Speak French," based on his experience of punishment for speaking French while he was attending public school in Leonville, won the Cajun French Music Association's "Le Cajun" award in 1992. In addition to being an excellent fiddler, Castille also is a strong vocalist who expresses his emotions not only with his voice but with physical gestures that contribute to the impact that his live performances have on audiences.
Castille has also received numerous other awards, and he has been featured on national television programs like ABC's "Good Morning America" and NBC's "Today Show." His music is included in several movies. He recorded the theme song for the Clint Eastwood film A Perfect World.
Among his albums are Cajun Fiddling and Singing Now and Tomorrow (1983), Going Back to Louisiana (1985), Along the Bayou Teche (1989), and 200 Lines: I Must Not Speak French (1991), all no longer available. Cajun Swamp Fiddler (1993) and Third Generation: La Musique de les Castilles, which won the CFMA's Heritage Award, are still available, as is Cajun Christmas.
Click here for more pictures of Hadley Castille and information about the 2000 CD, Quarante Acres et Deux MulÚs.
Cajun Swamp Fiddler features songs that were part of previous albums, including "200 Lines," so it provides a good introduction to Castille's achievement. The Third Generation album includes several songs written by Blake Castille, more original compositions by Hadley Castille, "Big Fran's Baby," written by Clint Eastwood for his movie A Perfect World, and several traditional songs, among them Hadley's version of "La Valse des Balfa" performed as a tribute to Dewey Balfa and the Balfa Brothers.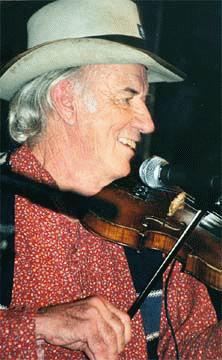 ---
Hadley Castille is pictured in the top photo while performing at Geno Delafose's Double D Ranch near Eunice. All of the other photographs were taken during performances at the Liberty Theater in Eunice.