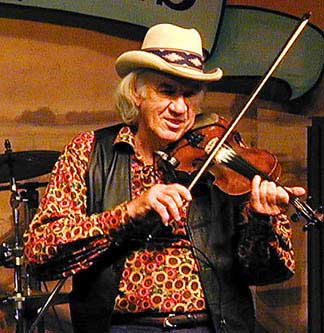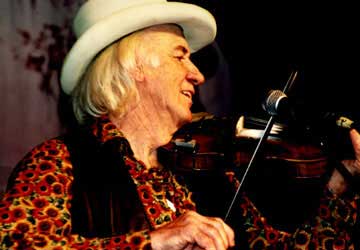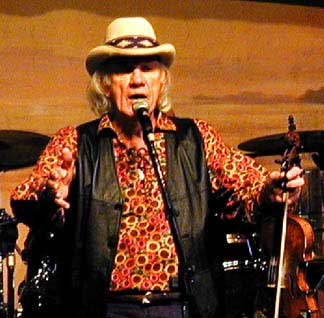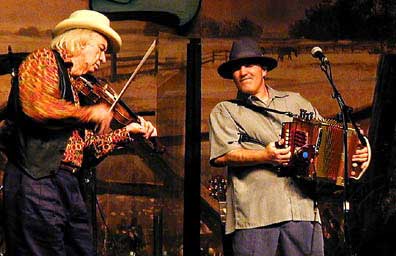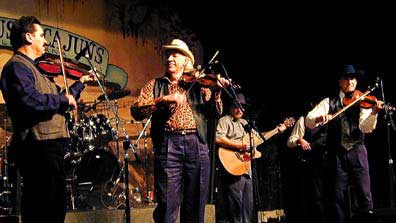 During a performance at the Liberty Theater in Eunice January 13, 2001, at which he performed a number of songs from his 2000 CD Quarante Acres et Deux Mulés, Hadley Castille began with some swing-style fiddle music, joined by John Bucklew, at left, and Len Springer. Lee Benoit is shown on accordion, and, in the picture immediately above, on guitar.
As an aside, Hadley explained that his father got the name Hadley from the name of the producer of some silent movie that his father saw while in Port Arthur, Texas.
Go to the Official Hadley J. Castille Web Site for a biography, discography, performance information, merchandise, more on the Sharecroppers Band, photos, and contact information.
Hadley J. Castille's album Quarante Acres et Deux Mulés is both an homage to the very different world in which he grew up as a sharecropper's son in rural St. Landry Parish near Leonville and an excellent example of what Cajun musicians can using their personal experiences to create new songs that make the past come alive.
Castille and his son, Blake, have written nine new songs out of the 15 cuts on the CD. Most of the other cuts, which usually offer the Castilles' own arrangements, are songs that listeners have either never heard or have not heard in a long time.
In several cuts on the CD and in some additional songs that he played at the Liberty Theater January 13, 2001 (as pictured on this page), Hadley Castille paid tribute to the fiddle music of Harry Choates and the western swing sound heard, for example, on Choates' 1946 recording of "Jole Blon," which became the first Cajun song to become a national hit. The album begins with Castille's "Cajun Swing Two Step," which describes Nathan Abshire playing in Cankton with the western swing band Asleep at the Wheel. "The Old Battery Radio" ("Radio à batterie") is based on the evening in 1945 when Hadley's father brought home a battery radio (their cabin had no electricity). They listened to stations from all over, but especially to the Texas stations playing Bob Wills' western swing. "The Best Forty Acres" tells the story behind the album's title: as a sharecropper, Hadley's father was always moving, trying to find better land that would produce more. In 1948, he moved to a spread owned by an old German at Notleyville, land that, with a good pair of mules, provided a better living.
In "Charivari," Hadley describes the stories he heard from an older cousin about the celebration outside the home of Hadley's newly married parents. His mother, whose first husband, Hadley's uncle, had died, was a widow, so her second marriage, according to custom, was an occasion for a charivari.
"Leonville" contains Hadley's fond memories of the town near his sharecropper home. According to Blake Castille in his liner notes, Hadley "revisited the old town from his youth one night in a dream and upon awakening he wrote down the places and people he saw and put the words to this song."
In addition to composing the music for several songs, Blake Castille also wrote lyrics for two songs about the disastrous 1927 flood that devastated much of the Mississippi Valley: "The Cowboy and the Flood" ("La Cowboy et la Grand Eaux"), describing efforts to rescue cattle and their owners after a levee broke, and "Grand Crevasse," about refugees from the flood who camped near Opelousas.
Blake Castille also wrote "Twenty Third of December," a mournful ballad about the death of the young woman with whom the singer was in love.
The title character of "Helaire Carrier" by Hadley Castille was an outlaw in St. Landry Parish who, as the story goes, tried to cheat the executioner by slitting his throat the night before he was to be hanged, but the authorities went ahead and hanged the corpse the next day anyway.
Other songs on the CD like Iry LeJeune's "Grand Night Special," and Harry Choates' "Port Arthur Waltz" are likely to be new to many listeners, and everyone is going to enjoy Hadley Castille and the Sharecropper Cajun Band's version of more familiar songs like Dennis McGee's "Danse carré" and Nathan Williams' "Everything on a Hog Is Good."
In addition to Blake Castille on acoustic guitar (and resonator guitar and mandolin), other musicians on the CD include Sam Broussard on electric guitar, Robbie Tevault on piano accordion, David Egan on piano, Tommy Bodin on bass, Kenny Alleman on drums (and scrubboard), Pee Wee Whitewing on steel guitar, Lee Benoit on accordion and harmony vocals, and Kevin Stelly on drums.
Lyrics in French and English are included, with translations by Phoebe Trotter.
The mules were provided by Jody Fontenot.