Check out Geno's Official Web Site and his MySpace page.
2007: New Geno CD
Le Creole Cowboy

The bottom thumbnail of the band was taken
at the Zydeco Extravaganza in Opelousas
May 27, 2007. The other shots were taken
at a CD release party held at Nick's on
2nd in Eunice Aug. 19, 2007.

Note: Geno's 2007 CD was nominated to receive a Grammy Award in the newly established Best Zydeco or Cajun Music Album category.

On his 2007 CD Le Creole Cowboy, Geno Delafose is musically still riding on his home range, but he also ventures into other territories with more English covers than on his past CDs. He offers his Creole version of swamp pop with songs like Chuck Berry's "Promised Land" (which, in South Louisiana, is really Johnnie Allan's song) and "Somebody Show Me the Way to Get Home." He covers the Everly Brothers' "When Will I Be Loved," Ronnie Milsap's "There Ain't No Getting Over Me," and Lionel Richie's "Easy," and, closer to home, a less well known Clifton Chenier slow drag, "Somebody Told Me It Was All Over," as well as Brian Jack's "Gave You My Love."

Courtney Granger's fiddle is featured on D.L. Menard's "La porte en arrière" and on "Grand Bois Waltz" (with Courtney providing lead vocals for the second half of the song). The opening cut, "Everybody's Havin' Fun," which also has Courtney on fiddle, includes French lyrics that recall Geno's last CD, "everybody's dancin' all night long." "Tout le Jour et Tout le Soir" is another invitation to dance and have fun all day and all night. Geno's version of "Chicken on the Run" is punctuated by Paul "Bird" Edwards' distinctive yard dog barks.

The most traditional Creole number on the CD is Canray Fontenot's "Bee de la Manche," which, like a number of other cuts, includes background vocals, along with fiddle melody under the accordion, producing a full sound that adds to the appeal of this old favorite. Driven along by Gerard Delafose's drums and further enlivened by John Kent Pierre-August's guitar solo, "Baby, Baby, Baby" may be the best song on the entire CD for making you want to move, whether it's on the dance floor or just listening to another great Geno recording.

Other musicians, in addition to those mentioned above, are John "Popp" Esprite on bass; Dale Patrick Stelly on lead and rhythm guitars; Demetric Thomas on rubboard; plus, as guests, Scott Ardoin and Lee Tedrow on lead and rhythm guitars. The CD was released by Time Square Records.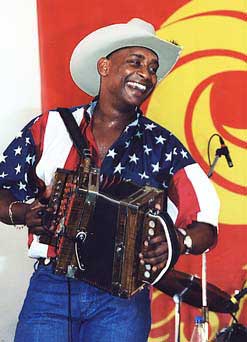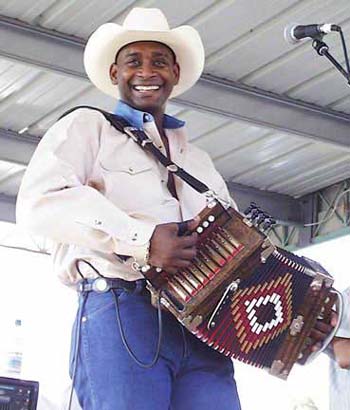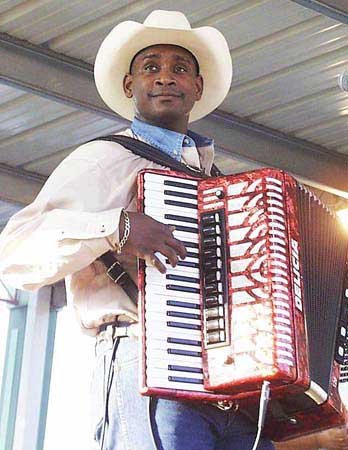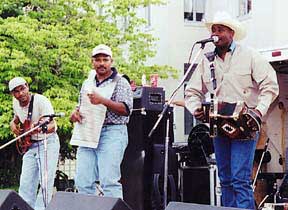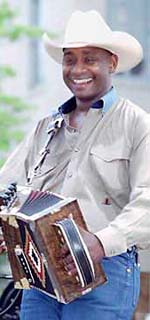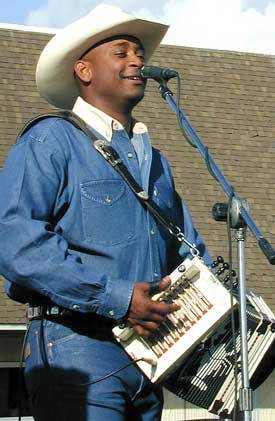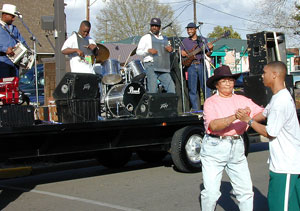 The top picture was taken during a performance at the 1999 Festival International de Louisiane in Lafayette with Balfa Toujours. The next two pictures are from the 1999 Festivals Acadiens. Other pictures were taken during performances at Downtown Alive in Lafayette, Fall Fest in Eunice, and the Martin Luther King Jr. observance in downtown Eunice. That's Geno's mother, JoAnn Delafose, dancing in front of the band's trailer during the MLK performance.
Click here for 2003 photos at Festival International and information on Geno's 2003 CD.
Geno Delafose is the son of the great Zydeco accordionist John Delafose. Geno lives a few miles north of Eunice in the same rural area of Duralde where his father was born. Geno's Double D Ranch, where for the past few years he has invited everyone to annual fan appreciation parties, consists of a simple frame house, horse stables, and a spread of land. He is proud of his rural roots, and in his life he carries on the rural traditions of hard work, friendship, and generosity. Like his brothers, he began playing with his father's band, the Eunice Playboys, at an early age, first on rubboard, then on drums, and finally, after his father developed heart trouble, on accordion. He mastered both the diatonic and piano accordions, singing both in French and English.
After forming his own band, French Rockin Boogie, young Delafose developed his own repetoire, often taking standards from the Creole and Cajun traditions and giving them new Zydeco energy while still remaining faithful to structure of the original song. His versions of Cajun songs like D.L. Menard's "La porte d'en arrière," the Balfa Brothers' "Mon vrai amour," Iry LeJeune's "Donnez moi mon chapeau," or Lawrence Walker's "'Tit yeux noirs" add new dimensions to some great songs. He performs invigorating, fresh versions of songs played by his father and by Creole musicians like Canray Fontenot, such as "Bernadette," "Tes parents ne veulent plus me voir," "Ma 'tite fille est gone," "Bye, bye mon nèg," 'Quo faire," "Valse de Opelousas," and "The Eunice Two Step." All of Geno Delafose's CDs have been released by Rounder.
His CD 1998 CD, La Chanson Perdue, includes several tracks with fiddle music played by Dirk Powell and Steve Riley, reviving part of the Creole sound that has been abandoned by other Zydeco bands. "Bon soir Moreau," a favorite Canray Fontenot song, of course, requires a fiddle. The decision to use a fiddle-accordion combination on the fast song "'Quo faire/Jolie Bassette" adds a special excitement to the music.
Among the 15 tracks, the album includes Lawrence Walker's "'Tits yeux noirs" and the Balfa Brothers' "Mon vrai amour." Dewey Balfa's daugher, Christine Balfa, plays triangle and guitar on several numbers, including "Valse de Opelousas," an Amédé Ardoin song on which her husband, Dirk Powell, plays fiddle. The CD also includes two contemporary songs in English, "I Want It All" and "Save the Last Dance for Me." Transcriptions of French lyrics are provided along with English translations.
French Rockin' Boogie, Geno Delafose's first CD on his own, was released in 1994, recorded with members of the Eunice Playboys and other musicians before the untimely death of his father in September of that year. It includes his own songs in French like "Je ne apprecie pas ça," "C'est pas la peine brailler," and "Ris et la gres," songs by Cajun musicians like the title song by Shirley Bergeron and Iry LeJeune's "Jeunes filles de la campagne," plus Canray Fontenot's "Tes parents ne veulent plus me voir," his father's "Do the Mill," and several songs in English, including "JoAnn, JoAnn," a tribute to his mother."
That's What I'm Talkin' About!, released in 1996, also contains songs by his father, a rousing version of Iry LeJeune's "Donnez moi mon chapeau," and Geno's own songs, including "La valse à Pop," a tribute to his father, who taught him how to sing and dance: "C'est mauvais pour perdre mon vieux pop."
On Pere et Garçon Zydeco (1992), Geno Delfose and his father each play accordion, with Geno playing drums when his father is on accordion, just as he had been doing with the Eunice Playboys since he was eight years old. Geno is also featured on half of the songs included on the Eunice Playboy's CD Blues Stay Away from Me (1993).
Click here for pictures from Geno Delafose's fan appreciation parties in 1999, 2000, and 2001, 2003, 2004, and 2006.
Click here for pictures of Geno Delafose playing at the Assumption Catholic Church Hall in Basile.
Click here for pictures of Geno in LeBeau and at the Liberty Theater in Eunice.