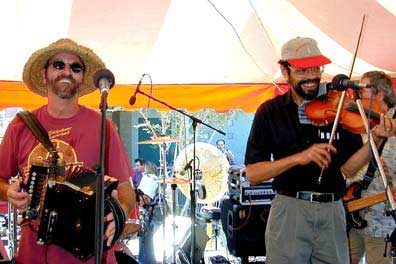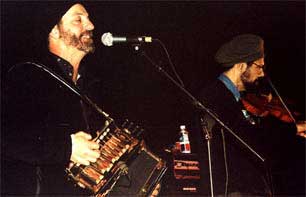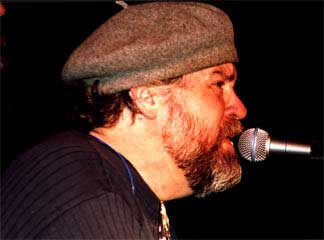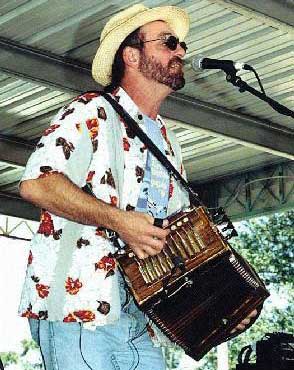 In the top photograph, Ward Lormand and D'Jalma Garnier are shown at the 2000 Festivals Acadiens in Lafayette. The second photograph was taken at Lafayette's Downtown Alive! the evening before Thanksgiving 2000. Shown in between individual shots of Lormand and Garnier taken at Festivals Acadiens 1999 is a picture of David Egan at Downtown Alive!
The pictures underneath this caption were taken at Festival Acadiens 2000 and at Downtown Alive!, where, even though it was a chilly late November evening, a large crowd gathered to dance and to enjoy the sounds of Filé.
In addition to special appearances at festivals and other events, Filé performed regularly at Mulate's in Baton Rouge and New Orleans and at Randol's in Lafayette.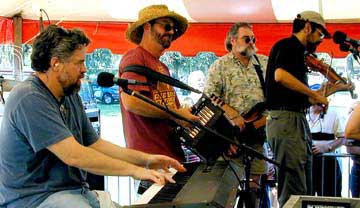 Filé played their last show December 30, 2002, at Randol's Restaurant in Lafayette, one of their regular gigs. Look for these talented musicians to be involved in other endeavors, but, to hear Filé, you'll need to get their CDs. 2002 photos of Filé are at the bottom of the page.
In his liner notes to Filé's 1999 recording, Hang on to Your Chapeau, Barry Ancelet offers a wonderful explanation of why the band's name is so appropriate. The word filé refers to "a spice made of powdered sassafras leaves that Cajuns and Creoles learned about from the Native American Indian tribes who have shared South Louisiana with them. This aromatic flavor enhancer is traditionally sprinkled on gumbo, itself a dish that represents influences from both the French provincial and African origins. Like its namesake, the band Filé enhances the flavor of South Louisiana's musical gumbo."
Filé adds its own energy and innovation to Cajun, Creole, and swamp pop music, giving us fresh, creative interpretations of old songs, as well as adding to the gumbo with new songs like "D'Jalma's Samba" on the 1999 CD.
Ward Lormand, who plays accordion and is the band's main vocalist, describes himself as having been "raised at his father's bar in French-speaking Ossun," a small community near Lafayette. When Lormand organized the band back in the 1983, Filé performed "regressive Cajun" music that sought to preserve the old traditions. However, the band soon began to take a more eclectic approach.
In 1985, Lormand met the Creole fiddle player Canray Fontenot and subsequently helped to obtain a grant from Texas Folk Life Resources to enable D'Jalma Garnier to study with Fontenot. In 1993, Filé toured Europe with Fontenot. Though Canray Fontenot died before the band could go into the studio to record with him, his fiddle style and his music live on through the playing of D'Jalma Garnier, who was born in St. Paul, Minn., but who has close family ties to the Creole culture in New Orleans, where his grandfather, also named D'Jalma, was a musician. Garnier's first recording with Filé was on the 1996 CD La Vie Marron.
That CD also marked the first Filé recording for David Egan, who plays electric piano and does vocals on the band's great renditions of songs in the swamp pop or New Orleans R & B tradition like "Mathilda" or Egan's own "Two Much Wine" and "Forbidden Love," both included in Hang on to Your Chapeau.
Kevin Shearin, who has played bass guitar professionally for more than 25 years, is a co-founder of Filé. His association with Ward dates back to the band Cush-Cush. Percussion is handled by Peter Stevens, whose earlier musical experience was with bluegrass and country rock bands.
Other recordings by Filé include Two Left Feet, released in 1989, Filé Cajun Dance Band, released in 1987, and Live at Mulate's, recorded in 1985.
Filé's 1999 release, Hang on to Your Chapeau, displays the band's eclectic talents and interests on 12 cuts: a honky tonk interpretation of Harry Choates' "Devil on the Bayou"; rousing versions of "Bernadette," "La Robe Barrée," and "Shoo Black" drawn from Canray Fontenot's repertoire; "Les Femmes des Autres," a song recorded by Fontenot while touring with Filé in 1993; a foray into zydeco with Boozoo Chavis' "Johnny Ma Cabrille"; a lively version of the Cajun standard "La Valse des Vachers"; a little Cajun boogie woogie with "Wake Me, Shake Me";as well as the previously mentioned songs by Garnier and Egan; and concluding with Jimmy Driftwood's "Battle of New Orleans" as only Filé could perform it.