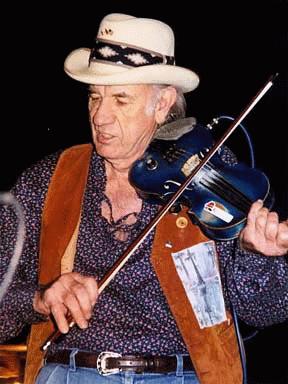 Among the other musicians performing at Geno Delafose's Fan Appreciation Party were Hadley Castille (at left: Geno played drums during his set), and, from left to right, down the page JoJo Reed and the Happy Hill Band, a great Eunice-based zydeco band; Clarence LeDay, who sang his popular blues song about the little boy trying to warn Mr. Charley that his windmill is burning down; Willis Prudhomme, another great Zydeco musician in the tradition of Boozoo Chavis; Sheryl Cormier, known as the Queen of Cajun Music, and her husband, Russell; Horace Trahan, a 23-year-old veteran on the Cajun and Zydeco accordion from the rural town of Ossun; and Leo "The Bull" Thomas, who performed some of his Zydeco blues hits like "Why You Want to Make Me Cry?"

Go to the first page on Geno's Fan Appreciation Parties.

Go to LSUE's main page on Geno.