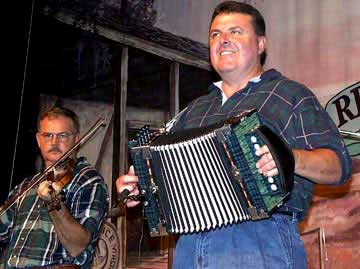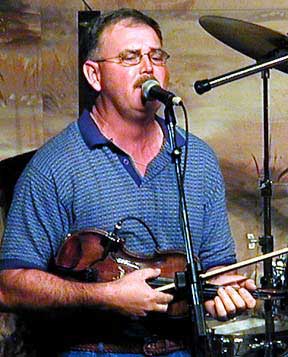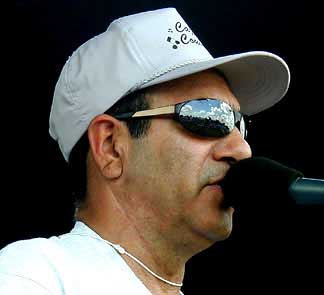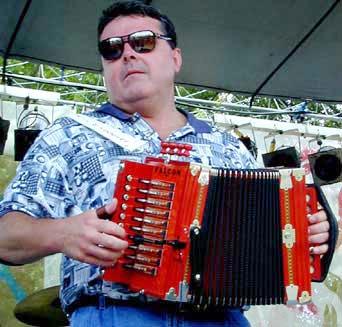 Jackie Cailler is pictured on accordion in the top photograph at the Liberty Theater in Eunice with fiddler Benny Mueller next to him. Mueller is one of the band's vocalists. Ivy Dugas, seen in the third photograph, taken at the 2000 Breaux Bridge Crawfish Festival, plays bass guitar and both writes and sings many of the band's songs. He is a member of the Cajun French Music Association Hall of Fame.He is also shown in the picture in the right column at the Liberty. The other picture of Caillier was taken in Breaux Bridge.
Click here for 2003 and 2002 photos of Jackie Caillier and the Cajun Cousins, including information on the CD Let's Kick Up the Dust.
For bookings, contact Jackie Caillier, 409-883-6525 or Ivy Dugas at 337-589-2611..

Jackie Caillier and the Cajun Cousins dominated the Cajun French Music Association Awards for three straight years beginning in 1997, including being named Band of the Year each of those years.
Ivy Dugas was named male vocalist of the year for 1997, 1998, and 1999. He wrote and sang "The Gravel Road," the 1997 Song of the Year, and he sang the 1998 Song of the Year, "Little Short Pants," written by Vin Bruce and Lee Lavergne. In 1999, Ivy Dugas was inducted into the CFMA Hall of Fame.
The Cajun Cousins also won Album of the Year in each of those years for the following recordings, all released by Lanor Records: Front Porch Cajun Music, Blacktop the Gravel Road, and Je Vas Sortir et Two Step. Jackie Caillier won accordionist of the year in 1999.
Caillier, who was born in 1952 in Orange, Texas, has been playing Cajun music since he got an accordion as a Christmas gift from his parents in 1969. In 1973, Caillier was on accordion when Dallas Roy and the Rambling Aces recorded "I'm Glad to Be a Cajun from Church Point," a song that is now part of the standard Cajun repertoire. Roy performs the song and several others on the first of the award-winning albums mentioned above.
Caillier says that his heroes include musicians like Walter Mouton, Andrew Cormier, Aldus Roger, and Belton Richard, all associated with great dance hall sounds and with setting high musical standards.
Dugas, born in Lafayette in 1948, has been playing Cajun music since he was 12. He performed for a number of years with Phil Menard and the Louisiana Travelers. He has written many great Cajun songs. He shares lead vocal duties with the band's fiddler, Benny Mueller.
Danny Cormier, the band's steel guitarist, began playing bass guitar and then switched to steel guitar with the Sundown Playboys, the band founded by his grandfather Lionel Cormier and led since 1971 by his father, Lesa Cormier.
Keith Richard is the Cajun Cousins' drummer.
The Cajun Cousins play lively dance hall music with a special flair that has attracted a loyal following of fans who often travel long distances to be there with their favorite band. When Jackie Caillier sees a familiar face, he flashes a smile that shows he not only loves music: he loves performing and pleasing his fans. During one of the Liberty performances pictured on this page, fans joined with the band in shouting out "O-o-oh" at the appropriate places in "The Sparkle Waltz."
The group's 1998 CD Going Out Two-Stepping, like their other albums, contains a number of memorable original songs by Ivy Dugas: "L'amour emprunté," "Carencro on My Mind," "Le whiskey, c'est mon ami," "Depuis que t'es partie," and the classic "La valse de l'héritage," as well as songs by Adam Hebert, Aldus Roger, Nathan Abshire, Phil Menard, and Belton Richard.