Click here for 2002 photos and for information on Jr. Melancon's 2002 CD, "dis is me."
Jr. Melancon has been a Cajun musician for a number of years. In 1999, Melancon and his band, the Come Down Playboys, gained a wider audience that has led to jobs at major dance clubs, the release of their first CD by Eunice's Acadiana Records, and radio play for a popular original song on the CD, "Havin' Fun," featuring accordion work by Melancon that perfectly expresses the song's title.
In addition to Melancon on accordion and vocals, other musicians on the CD include Russell Quebodeaux on fiddle; Jim Gaspard on rhythm guitar and vocals; Bobby Chautin on bass; Troy Gaspard on drums; and Mike Melancon on scrub board.
The CD includes one other original song by Melancon titled "Cut Your Toe Nails," and some classic songs like Dewey Balfa's "Quand J'étais Pauvre," Belton Richard's "Fool's Waltz," "Petite ou Grosse," "Hick's Wagon Wheel Special," "Chanson de Limonade," "Tee Galop Pour Mamou," and "Quo' Faire," among others.
While Melancon has recorded a lively, upbeat CD, his performance on stage is even more engergetic. He expresses his musical feelings not only through his accordion and his voice but through the way he sometimes literally vibrates his body to the music, adding a visual dimension to his performances that matches the energetic sound of his band.
For more information, contact (337) 684-6415.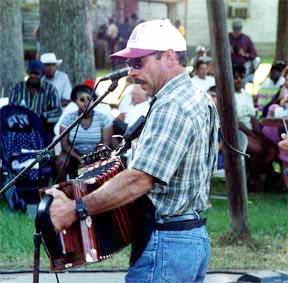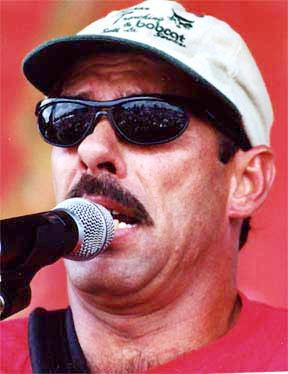 ---
The pictures at left were taken in fall 1999 at the Liberty Theater and at the Eunice Fall Fest. The side view above was taken in LeBeau at a church benefit. Gene Chambers, who usually books only zydeco bands for such events, decided to include a hot Cajun band, and Jr. Melancon and the Come Down Playboys were the perfect choice. The close-up shot above was taken at the 2000 Breaux Bridge Crawfish Festival.