Click here for high resolution photos of Rosie Ledet posted on Flickr.

Click here for Rosie Ledet's Official Web Site or go to her MySpace page.


Photos of Rosie Ledet in 2007

| | |
| --- | --- |
| | Rosie Ledet was looking good and sounding good at the 2007 Breaux Bridge Crawfish Festival. She is also shown with her husband, Morris Ledet. Lanice Ledet, her father-in-law, is on scrubboard. Click on thumbnails. |

Pick It Up: Rosie Ledet in 2005

Posted 7-13-05

The title cut of Rosie Ledet's 2005 CD is "Pick It Up," a song about the effect of some little blue pills obtained by her father-in-law, Lanice Ledet, shown with her at the Breaux Bridge Crawfish Festival May 7, 2005. Poppy has had some medical problems recently, but he certainly was full of frisky energy and vigor on stage, just as he is on several cuts on the CD. The song has been getting a lot of requests on local radio.

Elsewhere on the CD, Rosie celebrates the joy of love in songs like "Cutie Pie" and her affection for her home region in "I Love Louisiana." Songs like "Got It Bad" describe frustrated desire, and "Work That Body" pulses with sensuality. In addition to 11 original songs, Rosie also offers her version of Fernest Arceneaux's "Zydeco Boogaloo."

For more information and booking contacts, go to Rosie Ledet's Official Web Site.

---

Rosie Ledet in 2003

These 2003 photos were taken at the Breaux Bridge Crawfish Festival. In the bottom left photo in this section, Rosie is shown with her father-in-law, Lanice Ledet, on rubboard.

In 2003, Rosie also released a new CD, Now's the Time, with more hard driving zydeco songs like "Do That Thing" and "Don't Look Back," smooth ballads like "More Than I Can Say," and dance floor hits like the title cut, "Now's the Time."

---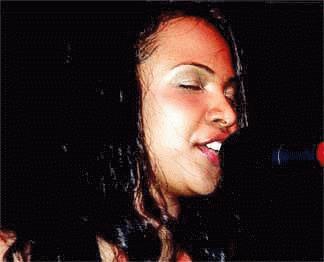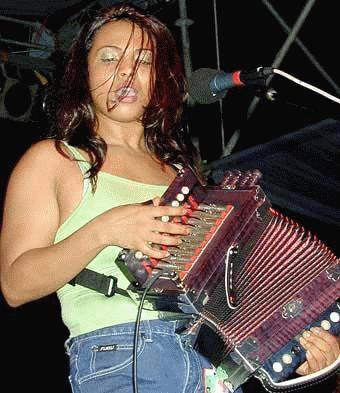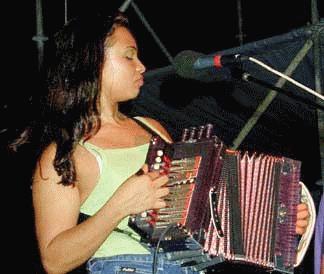 It was already a sultry night in Breaux Bridge even before Rosie Ledet strolled on stage at the annual Crawfish Festival in 2000. Radiating sensuality dressed in cutoff shorts and a halter, she began singing about love in her rich, seductive voice, accompanied by the insistent rhythm of her own accordion melodies. For several years, Rosie Ledet has been bringing this uniquely female version of zydeco to a national audience on tours around the country, and she has also released five albums.

Several of her songs have gained notoriety for their use of double entendres, as, for example, in "I'm Going to Take Care of Your Dog" and, most notoriously, in "Eat My Dust," to give the English title of a song with a refrain that translates one word into French to provide a double meaning. But, although her stage act is sensual and the occasional double entendres in her lyrics can be a bit racy, Rosie Ledet's music is actually about celebrating life, including romance in all of its dimensions, without setting out to violate anyone's sense of propriety. There is even a touch of innocence about her performance on stage, a hint of the shyness that she says she felt around others when she was a child.

Her husband, Morris Ledet, is a co-producer of her albums and plays bass guitar. As described by Michael Tisserand, Rosie met her future husband when her uncle persuaded her to go to a zydeco dance at which Boozoo Chavis was playing. At one point, Chavis allowed Morris Ledet to sit in for a couple of songs on accordion, enough to make an impression on Rosie. Once they were married, Rosie began secretly practicing on her husband's accordion after he left for work, and, when he found out she could play, he let her sit in with his band. Subsequently, she became the regular accordion player, and her husband switched to bass.

Ledet writes almost all of the songs that she records, so each CD offers new melodies and new lyrics that tell stories of love, recall memories from childhood, or describe the zydeco scene. Her albums, all on the Maison de Soul label from Floyd's Records in Ville Platte, include Sweet Brown Sugar, Zydeco Sensation, Zesty Zydeco, I'm a Woman, It's a Groove Thing! , and her 2001 release, Show Me Something.

For more information about Rosie Ledet, contact Morris Ledet, (337) 779-2102, or Piedmont Talent, (704) 399-2210.

Click here to for photos of Rosie Ledet in Plaisance September 1, 2001, plus information on her 2001 CD, Show Me Something.

Click here for 2002 photos at the Liberty Theater.