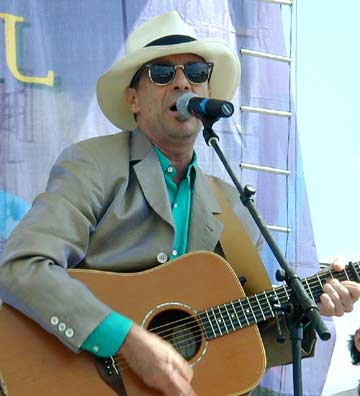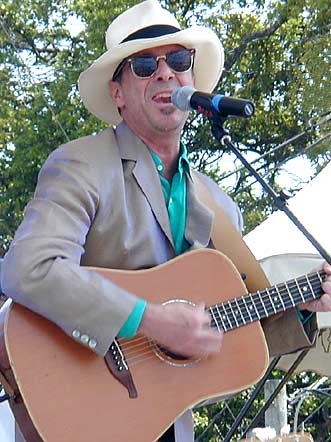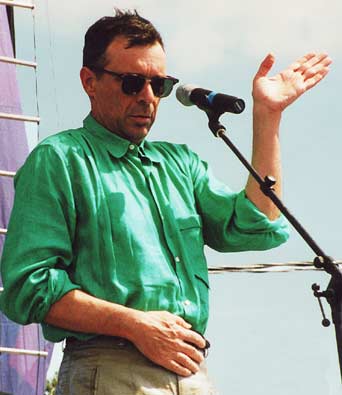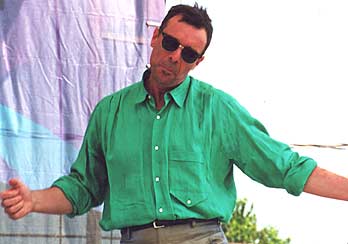 In late April 2009, Zachary Richard released Last Kiss, his first English album in 15 years. It includes a duet with Céline Dion.
In 2008, Zachary Richard was selected as the honoree at Festivals Acadiens. Click on the Flickr link above for photos.

Click here to go to Zachary Richard's Official Web Site, available in both French and English, with extensive information about Zachary Richard's music and other activities, numerous video and audio clips, and a "boutique" offering a variety of merchandise.
Another Zachary Richard site.

The pictures on this page were taken in April 2001 at Festival International in Lafayette. Taking them was easy.
Then came the problem of figuring out what to say about Zachary Richard, an immensely talented musician and poet who describes himself as "a chameleon of culture."
At his core, he is a Cajun, but he is also a rock 'n' roll and folk musician who has enjoyed his greatest popularity in Canada and France and who, though, he is a staunch advocate of preserving the French language, says that he really enjoys writing songs in English and performing before American audiences. He has been influenced by Mick Jagger, Simon and Garfunkel, Muddy Waters, Professor Longhair, Clifton Chenier, Bob Dylan, and Neil Young–to mention only a few of the names he goes through in an OffBeat magazine interview.
Richard was born in 1950 in Scott, where he still has a home Among his boyhood friends was Michael Doucet, who joined with him in teenage bands and on subsequent musical ventures in the first half of the 1970s. After a very well received performance at a folk festival in France in 1973, Richard and Doucet formed the Cajun rock group the Bayou Drifter Band, which released Le Bayou des Mystères in 1976 and Mardi Gras in 1977, both on the Arzed label (the name refers to Richard's initials in reverse). Richard recorded six more albums on that label before moving to Rounder to record albums mainly in English and then to the A&M label.
In 1994, he performed his song "Réveille!" before the first Le Congrès Mondial Acadien in New Brunswick, gaining an enthusiastic reception from 20,000 Acadians who responded to the Richard's graphic description of the English depredations and cheered his rallying cry, "Réveille! Réveille! hommes acadiens pour sauver l'heritage." (Nearly two decades earlier, he had performed "Réveille" at the second Tribute to Cajun Music in Lafayette, raising a clenched fist before an audience that did not really comprehend his anger.) Inspired by his experience at Le Congrès, Richard began work on his most successful album, Cap Enragé. Recorded in France and released by Initial ADCD in 1996, the album went Double Platinum in Canada. He followed with another French album, Coeur Fidèle, released in 2000.
Many of Richard's French songs depart from the traditional Cajun styles. Perhaps for that reason, his recordings are not heard that frequently on most Cajun radio programs in Southwest Louisiana. However, his songs still become hits. Richard's previously unrecorded "Belle Louisiane," performed by La Bande Feufollet with vocals by Brittany Polaski, won the Cajun French Music Association's Song of the Year Award in 2002. Polaski's version of "Travailler C'est Trop Dur," a signature song for Richard, has also been very popular. "Who Stole My Monkey," an English song that Richard wrote to the accompaniment of the motor in his Dodge van, became a hit for Richard LeBouef. The recording by Louisiana's Kingfish of "J'Peux Pas M'Empecher" got a lot of airplay.
Compilations of Richard's music are available on Silver Jubilee: The Best of Zachary Richard, 1973-1998, released by Rhino, and Travailler C'est Trop Dur Anthologie 1976-1999, a 2-CD set released in France by ADCD.
Even though he seems to spend much of his time outside Louisiana, Zachary Richard continues to be a major force in the efforts to promote French in his home state. He was a central figure in the "Cri du Bayou" concert held at the close of Congrès Mondial Acadien at the Cajundome in Lafayette in August 1999. He produced and narrated "Against the Tide," a television documentary detailing the history of the Cajun people. During 2002, he was instrumental in arranging for 24,000 French books to be donated by Quebec schools to schools in Southwest Louisiana with French immersion programs. He is a founding member of Action Cadienne and supports the group's work to promote the Cajun language and culture. He is also active in environmental causes, and, according to news reports in summer 2002, he was planning to work on a documentary about migratory birds that fly from Canada to Louisiana. The film will also deal with environmental and social issues.
By deciding to perform at the 2002 Festivals Acadiens with Michael Doucet in a segment titled "Bayou des Mystères," Richard returned to his roots. The festival was dedicated to Felix Richard, the accordion player whom Zachary Richard credits as having the most influence on him. Apart from being the accordion player whose eyes, alive with pride and wisdom, stare back at us from Philip Gould's photograph on the cover of the book Cajun Music and Zydeco, Felix Richard has not received a lot of recognition until now. According to Zachary Richard, as he explained to Barry Ancelet in Cajun and Creole Music Makers, Felix Richard not only helped him understand the accordion: "Felix was like a character out of a novel as much as a musician. It was always a revelation just to talk to him." Also performing as part of the tribute was Horace Trahan, who was taught by Felix Richard some 20 years after he helped Zachary Richard learn to play.
Click here for a few photos from the Festivals Acadiens peformance.