Visit the Official Web Site for the Town of Church Point.
Church Point, with a population of about 4,800 people, is a small rural town with a long tradition. The first homesteads were established by the D'Aigle brothers in 1843. The Jesuit missionaries constructed the first chapel on the banks of a bend in Bayou Plaquemine,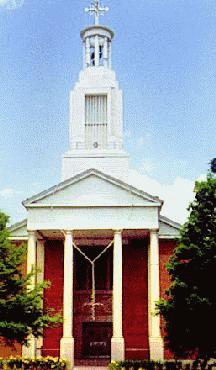 a location that became identified as "La Chapelle de la pointe de Plaquemine Brulee"--or, in the anglicized version, Church Point (translated back into French: Pointe de l'Eglise). Although the area is dotted with oil wells, Church Point is primarily a town whose economy centers on farming: rice, soybeans, corn, milo, sugar cane, and crawfish. While looking toward a bright future, Church Point is also a town that believes in preserving its heritage.
Like other towns in the region, life in Church Point centers on the family. A number of residents work in larger communities but choose to live in a town where traditional values play a central role in everyday life. Though no major highways pass through Church Point, Interstate 49 is only 15 miles away, while Interstate 10 is just 10 miles distant.
Tourist Information
General Information. Church Point claims the title of "Cajun Music Capital of the World," based on "having the greatest number of professional Cajun musicians of any place on earth." Cajun traditions are carried on through several special events. For more information, go to the town's web site or to the Acadia Parish Tourist Commission's website.
Courir de Mardi Gras. Church Point's Mardi Gras courir takes place on the Sunday before Mardi Gras. The men don costumes and masks and roam the area on horseback, stopping at homes to perform dances and comic antics in return for the gift of a chicken, a guinea, a pig, or another ingredient for a gumbo.

The schedule of events is similar each year (go to the courir's web page). Riders gather at the Saddle Tramp Riding Club (1036 E. Ebey Street on the Lewisburg Highway) at 7 a.m. the Sunday preceding Mardi Gras. The courir leaves about 8:30. The courir returns to town about 1:30 to 2 p.m. for a parade. In 2009, Church Point offered a three-day Mardi Gras festival. The Church Point Courir de Mardi Gras is presented in more detail on a separate page.




| | |
| --- | --- |
| The Buggy Festival. Held the first weekend in June (Thursday and Friday night and all day Saturday and Sunday), the Buggy Festival includes a Sunday parade in which many townspeople ride in buggies or other horse-drawn vehicles. At the festival site in the town park, Cajun musicians, like Wayne Toups, shown at right, perform continuously on the festival stage, and Cajun cuisine is on sale throughout the weekend. There are also other events, including a trail ride, a Cajun French accordion contest, and a French speaking contest. Go to the Buggy Festival's Official Web Page for details. | |
Other Places of Interest. A number of places of interest are open to sightseeing on a daily basis: Le Park du Vieux Dépôt, site of the old railroad depot and loading platform; Our Mother of Mercy Catholic Church, established in 1927 by African American Catholics; the gravesite (located in nearby Richard) of Charlene Richard, a proposed Cajun Saint; Our Lady of the Sacred Heart Church and Cemetery.
Economic Development
The largest private employer in the town is Church Point Wholesale Grocery, which does business throughout the region. Like citizens throughout Acadiana, the people of Church Point have a strong work ethic. For more information, go to the town's official web site.
Return to Central Acadiana Gateway Main Page
Updated March 2009
These pages were established and maintained by David Simpson, who retired from LSUE in 2009.