LSUE Mardi Gras Photos:
2009 2008 2007 2006 2005 2004 2003 2002 2001 2000 1999
Click here to go the Official Church Point Courir de Mardi Gras Page.

Mardi Gras Archive: Final update of this page completed in 2009.
Church Point's Mardi Gras courir takes place on the Sunday before Mardi Gras. The men don costumes and masks and roam the area on horseback, stopping at homes to perform dances and comic antics in return for the gift of a chicken, a guinea, a pig, or another ingredient for a gumbo.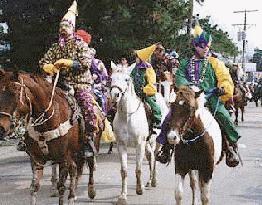 Riders gather at the Saddle Tramp Riding Club (1036 E. Ebey Street on the Lewisburg Highway) at 7 a.m. the Sunday preceding Mardi Gras, and the courir begins at 9 a.m., rides through the countryside, and then parades through Chuch Point about 2 p.m. In 2009, Church Point began a three-day Mardi Gras celebration downtown (check out the official site for the current schedule).
The Church Point capitaine is Elton "Joey" Richard, son of the late Elton Richard, who revived the Church Point courir in 1968, when he and Paul Tate of Mamou flipped a coin to determine when the courirs would take place. The outcome: Church Point got Sunday and the Mamou courir, Tuesday.



When the Mardi Gras arrive at a house where they want to stop, the capitaine rides up to the home to meet with the homeowner to get permission for the riders to come on the property. Then the riders charge full speed down the driveway. In 1998, drizzly, misty weather could not dampen the spirits of the Mardi Gras.

Photographs on this page were taken during their visits in 1998 on a dark, rainy day and 1999 on a bright, sunny day to the home of Jim and Betty David, who welcomed the courir at their home for many years. David had chickens and a guinea hen to offer the Mardi Gras, who gave chase through the brown wintertime grass. The band, riding in a trailer, played the Mardi Gras song while the men danced and carried on. Click here to go to a page with an audio file of the Mardi Gras song.
| | |
| --- | --- |
| Dr. Ty Hargroder, a Church Point physician and an LSUE alumnus, is shown dancing on his horse. Because he is a co-capitaine, Hargroder is not masked. | |
Return to Mardi Gras Main Page