Click here for high resolution photos of Balfa Toujours on Flickr.


For the latest information, go to the Balfa Toujours MySpace page, including music clips (among them, Dirk's 2008 Obama campaign song, "Oui on peut," also posted on YouTube). Folklore Productions has tour dates and additional biographical details.

Also check out Christine Balfa Powell's absolutely unique solo CD, Christine Balfa Plays the Triangle, which was reviewed in the New York Times and featured in a segment on National Public Radio's "All Things Considered." The Times praised the percussion instrument's "nuances; damped and open, the triangle can clank or ping or ring, with shifting overtones," and adds, "these rigorous, hypnotic tracks could build admiration for the selfless, essential toil of rhythm sections everywhere." The CD was released by Valcour Records.

Balfa Toujours is shown performing October 15, 2006, in the late afternoon on a rainy day. The backdrop on the Heritage Stage featured Phillip Gould's photographs, including a photo of Dewey Balfa, Christine Balfa Powell's father, and Will Bolfa, one of her uncles in the Balfa Brothers band. In the first row below, the second photo from left was taken October 14 when Christine and other members of Bonsoir, Catin were performing with Sheryl Cormier. Click on the thumbnails for larger photos. Click here to see 2004 and 2005 photos. Scroll down the page for more information about Balfa Toujours and links to more photos.


Shown at Lafayette's Downtown Alive! in September 2004 are Dirk Powell and Christine Balfa, with Mitch Reed behind them on bass.

With the birth of their second child, Sophie Jo Powell, born February 12, 2004, Christine Balfa and Dirk Powell and Balfa Toujours have not been touring as much lately, but the group is still making appearances at select venues around the country, including a performance before a crowd of some 5,000 in El Paso, Texas, in June 2005. Meanwhile Dirk Powell has been busy with a variety of projects, including performing on Loretta Lynn's Grammy-winning album and in 2008 playing fiddle on tour with Joan Baez. Click here for more 2004 photos.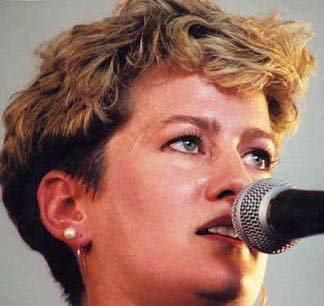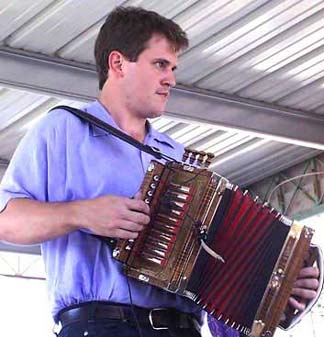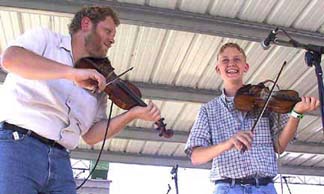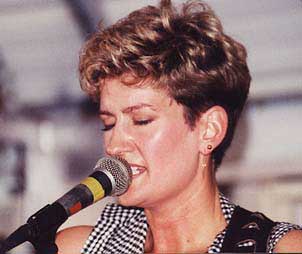 Pictured are Christine Balfa (at the 1999 Festival International de Louisiane in the top photo), Dirk Powell, and Kevin Wimmer and Courtney Granger. Granger left the band for a while to continue his education but then rejoined the group in summer 2000 playing bass. In the photo immediately above, taken at the Mamou Cajun Music Festival, Christine sings the passionately intense lyrics of "La Valse des Balfas": "Je voudrais mourir dedans tes bras" (the song is recorded on the group's first CD, "Pop, tu me parles toujours"). Below the band is shown performing at the Liberty Theater in Eunice and at the Cajun Music Festival in Mamou in 1999.
Visit Balfa Toujour's Official Web Site.
Get information on the Dewey Balfa Cajun and Creole Heritage Week.
Balfa Toujours is one of the top Cajun bands performing today. Led by Christine Balfa, youngest daughter of the legendary Dewey Balfa, the group plays traditional Cajun music, offering fresh interpretations of old favorites and also performing new songs written by the band. The band first performed in 1993, a year after Dewey Balfa's death. Beyond their technical skills as musicians, the members of Balfa Toujours succeed in conveying the spirit of the music played by Dewey and his brothers, giving voice to the deep emotions of happiness and sorrow that contribute to Cajun music's universal appeal. Their performance on stage is an expression of the joie de vivre that is at the center of Cajun culture.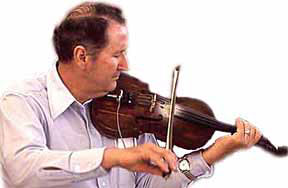 Dewey Balfa is shown in April 1979 when he performed in the LSUE Acadian Center.
The membership of the group is itself a tribute to Dewey Balfa's efforts as an ambassador of Cajun music on the national scene. When Dirk Powell, Christine's husband, first saw her perform with her father at the national folklife festival in Washington, D.C., in 1985, he was immediately impressed, but did not actually meet her until six years later. While they were dating, Powell would drive from Maryland to Louisiana, steering with his knees so that he could practice the accordion, extending his remarkable musical talent to yet another instrument beside those he plays as part of his Appalachian heritage. Kevin Wimmer, who was raised in New York City, learned to play the classical violin as a child, but once he attended a workshop at the Newport Festival led by Dewey Balfa, he knew he wanted to spend his life playing the Cajun fiddle. Eventually, he traveled to Basile, where he lived for several months learning from Dewey firsthand. Dewey Balfa's legacy now extends to a new generation. Courtney Granger, the newest member of Balfa Toujours, dreamed that his grand uncle, Dewey Balfa, placed his hand on Courtney's heart the night before Courtney recorded his own CD when he was 16 years old.
Balfa Toujours has five CDs out. The first CD, Pop, tu me parles toujours, released a year after Dewey Balfa's death, features a touching tribute to Dewey in the title song, plus a mixture of traditional and original material. A similar combination of old and new songs is included on the group's other CDs: à Vieille Terre Haute (1995), Deux Voyages (1996), and La Pointe (1998), which features some great original songs like "Restez, Mom et Pop, restez" and the humorous "Les tracas de Todd Balfa" as well as an especially evocative version of "Pa Janvier" and the band's interpretations of other traditional songs. In Allons Danser, released in 1998, Balfa Toujours plays traditional music with Alphonse "Bois Sec" Ardoin, a legendary Creole accordion player from Duralde with whom Dewey Balfa performed many times. The recording was Bois Sec Ardoin's first in twenty years. Christine Balfa and Dirk Powell are among the musicians performing with Courtney Granger (lead fiddle and vocals) on his 1999 Rounder CD, Un Bal Chez Balfa.
Balfa Toujours' August 2000 release, Live at Whiskey River Landing, offers listeners the excitement, energy, and freedom of a performance at a famous Cajun club located on the levee of the Atchafalaya Basin east of Lafayette. By closing time, the crowd is still clapping for more great music from one of the best traditional Cajun bands around today, a band that keeps getting better on every recording. The CD opens with a wonderful new tribute to the tenacity of the Cajun spirit, "La chandelle est allumée," and includes other great new songs, "Whiskey River Special," "Le Two-Step de Bon Café," and the instrumental "Chez Geno" (Geno Delafose, whose Double D Ranch is near Eunice, plays drums on three songs including this one). There are also live versions of two original songs from the group's first CD, an old time Dennis McGee fiddle number, "Le Reel Frugé," and classic songs from the Balfa Brothers' repertoire, including one instrumental by accordionist Hadley Fontenot that has never been recorded before. Pete Bergeron, host of the morning Cajun music show on KRVS public radio, has praised the quality of the live recording, which he described as similar to studio quality. Christine Balfa was presented a Le Cajun Award as Female Vocalist of the Year for 2000, given by the Cajun French Music Association at the annual awards ceremony Aug. 17, 2001. The album and the band received Le Cajun nominations.
The cover story of the September 2000 issue of Offbeat, a New Orleans and Louisiana music magazine, was an article on Balfa Toujours by Dan Willging (no longer availabe online). The August-September 2001 Issue No. 95 of Dirty Linen also has a cover story on Balfa Toujours.