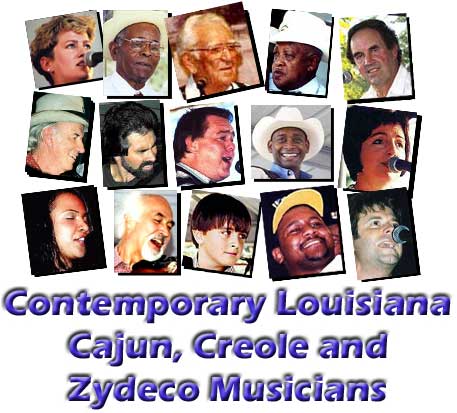 Archive 1999-2008
These pages are not being updated.
High resolution versions of many photos are being posted on Flickr, including photos taken after LSUE's music pages became an archive.
Click here for a current list.
When I first established these pages in summer 1999, many Cajun and zydeco musicians did not yet have their own web pages. Today, the amount of material online is vast and continually evolving, with numerous audio and video files giving Internet surfers a direct encounter with the music. So, if you want more information about any musicians or any topic on these pages, give your favorite search engine a try and you'll probably find even more than you can handle. In particular, check out MySpace and Facebook, where a number of bands have developed interactive pages, establishing electronic communities that offer a new cultural dimension. In addition, Louisiana music is showing up on YouTube, expanding the audience while also raising more copyright issues (for example, try a search using "Aly Bain" for segments of a British documentary in which a Shetland fiddler plays with D. L. Menard, Dewey Balfa, Harry LaFleur, Boozoo Chavis, and the Savoy-Doucet Band). As of spring 2009, well over 12,000 videos have been tagged as Cajun or zydeco.
With my retirement in May 2009, LSUE's music pages are now an archive of photos taken between 1999 and 2008 with related information about the individual musicians and groups pictured. The pages were put together in my spare time outside of my regular responsibilities as director of public relations and English instructor. For the most part, new information was simply added as updates without revising earlier pages. A few CDs from spring 2009 are included, but, for the most part, coverage ends with 2008.
LSUE plans to leave these pages online as an archive for an indefinite period. Meanwhile, in retirement, I will continue to take photographs from time to time and post them to a Flickr account that is indexed at www.cajunzydecophotos.com.
Click here for additional background on these pages and my current email address.
--David Simpson, May 15, 2009
For bands whose names begin with the name of a musician, the band is listed alphabetically under the musician's last name. Other bands are alphabetized under the first letter of the band's name, excluding "The" (or "Le" "La" or "Les").
This section of LSU at Eunice's web site offers a collection of web pages featuring photographs with some introductory notes about contemporary Cajun, Creole, and Zydeco musicians and musical groups from Southwest Louisiana. The idea for this project emerged in summer 1999 as a way of letting everyone know about the vibrant, culturally diverse music that is native to this part of the state. Since Louisiana State University at Eunice is located in a town in the heart of this region and since Eunice is the home of the Liberty Theater, where great Cajun, Creole, and Zydeco music is performed live every Saturday night, it seemed natural that LSUE should cover this unique part of Acadiana's culture on its web site. The collection includes photos taken through mid-2008. Many of the photos posted on this site, as well as more recent photos, are now available through Flickr. An index of the Flickr photos (which include original resolution versions) is available at http://www.cajunzydecophotos.com.
One welcome surprise as the work on these pages proceeded is the very large number of excellent Cajun, Creole, and Zydeco musicians performing today, including many young musicians who are carrying on the traditions of their cultures through their music. Though many musicians have been added to this web site over the past few years, the pages still represent only a small fraction of what is going on. These pages are not intended to promote any one musician over any others. Since these pages are being compiled as a project outside of regular work hours, the number of musicians who can be included is necessarily limited and updating pages is delayed until some free time is available. Everyone should explore the rich, diverse music of Southwest Louisiana far beyond what is presented here. Many bands now have their own web sites, often with audio clips and other attractions, so try your favorite search engine to find what's available online.
The photographs are all new; the information accompanying them generally is not. Among the excellent sources used in this project that anyone interested in learning more should consult are Accordions, Fiddles, Two-Step, and Swing, edited by Ryan A. Brasseaux and Kevin S. Fontenot, and published in 2006 by by the Center for Louisiana Studies at the University of Louisiana at Lafayette; Pat Nyhan, Brian Rollins, and David Babb, Let the Good Times Roll! A Guide to Cajun and Zydeco Music (Portland, Maine: Upbeat Books, 1997); Barry Jean Ancelet (with photos by Elemore Morgan Jr.), Cajun and Creole Music Makers (Jackson: University Press of Mississippi, 1999); Ann Allen Savoy, Cajun Music: A Reflection of a People (Eunice: Bluebird Press, 1984); Ben Sandmel (with photos by Rick Olivier), Zydeco! (Jackson: University Press of Mississippi, 1999); Michael Tisserand, The Kingdom of Zydeco (New York: Arcade, 1998); Raymond E. François, Yé Yaille, Chère!: Traditional Cajun Dance Music (Lafayette: Thunderstone Press, 1990); Barry Jean Ancelet, Cajun Music: Its Origins and Development (Lafayette: The Center for Louisiana Studies at the University of Southwestern Louisiana [University of Louisiana at Lafayette], 1989).
Information on this site was prepared by David Simpson, LSUE associate professor of English and director of public relations from 1977-2006, who is responsible for the content. He retired from LSUE in mid-May 2009.