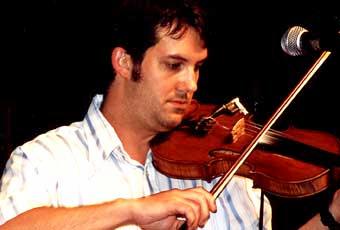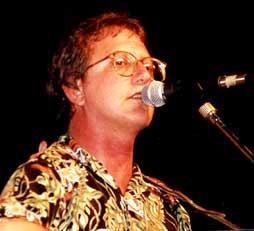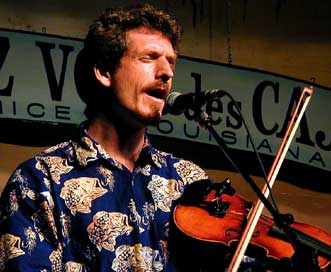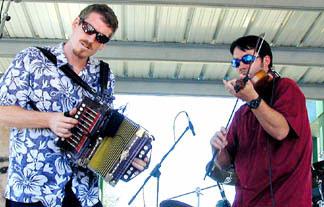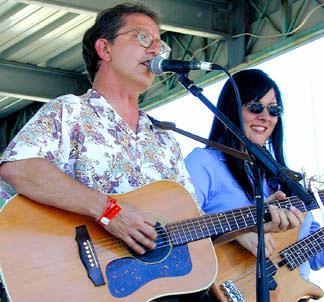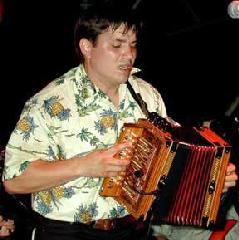 The top two photographs, all taken at the Liberty Theater in Eunice, show Mitchell Reed on fiddle and Randy Vidrine on vocals and guitar. Jonno Frishberg plays both fiddle and accordion and also sings a few songs. He is shown on accordion during a performance at Festivals Acadiens in Lafayette in 2000. Lois Sprague on bass is shown with Vidrine at the same performance. Ben Goodwin on drums is visible behind the twin fiddles of Frishberg and Reed at the Liberty. The shot immediately above of Zach Huval on accordion was taken when he performed with the Huval Family Band at the 2000 Breaux Bridge Crawfish Festival. Huval plays accordion on Charivari's CD, I Want to Dance with You.
The book Cajun Country describes the custom of le charivari as a rowdy gathering of friends and relatives who tease a couple married for the second time on their wedding night by creating a commotion outside their bedroom window. The gathering turns into a noisy, raucous party at which almost anything can happen. The band Charivari generates the same kind of unpredictable fun and excitement, rooted in Cajun tradition and energized by young musicians who clearly love to perform.
Previously known as the Mamou Prairie Band, the group is youthful but includes members who have been playing together for a long time. Mitchell Reed, one of the most accomplished Cajun fiddlers living today, is the son of Bob Reed , a Mamou native who plays accordion with the group T-Mamou. Randy Vidrine, a Ville Platte native who grew up speaking both French and English, is the band's main vocalist. His voice is reminiscent of legendary Cajun chanteurs like Adam Hebert and Shirley Bergeron. Happy or sad, he expresses feelings straight from the heart.
Reed and Vidrine first met at one of the Saturday morning jam sessions held at Marc Savoy's music store near Eunice. They played together with Cory McCauley on the 1990 album 1929 and Back. As members of another trio (with Philip Allemond on accordion) known as Tasso, they recorded The Old Timey Way in 1993 and Viens à ma maison in 1994. They played with the Mamou Prairie Band, which also featured Mitch's father, on Catch My Hat in 1993 and Oh Yaille! in 1996. Le Holiday (the title song celebrates a famous night spot located just west of Highway 13 near Mamou) was recorded after Bob Reed left the band.
The other members of Charivari also have extensive experience playing Cajun music. Though born in Houston, Lois Sprague has lived in Southwest Louisiana for many years, playing bass with various Cajun bands, including the Mamou Prairie Band for four years. Ben Goodwin, a Lafayette native, joined the Mamou Praire Band in 1998 after playing with other Cajun musicians.
Jonno Frishberg, an Arizona native who became a Cajun fiddler and, more recently, an accordionist, became a regular member of the band after the group recorded I Want to Dance with You, the first CD released under the name Charivari. In addition to his skills on accordion, Frishberg teams with Reed on twin fiddle numbers that recall the sounds of Dennis McGee and Sady Courville.
All five members of the group are professional musicians whose technical virtuosity is obvious to anyone who hears them play a few notes. But Charivari also draws deeply on the rich Cajun experience in all its dimensions, expressing in their music the joys and sorrows of a people who embrace and celebrate all of life's possibilities.
The 2000 album, I Want to Dance with You, released by Rounder Records, includes both new interpretations of classic songs like "Jolie Bassette" and "La dernière fois" (an Adam Hebert song described in the liner notes as "a tale of desperation, revenge, spite, and love, all rolled up into two verses"); new versions of more recent songs like BeauSoleil's "Arc de Triomphe Two-Step"; new songs based on older songs like Mitchell Reed's "I Don't Like to Work," which uses a Nathan Abshire tune; and several original songs: the humorous "The Monkey and the Fiddle," "The Woman I Never Forgot," and "Pascal's Egrets" (based on one of the old stories told in Mamou). The album's title song was originally recorded on a 45 by Doris Matt.
The album includes several guest musicians: Michael Doucet on mandolin ("Arc de Triomphe Two-Step") and fiddle ("Torchon's Reels"), Sam Broussard on guitar ("Arc de Triomphe"), Kevin Wimmer on fiddle ("I'm Lonesome Tonight").
Zach Huval is the accordionist on the CD. His brother, Brazos Huval, plays saxophone on "Arc de Triomphe."
In addition to excellent liner notes by Dirk Powell, the CD includes lyrics to all songs in both French and English.