The following summary of the history of Cajun, Creole, and Zydeco music is based entirely on information included in the sources listed at the bottom of the page. Anyone who wants to gain an understanding of the development of French music in Southwest Louisiana needs to start with these sources. The best way to experience the history of Cajun, Creole, and Zydeco music first hand is to listen to the many historical recordings now available.
Both Cajun music and the Creole music that evolved into Zydeco are the products of a combination of influences found only in Southwest Louisiana. According to Alan Lomax in his notes to a CD collection of field recordings in Louisiana that he and his father, John Lomax, completed in the 1930s, "the Cajun and Creole traditions of Southwest Louisiana are unique in the blending of European, African, and Amerindian qualities."
Origins of Cajun Music
As Barry Ancelet explains in his monograph Cajun Music: Its Origins and Development, the Acadians who came to Louisiana beginning in 1764 after their expulsion from Acadie (Nova Scotia ) in 1755 brought with them music that had its origins in France but that had already been changed by experiences in the New World through encounters with British settlers and Native Americans. Taking stories with European origins and changing them to refer to life in Louisiana or inventing their own tales, early balladeers would sing without accompaniment at family gathering or special occasions. The fiddle supplied music for dances, although Ancelet also describes a cappela dance tunes that relied on clapping and stomping to provide the rhythm.
The music of the Acadians in Louisiana in the 19th century was transformed by new influences: African rhythms, blues, and improvisational singing techniques as well as by other rhythms and singing styles from Native Americans. Some fiddle tunes and a few ballads came from Anglo-American sources. The Spanish even contributed a few melodies, including, according to Ancelet, the melody for "J'ai passé devant ta porte," which comes from a concerto for classical guitar.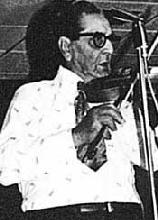 Dennis McGee performing in the LSUE Acadian Center in 1976.
According to Ann Allen Savoy, the legendary fiddler Dennis McGee was himself "a perfect example of this fascinating cultural blend." In her extensive liner notes to The Complete Early Recordings of Dennis McGee, she explains that his father was a descendant of an Irish immigrant and his mother was half French and half Seminole Indian.
McGee's life stretched from 1893 to 1989, a period which encompasses the key developments that have shaped Cajun music. When he began playing, Cajun music included "contradanses, gigues, galops, reels, mazurkas, polkas, cotillions, valses Julien, valses a deux temps, Varsouviennes." The twin fiddle tunes that he first recorded with Sady Courville starting back in 1929 continue an even older Cajun tradition that antedates the introduction of the accordion. In the old fiddle style, one fiddle leads and the other provides rhythm accompaniment.
Introduction of the Accordion
The popularity of the accordion, whose sound was loud enough to carry well across a crowded dance floor, changed Cajun music because the accordion's musical range was more limited than the fiddle's, incapable of playing as many chords. As Savoy explains in her book, Cajun Music: A Reflection of a People, the accordion was brought to Louisiana in the late 19th century by German immigrants, but, because the accordion was tuned in keys that did not match the "open string" tuning of the fiddlers, it was not incorporated into Cajun music. With the introduction about 1925 of accordions tuned in C and D, Cajun music found an instrument whose sound carried well even during noisy dances. However, since the accordion is more limited in the notes it can produce than the fiddle, some of the old melodies could not be translated into the new style.
The Music of the Creoles
At the same time that the Cajuns was being transformed by new influences, the African American descendants of slaves who had been brought by force to America were developing their own music, and the music of the two cultures influenced one another. If a full history of the development of the French music of African Americans in Southwest Louisiana were ever written, it would need to take into account the complexities of a culture that included free people of color who gained considerable prominence in some communities before the Civil War and freed slaves who after the Civil War continued to live in extreme poverty as tenant farmers. Many of the slaves who gained their freedom under French or Spanish rule before the Louisiana Purchase were of mixed racial ancestry, further complicating any attempt to understand the historical intricacies of relationships among the peoples of Southwest Louisiana. And, just as with Cajun music, since the music of the 19th century was not recorded and not transcribed in writing, the origins of what has come to be called Creole music will always remain cloudy.
The music of Creole culture drew on the same French traditions as Cajun music but added to that the influence of African music in the New World–the rhythms of the Caribbean or the soulful melodies of the blues or a combination of these sources and more. The Lomax recordings include examples of jurés, sung dances in a style typical of West Africa and the West Indies in which "melodies are built around a refrain that has a danceable rhythmic shape and that enables the group of singers to make music for collective dancing." "Blues de la prison," another song recorded by the Lomaxes, draws on the style of singing that evolved from West Africa to become American blues.
Like the Cajuns, the Creoles had house dances, clearing out all the furniture and bringing in musicians who would play until early in the morning. Often, there might be only one musician, like the legendary Amédé Ardoin, who exerted a major influence on the development of both Creole and Cajun music. Ardoin and a number of other Creole musicians would also play at white dances. Eventually, Ardoin became acquainted with the Cajun fiddler Dennis McGee. Together, they began to play at dances throughout the region. According to Dennis McGee (as quoted in Ann Savoy's book), "We played in Kaplan, at Bayou Noir, Lake Charles, everywhere. Everybody went crazy when Amédé played. Oh, I loved that little guy's music…. He had a song he'd cry out in–it would make me shake when he'd take to singing it." Most Cajun vocalists also used a high-pitched singing style to match the musical key of the songs and to carry across the dance floor, but few singers could approach the emotional power of Amédé Ardoin.
The Lafayette-based organization C.R.E.O.L.E, Inc. defines Creoles "as individuals of African descent whose cultural roots have been influenced by other cultures such as French, Spanish, and/or Indian. These individuals have traveled through the centuries carrying their oral history, art forms, culinary skills, religious beliefs and kaleidoscope culture." The Louisiana Creole Heritage Center defines Creoles as "people of mixed French, African, Spanish, and Native American ancestry, most of who reside in or have familial ties to Louisiana." Using either definition, Zydeco is "Creole music," created and performed by Creoles. However, in the way the term is widely used today specifically in reference to music, "Creole" usually describes music performed by Creoles in the Creole language, in the old style that includes the fiddle as part of the instrumentation, a music known in an earlier era as "la-la music." In interviews, Canray Fontenot and Bois Sec Ardoin both referred to their music as "Creole music." Clifton Chenier, the King of Zydeco, sang many of his songs in Creole, including some classic Zydeco songs performed with his uncle Morris Chenier on fiddle, and many Zydeco bands include music from the older Creole tradition as part of their repertoire, so, in practice, the terminology used to describe Creole music in Southwest Louisiana can be applied in a variety of ways. In the case of the group the Creole Zydeco Farmers, "Creole" might refer to music, language, culture, and ethnic background all at the same time. The key point is that both the older style la-la music and today's Zydeco are products of the Creole people of Southwest Louisiana and their rich culture.
(For information on various meanings of the word Creole in Louisiana from past to present, see Carl A. Brasseaux, French, Cajun, Creole, Houma: A Primer on Francophone Louisiana, Baton Rouge: LSU Press, 2005. Brasseaux says the word "has come to mean something different to nearly everyone using it." See Fehintola Mosadomi, "The Origin of Louisiana Creole," in Creole: The History and Legacy of Louisiana's Free People of Color, ed. Sybil Klein, Baton Rouge: LSU Press, 2000, for a discussion of some of the past research and current issues; and Albert Valdman et al, A Dictionary of Louisiana Creole, Bloomington: Indiana UP, 1998, for more on the Creole dialects.
The First Recordings
By the 1920s, with the development of the recording industry and of radio, both Cajun and Creole musicians were exposed to other music from outside Louisiana, and they also had their first opportunities to make their own recordings. The older styles of music continued on at family gatherings, but the influence of mass media began to take hold. In 1928, Joe and Cleoma Falcon went to New Orleans to make the first recording of Cajun music: "Allons à Lafayette" (released with "La valse qui m'a porté en terre" on the other side). Amédé Ardoin's first recordings were made with Dennis McGee in 1929, including "Two Step de Eunice," "Madame Atchen," and "La Valse à Abe." In 1929, Amédée Breaux on accordion with his brother, Orphy, on fiddle, with their sister, Cleoma Breaux Falcon, recorded "Ma blonde est partie," the song that become known as "Jolie Blonde," composed by Cleoma (or, in another version of the song's history, written by Amédée Breaux about his first wife). Ann Savoy, Barry Ancelet, and John Broven all provide additional details about these and other musicians who recorded the first Cajun and Creole music.
The Swing Era of Cajun Music
Meanwhile, the French language in Louisiana was already under attack: banned from schools in 1916, denied official status in the 1921 state constitution, deemed backward and a sign of ignorance by the Americans who came into the region with the growth of the oil industry, the construction of better roads, and the gradual integration of the region into the national economy. By the mid-1930s, the accordion was vanishing from the bands of Southwest Louisiana, and groups like the Hackberry Ramblers began to play in the Americanized style of the western swing and bluegrass bands heard on the radio. The Hackberry Ramblers were also the first group to use electrical amplification, and the electric steel guitar eventually found a place in Cajun bands. In 1946, Harry Choates, "the fiddle king of Cajun swing," recorded his version of "Jole Blon," turning it into a regional hit.
Iry LeJeune and Revival of the Old Style
After World War II, German-imported accordions once again became available, though the western sound still predominated. Meanwhile, in the small community of Pointe Noire near Church Point, a young man named Iry LeJeune was learning to play his cousin's accordion and listening to old recordings, especially records of Amédé Ardoin. In 1948, LeJeune recorded "The Lovebridge Waltz" and "The Evangeline Special" for a Houston record label. After scoring a big regional hit with the record, LeJeune began to record for Eddie Shuler's Goldband Records in Lake Charles, bringing back the traditional sound of Cajun music from earlier in the century and through his own musical genius giving his songs an immediacy and direct emotional appeal lacking in Americanized music. Iry LeJeune's life was cut short in 1955 when he was hit by a passing car while changing a flat tire, but, by then, the accordion was once again at the front of Cajun bands led by musicians like Lawrence Walker, Aldus Roger, Austin Pitre, and Nathan Abshire.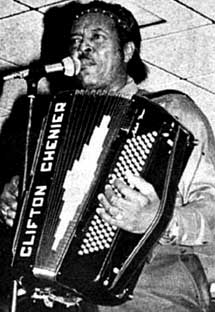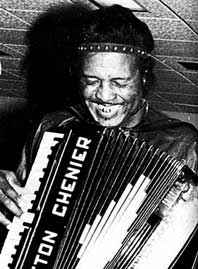 Clifton Chenier performing in the LSUE Acadian Center in 1976.
The Rise of Zydeco
Meanwhile, Creole music was being played in homes and at family gatherings, but it did not find a place with commercial record companies. Clifton Chenier, born in 1925, the son of sharecroppers near Opelousas, listened to the la-la music of his community performed by musicians like accordionist Claude Faulk and by his father, Joseph Chenier. Rubboards and triangles provided rhythm. He also listened to recordings from a decade earlier by Amédé Ardoin and to musicians who played the blues. After moving to Texas, he learned to play the piano accordion in the late 1940s. He and his older brother, Cleveland, who played the washboard, began to perform at Texas clubs as well as at clubs in Louisiana like Freeman Fontenot's club in Basile. Instead of a washboard, Cleveland began using corrugated tin, played at first with spoons and then with bottle openers. Clifton Chenier had a Port Arthur metal worker shape a board with shoulder straps, inventing the frottoir, the trademark instrument of Zydeco. J.R. Fulbright, an African American independent record producer, recruited Chenier after seeing him performing on a Port Arthur street before a crowd of people. Chenier completed his first recording at a Lake Charles studio and soon joined Fulbright in Los Angeles, where in 1955 Chenier signed with Specialty Records, which released his hit single, "Ay-Tete Fee" ("Eh, 'tite fille," a French version of "Hey, Little Girl"). In The Kingdom of Zydeco, Michael Tisserand provides more details about Chenier's subsequent career in taking the French Creole music of rural Southwest Louisiana, blending it with the sounds of blues and R&B, and creating a new musical genre that acquired the name Zydeco. Eventually the instrumentation of Chenier's band expanded to include saxophone, horns, and keyboard on some numbers. Similar instrumentation is used by many contemporary Zydeco bands, but the core of the band remains the accordion and the frottoir, with additional rhythm provided by guitar and drums. With a few rare exceptions, the fiddle has lost its place in Zydeco, and Zydeco bands also rarely play waltzes that are common in Creole and Cajun music.
Everyone agrees that the name Zydeco is derived from the phrase "les haricots sont pas salés": the snapbeans are not salty. Tisserand and Ben Sandmel both discuss the history of the word Zydeco and its variants like zordico. Barry Ancelet has an essay on the term in Creoles of Color of the Gulf South. For most listeners of Zydeco, however, the musical meaning is captured in Clifton Chenier's signature song, "Zydeco Sont Pas Salé," recorded in 1965 at the Gold Star studio in Houston.
Cajun Music in the Era of Rock 'n' Roll and Country
As the 1950s moved along, and rock 'n' roll emerged on the national scene, Louisiana musicians with Cajun roots like Johnnie Allan (John A. Guillot) began to adapt, producing their own style of what came to be known later as swamp pop. English writer John Broven describes swamp pop as "a unique combination of Cajun emotional feel, lingering hillbilly melodies, and refined New Orleans-style R&B musical backings." Other Cajuns were also adapting to the changes. Jimmy C. Newman of Mamou and Doug Kershaw of Jennings headed for Nashville, where they achieved success as country performers who drew on their Cajun heritage but sang in English. Musicians singing in French also moved toward more contemporary styles. Belton Richard, who started in a rock 'n' roll band in the late 1950s, switched to Cajun music but introduced a smoother vocal styling more in line with mainstream musical trends. With a singing style that has been compared to the style of Hank Williams, D.L. Menard produced a remarkable Cajun hit song in 1962, "La porte d'en arrière." Over the years, other Cajun bands have been influenced by the Nashville sound, and a number of bands have performed French versions of country hits.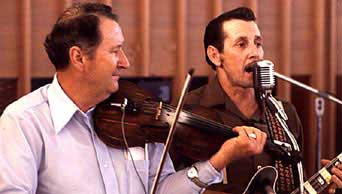 Dewey Balfa at left with Eli Stutes performing in the LSUE Acadian Center in 1979 a few months after the tragic death of Dewey's brothers, Rodney and Will, in a highway accident. The Balfa Brothers have been described as the "quintessential Cajun band."
The Return of Traditional Music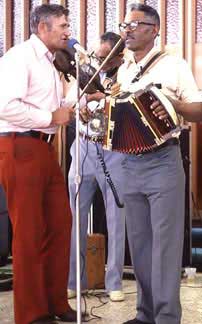 Vinesse LeJeune on fiddle and Alphonse "Bois Sec" Ardoin on accordion with Canray Fontenot behind them performing in the LSUE Acadian Center in 1979.
Different versions of these musical subgenres like Cajun-country continue until this day, but one more development is of crucial importance in shaping Cajun music. In 1964, Gladius Thibodeaux, Louis "Vinesse" LeJeune, and Dewey Balfa (who joined as a last minute replacement playing guitar) accepted an invitation to represent Louisiana performing traditional Cajun music at the Newport Folk Festival After their performance, they received a standing ovation. As Barry Ancelet explains, the Newport organizers subsequently invited other traditional Louisiana musicians to the annual festival, including Alphonse "Bois Sec" Ardoin and Canray Fontenot, who, in subsequent decades, became the most prominent of the Creole musicians who kept their music from being totally eclipsed by Zydeco. The national attention spurred on the efforts of Cajun preservationists like Revon Reed and Paul Tate, and Dewey Balfa now himself became a leader of the movement, convincing Ville Platte record producer Floyd Soileau in 1967 to begin releasing recordings of traditional Cajun music like the Balfa Brothers' versions of "La valse du bambocheur" and "Parlez-nous à boire." In 1968, Louisiana finally officially recognized the value of its French heritage by establishing the Council for the Development of French in Louisiana. In 1974, CODOFIL organized the First Tribute to Cajun Music Festival in Lafayette, an annual gathering that has become Festivals Acadiens.
Contemporary Cajun Music
Through the untiring efforts of Cajuns like Dewey Balfa, young musicians discovered the beauty and power of traditional Cajun music. Like contemporary folk artists from many cultures, Dewey's daughter, Christine Balfa, Steve Riley, and other young Cajun performers have taken old songs and energized them for the festival stage while still capturing the essence of the music. Michael Doucet and his band BeauSoleil always base their music on a carefully researched understanding of the traditions while adding elements of rock or other musical styles to their performances. One problem with the reliance on tradition is that many bands wind up recording the same songs. However, instead of offering listeners yet another version of "Petite ou la grosse" or "Les flammes d'enfer," many musicians are composing new songs so that the repertoire of Cajun music continues to grow with the release of almost every album.
Wayne Toups, who has coined the name "Zydecajun" to describe his fusion of rock, Cajun, and Zydeco, has influenced a number of young musicians like Damon Troy who have a strong following among younger Cajuns. Toups sings in both French and English in a band that eliminates the fiddle and replaces the steel guitar with the electronic keyboard. Meanwhile, traditional Cajun dance bands like the Sundown Playboys that have been around for decades continue to perform, and young musicians like Kevin Naquin have gained a wide following with bands that have the traditional dance band instrumentation of accordion, fiddle, guitar, bass, steel guitar, and drums.
Zydeco in the Spotlight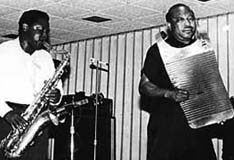 Alton "Rockin' Dopsie" Rubin is shown at right performing at LSUE in 1976. After the death of Clifton Chenier in 1987, he arranged his coronation as King of Zydeco, a controversial episode that is explored by Michael Tisserand in his book.
While Cajun music was being reinvigorated in the 1970s and 1980s, Zydeco continued to attract new fans throughout the nation and beyond. Louisiana immigrants in California began to bring Zydeco to the West Coast. San Francisco-based Queen Ida Guillory, originally from Lake Charles, won a Grammy for a 1982 album. Clifton Chenier continued to gain even more recognition, receiving a Grammy in 1983. Rockin' Sidney Semien's "My Toot Toot," released in an album in 1984 on Floyd Soileau's Maison de Soul label, sold more than a million copies and earned a Grammy. Buckwheat Zydeco, who emerged on his own in 1979 after playing keyboard with Clifton Chenier, achieved celebrity status, ultimately being chosen to perform during the closing ceremonies of the 1996 Atlanta Olympics, an event witnessed by some 3 billion people.
In 1984, the return of Boozoo Chavis, whose 1954 "Paper in My Shoe" is considered to be the first Zydeco hit, led to a resurgence of rural Zydeco played with diatonic accordions and often sung in Creole French. As part of the revival of rural Zydeco, trailrides became part of the Zydeco scene. In the 21st century, Zydeco fans throughout Southwest Louisiana continue to spend the weekend camping, dancing to the music of Zydeco bands, and riding on horseback or in wagons across the countryside on trailrides. In the early 1990s, bands like Zydeco Force took the raw energy of rural Zydeco and added to it a new beat known as "double clutchin'." Meanwhile, younger Zydeco bands began to perform only in English, incorporating rap and other musical styles in their songs. However, at the same time, Geno Delafose began to achieve success both in Southwest Louisiana and on national tours singing primarily in Creole French, playing songs from both the Creole and Cajun repertoires, using his skills on the accordion to take music that may date back many years and infuse in it an excitement that contemporary audiences find irresistible. At the dawn of the 21st century, old time Creole musicians like Goldman Thibodeaux were recording new CDs, preserving the music that originated during the 19th century.
The Future of Cajun, Creole, and Zydeco Music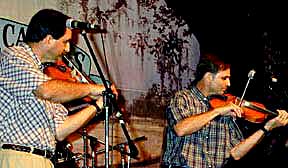 Eric Chapman, left, and Clay Chapman, the grand-nephews and grandsons of fiddlers Dennis McGee and Sady Courville, are shown recreating the twin fiddle sound of their ancestors during a performance in 1999 at the Liberty Theater in Eunice.
No one can be sure of the future direction of Cajun, Creole, or Zydeco music, especially music performed in French. Twenty-five years ago in Eunice, it was common to hear French spoken everywhere. In stores or any other place where people gathered, conversations could be heard in both French and English. Today, in 2001, Harry Leger, for example, converses in French much of the day with the older customers in his Eunice barbershop, and throughout the region many older Cajuns who learned French before they learned English still feel more comfortable talking in French. But, based on casual observations, it seems that probably most Cajuns under 50, while they may understand French fairly well, do not speak it very often. Those under 40 are less likely to speak or understand much French, except for a few who grew up around their grandparents and communicated with them in French in their homes. Can French music continue to survive in a society in which only a decided minority of the population understands French? Or can that minority begin to grow as children learn French in language immersion programs offered by schools? The answer to those questions will determine what happens to French music in Louisiana.
One major surprise in developing LSUE's web pages on Southwest Louisiana music was the discovery that numerous young musicians are performing Cajun and Zydeco music. All of the young Cajun vocalists sing in French. Some young musicians, like members of La Bande Feufollet and the Pine Leaf Boys, speak French fluently, but others have more limited knowledge of the language beyond learning the words to songs. In addition to Geno Delafose, Keith Frank is among the young Zydeco players who are recording at least some songs in French. More younger performers are now adding at least one or two songs in French to their repertoire.
It is hard to imagine that the French music of Louisiana will ever die out completely: it is too beautiful, too emotionally powerful not to find performers who will keep it alive as folk music. And, as Southwest Louisiana moves forward into the new century, it is clear from the extensive and still very incomplete listing of bands on LSUE's web site that there will be plenty of musicians available to play at night clubs and other local venues that make the music part of people's everyday lives, part of their culture. But, whether, as the decades roll by, the culture of Southwest Louisiana will continue to value French music as it has in the past and still does today is an open question. The answer will have to come from the people whose ancestors created the music and who now have it in their power to determine whether their inheritance will be passed on to future generations.
Don't Stop Here: Keep Exploring
There are many glaring gaps in this summary of the history of Cajun, Creole, and Zydeco music. Many, many important musicians are not mentioned at all. The role of record companies and producers, both in Louisiana and in faraway locations like California (Arhoolie Records) or Massachusetts (Rounder Records), is mostly absent. Lounges and nightclubs are not mentioned, nor is there any discussion of the Savoy Music Center, the Liberty Theater, or the growth of festivals, not even of the Original Southwest Louisiana Zydeco Music Festival. The leadership of central figures like Barry Ancelet or Wilbert Guillory or organizations like the Cajun French Music Association or CREOLE, Inc., (Cultural, Resourceful, Educational Opportunities and Linguistic Enrichments) is not covered. No effort is made to assess the spread of Louisiana music outside the state. In short, as the opening paragraph suggests, anyone who wants to learn about the development of Cajun, Creole, and Zydeco music needs to move on to sources that provide a more complete picture. Here are some starting points (this listing was prepared in 2001 and has not yet been updated):
Books and Articles
Ancelet, Barry Jean. Cajun Music: Its Origins and Development. Lafayette: The Center for Louisiana Studies, University of Southwestern Louisiana [now the University of Louisiana at Lafayette], 1989. Dr. Barry Ancelet is the foremost academic authority on Cajun culture. This monograph is 58-page survey that concisely covers developments from the beginnings in Acadie through the 1980s. Lyrics to a number of songs, photographs, and a reference discography are included.
Ancelet, Barry Jean, with photographs by Elemore Morgan Jr., Cajun and Creole Music Makers. Jackson: University Press of Mississippi, 1999. This is an updated edition of a book published in 1984. It includes priceless interviews with many musicians. French and English translations of the text are printed side by side. The book features numerous color photographs of musicians on stage and in their homes.
Ancelet, Barry Jean, Jay Edwards, and Glen Pitre. Cajun Country. Jackson: University Press of Mississippi, 1991. The chapter "Music and Musical Makers" offers a 20-page overview.

Ancelet, Barry Jean, and Philip Gould.

One Generation at a Time: Biography of a Cajun and Creole Music Festival

. Lafayette: Center for Louisiana Studies, 2007. A year by year history of

Festival de Musique Acadienne at Festivals Acadiens in Lafayette, the central event in the preservation and promotion of Cajun music. The book includes a lot of material about individual musicians.

Brasseaux, Ryan A., and Kevin S. Fontenot. Accordions, Fiddles, Two-Step & Swing: A Cajun Music Reader. Lafayette: Center for Louisiana Studies, 2006. An essential collection of articles and other material.
Broven, John. South to Louisiana: The Music of the Cajun Bayous. Gretna: Pelican Publishing Co., 1992.
Daigle, Rev. Msgr. Jules O. A Dictionary of the Cajun Language. Ville Platte: Swallow Publications, 1984. A number of recordings now include transcriptions of lyrics using standard French orthography as much as possible and giving English translations. Father Daigle's dictionary may be helpful in understanding the words of some songs for which there is no printed version. The dictionary includes a short explanation of the grammar of Cajun French.
The Encyclopedia of Cajun Culture. This on-line collection of short articles about all aspects of Cajun culture, edited by historian Shane K. Bernard, is no longer available. It used to be the best place to go for information on specific topics, but, with the advent of Wikipedia, Bernard decided to remove the site and now recommends Wikipedia as a source.
Francois, Raymond E. Yé Yaille, Chère!: Traditional Cajun Dance Music. Lafayette: Thunderstone Press, 1990. This is the most complete collection of the music and lyrics (in French with English translations) to Cajun songs available. Also included are explanatory notes about songs, anecdotes and quotations from many musicians.
Gould, Philip. Cajun and Zydeco Music. Baton Rouge: LSU Press, 1992. This is the best collection of color photographs available taken by Philip Gould, a renowned photographer who has documented many aspects of the cultures of Southwest Louisiana. Barry Jean Ancelet offers an excellent introduction that includes historical background but especially emphasizes developments in the 1970s and 1980s, the period covered by Gould's photographs. The package includes a Rounder Records CD with a variety of Cajun and Zydeco musicians–all of the recordings are by musicians performing during the period illustrated in the book.
Nyhan, Pat, Brian Rollins, and David Babb. Let the Good Times Roll: A Guide to Cajun and Zydeco Music. Portland: Upbeat Books, 1997. This is the source to consult for reviews of recordings by most Cajun, Creole, and Zydeco artists through the mid-1990s. Entries include biographical notes on musicians, brief reviews of albums, plus photographs of album covers. There's also a short historical overview, a section on musical collections, listings of source material, including videos, magazines, and record companies, plus a bibliography.
Reed, Revon. Lâche pas la patate. Montreal: Éditions Parti pris, 1976. This book, written in French, is no longer in print. Revon Reed, a school teacher who was a staunch advocate of Cajun culture (and host of the Mamou Hour radio broadast on KEUN), collects in this little volume all manner of stories, opinions, and character sketches centering on life in Mamou.
Sandmel, Ben. Zydeco! Jackson: University Press of Mississippi, 1999. In addition to Sandmel discussion of Zydeco based on extensive interviews with musicians, the book features numerous black and white photographs by Rick Olivier. Michael Tisserand's book provides more historical information, but anyone interested in Zydeco needs to read both books, and everyone needs to see Olivier's stunning photographs.
Savoy, Ann Allen. Cajun Music: A Reflection of a People. Eunice: Bluebird Press, 1984. In this book you will find words and music, along with a pronunciation guide, to many classic Cajun, Creole and Zydeco songs, plus articles on a wide variety of topics: Cajun singing, a description of the instruments, many interviews with legendary musicians along with historic photographs, discographies, musical histories–a real treasure trove of fascinating information.
Tisserand, Michael. The Kingdom of Zydeco. New York: Arcade Publishing, 1998. This is the most detailed account available on the history of Zydeco, based on extensive research and many interviews. Rounder Records released a companion CD with the same title as the book.
Winick, Steve. "Allons à Lafayette: Historical Recordings of Cajun Music." Dirty Linen (1995). In addition to reviewing a number of recordings, Winick also surveys the history of Cajun music.
Yule, Ron. Cajun French Music Association Hall of Fame, Lake Charles Chapter. Lake Charles: Fiddle Country Publishing. Biographical sketches of the musicians inducted into the Lake Charles CFMA Chapter's Hall of Fame. Yule also published a biography of Iry Lejeune written in collaboration with Ervin Lejeune.
A Few Historical Recordings
Balfa Brothers Play Traditional Cajun Music. CD released in 1991 (from LP collections released in 1965 and 1974) by Swallow Records of Ville Platte.
Cajun and Creole Music, Vol. 1 and Vol. 2: 1934/1937. This set contains the Lomax recordings, which were originally released on LPs by Floyd Soileau's Swallow Records in 1987. The CDs, released by Rounder Records in 1999, include additional cuts, an introduction by Alan Lomax, notes by Barry Jean Ancelet, who is the producer, and transcriptions and translations by Ancelet and Florence Perinet.
Cajun Dance Party: Fais Do-Do. Early recordings by the Breaux brothers, Cleoma Breaux Falcon, Amédé Ardoin and Dennis McGee, and Dewey Segura. Released on CD in 1994 by Columbia's Legacy label.
Cajun Social Music. Recordings in the Basile and Mamou area by Gerard Dole. Originally issued in 1977. Released on CD in 1990 by Smithsonian-Folkways.
Canray Fontenot: Louisiana Hot Sauce Creole Style. Introduction and notes by Michael Doucet. Released on CD by Arhoolie Records in 1992.
The Complete Early Recordings of Dennis McGee. Liner notes include essays by Ann Savoy, plus a note on style and technique by Will Spires. Released on CD in 1994 by Yazoo, a division of Shanachie Entertainment Corporation.
Folksongs of the Louisiana Acadians. Recordings made by folklorist Harry Oster from the 1950s. Released on CD in 1994 by Arhoolie.
"I'm Never Comin' Back": Amédé Ardoin: Pioneer of Louisiana French Blues 1930-34. Introduction by Michael Doucet, with more notes by Michael Tisserand and Jared Snyder. Transcriptions and translations of songs by Barry Jean Ancelet, Ann Allen Savoy, and Marc Savoy. Released by Arhoolie in 1995.
Iry LeJeune: Cajun's Greatest–The Definitive Collection. Released in 1994 by England's Ace label under the coordination of John Broven. Liner notes by Ann Savoy.
J'ai Été au Bal, Vol. 1 and 2. This 2-volume collection features music from Les Blank's video of the same title (produced by Brazos Films), plus some bonus cuts. Narrated by Barry Jean Ancelet and Michael Doucet and including extensive interviews and, of course, live performances, the video is generally considered to be the best film available on Cajun, Creole, and Zydeco music. The CDs (and cassettes) were released by Arhoolie Records.
Louisiana Black French Music. Originally released in 1977 and re-released on cassette by Maison de Soul in 1991. Features Les Freres Carrières (Joseph "Bébé" Carrière and Eraste Carrière) and The Lawtell Playboys. Recorded, edited, and produced by Nick Spitzer.
Music from the Kingdom of Zydeco. The CD is intended to accompany Michael Tisserand's book. Released in 2000 by Rounder Records.
Zydeco Dynamite/Anthology - Clifton Chenier. Two-CD set that covers all of Clifton Chenier's career. Includes a 30-page booklet. Released in 1990 by Rhino Records
A lot of performances, including some historical performances by musicians like Dewey Balfa and Bois Sec Ardoin, are now posted on YouTube, and documentaries like J'ai été au bal and Jean-Pierre Bruneau's Dedans le Sud de la Louisiane are now available on DVD. Also, check out the films available through folkstreams.net, including Les Blank's Dry Wood (a documentary on Bois Sec Ardoin). If you can find a source to supply them, programs in the thirteen-part series Gumb-Oh! Là! Là! produced by Charles Larroque focus on Geno Delafose, D.L. Menard, and Horace Trahan.