---

J'amais Satisfait Released in October 2004

Kevin Naquin certainly does not rest on his laurels. Within weeks of carrying away most of the annual CFMA awards for his CD Bayou Groove, he released a new CD on Swallow Records. As we have come to expect from Kevin, the CD, Never Satisfied: 'J'amais Satisfait,' has four great new songs: the title cut (sung in French and English) and three songs written with Johnnie Allan (John A. Guillot), a legend in both swamp pop and Cajun music. "La dernière demande" tells the sad story of a wife's last request to her husband when he left to got to war. The others are upbeat love songs, "Dans tes yeux ce soir" and the rollicking "J'ai envie de faire l'amour," which ends "Couche-toi au-ras de moi, et laisse la pluie tomber." Willie Tee's sax is featured on the title cut and on the Cajun-Zydeco-Swamp Pop version of Rockin' Sidney's "Une femme pas bonne." Kevin also offers his interpretation of Cajun standards by Nathan Abshire, Adam Hebert, Belton Richard, and Iry LeJeune–a total of 12 cuts. With this CD, Kevin Naquin and the Ossun Playboys continue their commitment to offering excellent new songs while putting their own stamp on some of the classic numbers in the repertoire.

Shown at a CD release party Nov. 21, 2004, in Scott are, from left, Louis Dronet, Chevy Foreman, Kevin Naquin, Wyatt Foreman, Willie Tee (Trahan), who is a guest musician on the CD Never Satisfied: 'J'amais Satisfait, and Wyatt Foreman, the new guitarist with the group. Kevin Naquin and the Ossun Playboys are a favorite band among Cajun dancers, including those from LSUE.

More Awards for Kevin Naquin and the Ossun Playboys in 2004

Kevin Naquin and the Ossun Playboys once again walked off with a truckload of Le Cajun Awards presented August 20, 2004, by the Cajun French Music Association at Blackham Coliseum in Lafayette. The awards included:

Band of the Year
CD of the Year for Bayou Groove
Song of the Year for "C'est trop tard," by Kevin Naquin and Ashley Hayes
Accordionist of the Year: Kevin Naquin
Fiddler of the Year: Louis Dronet
Female Vocalist of the Year: Ashley Hayes

The band has now won 14 Le Cajuns since 2000.

Most of the photos in this section were taken when the band performed at the CFMA festival August 21, 2004.

Ashley Hayes, who received the CFMA Female Vocalist of the Year Award, is shown performing at the Liberty Theater earlier in 2004.

---

Kevin Naquin and the Ossun Playboys in 2003


For more information on Kevin Naquin and the Ossun Playboys, go to the group's official web site or contact the group via e-mail.

For more background on the group, see the section below this 2003 update.

Kevin Naquin's 2003 CD, released on the Swallow label, is appropriately named Bayou Groove. Some of the musicians in the group have changed in the last year or so, but the Ossun Playboys continue to be a great band that definitely grooves together, both on original numbers and on Cajun standards. Kevin and his band already have won eight Cajun French Music Association Awards, and this album will definitely be a strong contender to earn the band some more. In particular, "Papa à mon côté," which Naquin co-wrote with Jean Arceneaux, stands out as truly beautiful and touching, on par with the best Cajun songs ever composed. The father of Kevin's wife, April, died when she was three years old. Her mother assured her that her father would still be with her, at her side. April is portrayed in the song, going through childhood, always comforted and reassured by her father's spirit, until, when she marries, she chooses to walk down the aisle seemingly by herself, but she knows that her father remains beside her, "à son côté ayou il avait toujours resté." The liner notes include the words in French with an English translation and explain the background of the song in more detail.

The CD includes two other original songs, the title track, "Bayou Groove," which is an original instrumental, and "C'est trop tard," by Kevin and Ashley Hayes, a nice interpretation of a familiar theme: Kevin recounts his sorrow over being abandoned by the woman he loved, and Ashley then responds by admitting she should never have left, for now her heart is broken. Ashley, who formerly was with La Bande Feufollet, also sings Adam Hebert's "Ouvre cette porte," Iry LeJeune's "The Calcasieu Waltz," and "La Chanson de Mardi Gras" (which opens with a brief snippet of the old Creole Mardi Gras chant).

Kevin handles the vocals on Dewey Balfa's "My True Love," "La Valse de Grand Bois" (with nice harmony vocals by Ashley), and "T'es petite et t'es mignonne" (with harmony by Jamey Bearb on this and several other songs), "Belle musique de la Louisiane" (to the tune of "Les veuves de la coulée"), Belton Richard's "Juste un rêve," "Allons à Lafayette," and "The Lafayette Waltz." Other instrumental numbers on the CD include "Church Point Breakdown" and "Scott Playboy Special."

Other band members on the CD are Louis Dronet on fiddle; Chevy Foreman on bass and some of the harmony vocals; Dwayne Lavergne on drums. They are pictured in the wide shot below, along with Randall Foreman on steel guitar, who is one of the guest musicians on the CD.

The photos were taken at Le Festival de la Viande Boucanée" in Ville Platte June 28, 2003.

---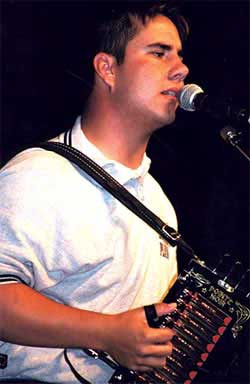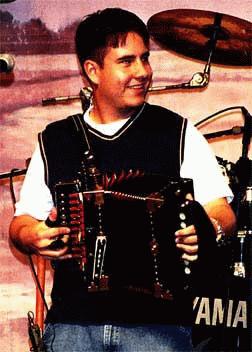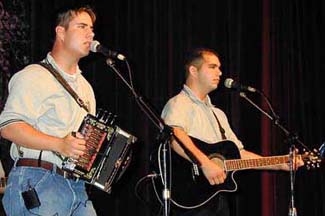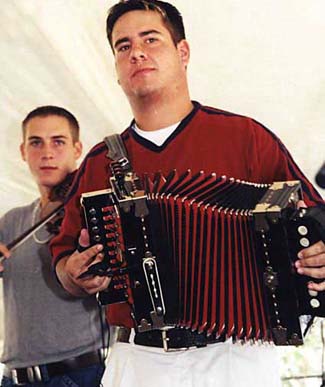 The first three photos above were taken during a performance at the Liberty Theater in Eunice in December 1999. Kevin Naquin is shown with John Gary in the third photo. The photo immediately above, showing Kevin Naquin with Louis Dronet, was taken during Festivals Acadiens in Lafayette in September 1999. Dronet was nominated for the Cajun French Music Association's 2000 Fiddler of the Year Award.
Click here to go to the Official Site of Kevin Naquin and the Ossun Playboys.
Click here for pictures taken in 2001 and information on the band's second CD, Au coup d'éclair.
Kevin Naquin began his musical education at a very early age. When he was three or four years old, his babysitter was the wife of the legendary accordion player Don Montoucet, who, when he was present, would play the accordion while young Kevin sat on his lap. Naquin learned to play using a Horner accordion that belonged to his great grandfather, Hadley Fontenot. His other great grandfather was fiddler Edius Naquin.
Only 20 years old when his third recording, Pour la première fois, was released by Swallow Records in 1999, Naquin is now an assured, accomplished musician who plays his own versions of traditional Cajun song but also writes new songs in collaboration with Jean Arceneaux (pen name of Barry Jean Ancelet), as well as new instrumentals like "Ossun Playboy Special."
Naquin and his band dominated the 2000 and 2002 Le Cajun Awards given by the Cajun French Music Association (click here for information on the 2002 awards). Kevin Naquin and the Ossun Playboys were named Band of the Year, Pour la première fois was named Album of the Year, and the song "Je suis en amour avec la femme que j'ai marié," co-written by Kevin Naquin and Barry Jean Ancelet, won the Song of the Year Award. Naquin is the lead vocalist for the song with John Gary doing harmony vocals. Naquin also walked away with the Male Vocalist of the Year Award and the Accordionist of the Year Award.
The album Pour la première fois provides a nice mixture of old and new material (16 cuts in all). Among the songs from the Cajun repertoire are Will Bolfa's "Mon vieux wagon," Iry LeJeune's "Evangeline Special," D.L. Menard's "She Didn't Know I Was Married," Aldus Roger's "Triangle Club Special," and "J'ai été au bal."
Instead of love gone wrong described in many Cajun songs, "Je suis en amour avec la femme que j'ai marié," the Le Cajun award winner, ends with the singer expressing his love for the woman he married. The title song of the album, also written by Naquin and Ancelet, is another song about love reaffirmed instead of vows broken. Ancelet's other song on the album, "Une amusement qui ma coûter," returns to a more familiar story of yielding to temptation and suffering the consequences, though in this song the man can blame no one but himself.
The album ends with the band's high energy version of "Zydeco est pas salé," introducing a steel guitar/electronic twang during part of this popular number.
In addition to the web site listed above, Naquin can be contacted at 204 Westward Ave., Scott, LA 70583; (337) 237-6353.
| | |
| --- | --- |
| | Pictured during a performance at the Liberty Theater in Eunice are Louis Dronet, fiddle; Dwayne Lavergne, drums; Kevin Naquin, accordion and vocals; John Gary, rhythm guitar, harmony and vocals; Kira Viator, triangle; Jody Viator, bass. Kira Viator, who is Jody Viator's daughter, has two CDs of her own. She was also featured on accordion during the performance. |
All photographs and text by David Simpson.
Return to the Cajun, Creole, and Zydeco Music Home Page.