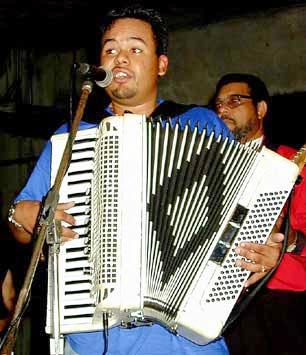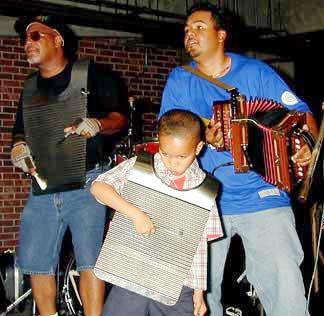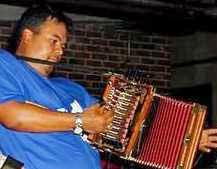 Most of the pictures on this page were taken in June 2000 during a performance at Downtown Alive in Lafayette. Because of rain, the performance had to be moved inside a parking garage, where a large crowd gather around the bandstand that was illuminated by the garage lights.
The picture immediately below was taken in 1996 during a Saturday evening performance at the Liberty Theater in Eunice.

Go to the MySpace page for Corey Arceneaux and the Zydeco Hot Peppers.
Note: In 2008, Corey Arceneaux released a new CD, 20/20.
He performs regularly at Randol's Restaurant in Lafayette.
Corey Arceneaux, a native of Lafayette, is one of the few young Zydeco musicians who has mastered both the diatonic and the piano accordion. He has played the accordion since he was 10. His musical interest was influenced by his uncle, Fernest Arceneaux, accordionist and leader of Fernest and the Thunders, a group Corey performed with for about a year.
However, the major influences on Corey Arceneaux's musical development seem to have been Nathan Williams and Buckwheat Zydeco and, of course, Clifton Chenier. Soon after learning the accordion, he was brought on stage by Buckwheat, and he also sat in with the Zydeco Cha Chas when they were rehearsing at El Sid O's in Lafayette.
According to Pat Nyhan, Brian Rollins, and David Babb in Let the Let the Good Times Roll!, Arceneaux formed his band, the Hot Peppers, in 1992. In 1994, he was chosen "Best Up and Coming Performer" in the Zydeco's People's Choice Awards. The group released their first recording, Hit and Run, in 1995.
In 1998, Arceneaux, released another album, Tell Me Why, under his HPepper Records label, primarily featuring original songs. In the album, Arceneaux offers a variety of moods and tempos, from the laid back groove of "Pepper Shuffle" and "Down and Out" to fast-stepping tunes like "Zydeco Boogaloo." His smooth accordion sound and an upbeat rhythm section blend together nicely in "Hey Little Girl," while Arceneaux sings, "Ma tit femme, allons danser."
Other band members on that CD include Joe Sylvester on drums; Russell "Sly" Dorion on guitar; Chuck Bush on bass; Shane Bernard and Jerome Senigal on scrubboard; and Russell Benoit on bass on two tracks.