Click here for high res photos of Paul Daigle and his bands on Flickr.

Click here for photos of and information about Paul Daigle and Family Gold.

Paul Daigle is pictured in September 2003 playing with Cajun Gold at Festivals Acadiens in Lafayette.
He also performs with Savoir Faire, a group which released a new CD in 2003.

In late 2003, Savoir Faire avec Paul Daigle released their second album, titled Renaissance, on the Swallow label. The liner notes explain that album is an effort "to capture the spirit of old-time Cajun music, while adding savoir faire." With Paul Daigle on accordion and Dennis Boudreaux on fiddle, this is certainly the band to carry out that goal, combining a sure knowledge of tradition with musical virtuosity. The CD opens with Marc Savoy's instrumental "Vagabond Special," followed by Adam Hebert's "Mons cable et mes épron" and "Le Moulin," Austin Pitre's "La valse d'arc en ciel," Lionel Cormier's "Chez Brunet," Phillip Alleman's "Valse amouraché," Varmon Daigle's "Della," Pee Wee Boussard's instrumental "La Lou Special," Iry LeJeune's "Duralde Waltz," plus "Madame Bozo," Queue de tortue," "Valse ennuient," "Jolie Bassette," "J'étais au bal," and Dennis Boudreaux's own "La bouteille sur la table." Boudreaux handles the vocals on that song and three others. The CD includes lyrics in French and English.

Other musicians on the CD are Walter Farr on guitar and Mark Edmonson on drums.

Dennis Boudreaux, shown at left on fiddle at the Liberty in 2003, died suddenly early Jan. 1, 2009, after Savoir Faire finished playing at a dance in Baton Rouge sponsored by the Cajun French Music Association. In his fiddle playing and in the joie de vivre that he displayed both on stage and off, he represented all that is best in Cajun music and culture. He will be sorely missed.
Click here for 2002 photos of Paul Daigle.

Paul Daigle is a member of a generation of Cajuns who growing up in the sixties and seventies recognized the beauty and passion of the music of their culture and decided they wanted to carry on a tradition that a few years earlier had seemed in danger of dying out.

Born in 1958, Daigle is a native of Point Noir near Church Point. While he was a teenager, he won accordion contests in Church Point. He teamed with Robert Elkins of Church Point, a rhthym guitarist, to form Cajun Gold, one of the premier Cajun bands from the mid-eighties until 1990. Daigle finally tired of what became a grind playing regularly in clubs while also, like most Cajun musicians, continuing his day, and the band became relatively inactive.

Today, he performs only when he wants to. When he is on stage at the Liberty Theater in Eunice, at area festivals, or at small clubs like one in Lewisburg, he clearly enjoys playing, and he continues to display the virtuosity on the accordion that led to his acclaim.For many years, Ken Smith has played fiddle with Cajun Gold, and, in a recent Liberty performance Mark Latiolais was on rhythm guitar and, along with Daigle, sang lead vocals.

Daigle has now also joined a Baton Rouge-based Cajun group, Savoir Faire. The band's first album, Savoir Faire avec Paul Daigle, was released by Swallow Records of Ville Platte in 1999. They were nominated to receive a Cajun French Music Association Le Cajun Award as Band of the Year for 1999, and Paul Daigle received a nomination as accordionist of the year. On the album, Daigle demonstrates both his technical artistry and his ability to blend in nicely with other members of the band who are dedicated to traditional music without the flash that Daigle sometimes exhibits in his Pure Gold performances. Other members of the group are Dennis Boudreaux, fiddle and vocals; Walt Farr, acoustic guitar; Mark Edmonson, drums.

The album, which was recorded at Acadiana Sounds Studio in Eunice, includes Cajun songs that are part of the standard repertoire like "The Eunice Two-Step" and Iry LeJeune's "Lacassine Special," as well as "J'suis condamner a t'aimer," a song by Pierre V. Daigle of Church Point, who wrote many of the songs for Cajun Gold like "La Lumière dans ton Chassis" and who served as the group's record producer.

Among the Cajun Gold albums released by Swallow are The Cajun Experience (1985), Cajun Gold (1986), La Lumière dans Ton Chassis (1987), Coeur Farouche (1988), Est-Ce Que Tu Pleur? (1990), and The Essential Collection (1996).

Paul Daigle can be reached at (337) 684-6789.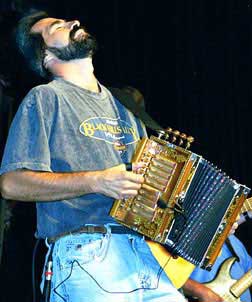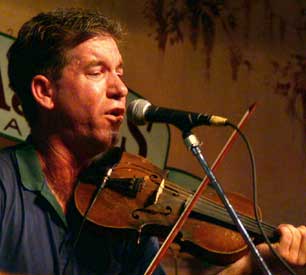 ---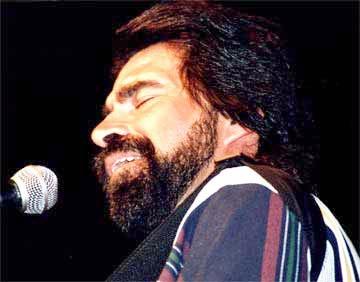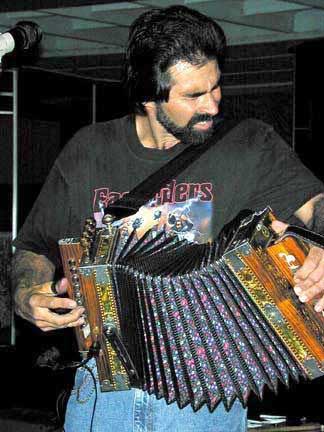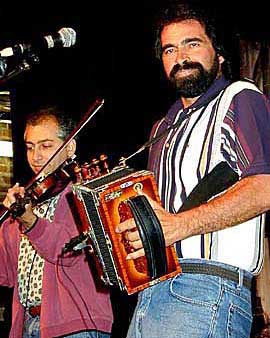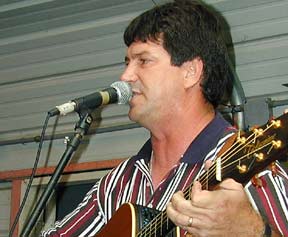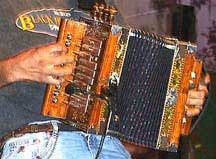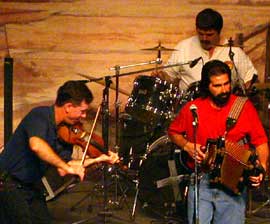 The photographs were taken in the Liberty Theater in Eunice, except for the second photo from the top, which was taken on Second Street in Eunice during the Eunice Fall Fest in November 1999. In the third photo from the top in the right column, Cajun Gold fiddler Ken Smith is shown with Paul Daigle. The next shot shows Cajun Gold guitarist and vocalist Mark Latiolais at the Cajun Music Festival in Mamou in 2001. The fiddler shown in the bottom photos in each column is Savoir Faire's Dennis Boudreaux.
The pictures at the bottom of the page depict Savoir Faire during a fall 2001 performance in The Liberty Theater and Cajun Gold.