Click here for high res photos of Bois Sec Ardoin posted on Flickr.


Alphonse "Bois Sec" Ardoin is shown at left
posing with Ching Veillon in 2004 in LSUE's
LeDoux Library. They are holding a copy of
Veillon's book, Creole Music Man: Bois Sec
Ardoin. (Ching Veillon died in 2008.)

Alphonse "Bois Sec" Ardoin,
1915-2007

The last remaining legendary figure from a small number of Creole musicians who were the first generation to record their music and define the tradition, Alphonse "Bois Sec" Ardoin died May 16, 2007, at the age of 91. Together with Canray Fontenot, his musical partner for more than 50 years, he took the music of the rural Creole people of Southwest Louisiana and brought it to a worldwide audience. Bois Sec and Canray have had a major influence on the development of both Cajun and Zydeco music (even though, when asked if he ever played Zydeco, Bois Sec gave a wry smiled and replied, "Le zydeco? Moi, je mange les haricots."). Bois Sec Ardoin's music lives on through his children and grandchildren and through the many musicians whom he helped to learn to play and the many, many more whom he inspired through his performances and recordings.

---

2004 Update:

Click here for photos of Alphonse "Bois Sec" Ardoin performing at Festival International in Lafayette April 25, 2004, with Cedric Watson and James Edwards, plus photos taken the next weekend at the Breaux Bridge Crawfish Festival.
We are truly fortunate that Alphonse "Bois Sec" Ardoin, cousin of Amédé Ardoin who played such crucial role in development of both Creole and Cajun music, is still performing to deeply appreciative audiences, whether it's near his Duralde farm or across the ocean. Born November 16, 1915, at l'Anse de Prien Noir near Bayou Duralde, he began playing music (on the triangle) with Amédé when he was a teenager. He recalls riding on a swayback horse about 10 miles to buy his first accordion from one of his cousins who lived in Soileau and then riding back carrying the accordion in a flour sack hung on his saddle horn. He soon developed a musical partnership with Canray Fontenot that lasted until the legendary fiddler's death in 1995. They played together as the Duralde Ramblers.

In 1966, Bois Sec Ardoin and Canray Fontenot were invited to Newport Folk Festival. Before returning to Louisiana, they recorded their first album (the material is available on a CD released in 1996, "La Musique Creole"). They won the National Heritage Fellowship from the National Endowment for the Arts in 1986.

In the 1970s, Ardoin also led the Ardoin Family Band (or Orchestra) that included his sons and Canray Fontenot (Ardoin and his wife, Marscline, had 14 children: one son, Gustave "Bud" Ardoin, a promising accordionist, died in a car accident in 1974, and a daughter, Hazel Guillory died in 1998; Marscline Ardoin died in September 2000). In addition, Ardoin formed a friendship with Dewey Balfa. Ardoin and Canray Fontenot were among the musicians Dewey invited to LSUE to play in the Acadian Center in April 1979. That family friendship endured after Dewey Balfa died: Christine Balfa, who has known Bois Sec since she was a small child, continued to visit him along with other members of her band. Recalling an album recorded by Bois Sec and her father in the 1970s, she proposed a new album, "Bois Sec Ardoin with Balfa Toujours." The result of that collaboration, released in 1998, is great compilation of traditional Creole songs, a number of which are also Cajun standards.

Like almost all Cajun and Creole musicians of his era, Bois Sec Ardoin has played music only as a sideline. He still lives on the same farm where he has worked most of his life. How did he get his nickname "Dry Wood'? The specifics of how he acquired that name vary somewhat in different interviews, but gist is that as a young boy "Bois Sec" had a reputation for having the good sense to stay dry by heading for shelter before getting soaked in a sudden Louisiana shower.

Click here to go to 2001 photographs of Alphonse "Bois Sec" Ardoin.

Click here to go to 2002 photographs of Alphonse "Bois Sec" Ardoin.

Click here to go to photos of Bois Sec Ardoin with Lawrence "Black" Ardoin, Morris Ardoin, and Chris Ardoin in Plaisance August 31, 2002.

Click here for photos of Bois Sec Ardoin being honored at the 2002 Mamou Cajun Music Festival.

Click here for photos taken at the 2003 Breaux Bridge Crawfish Festival.

Click here for photos at Geno Delafose's 2003 Fan Appreciation Party and at the 2003 Dewey Balfa Heritage Day.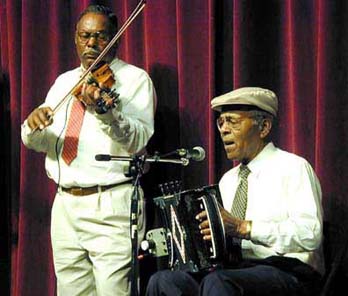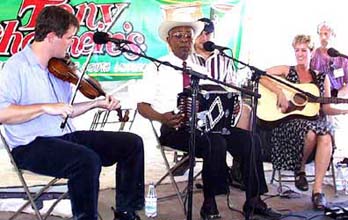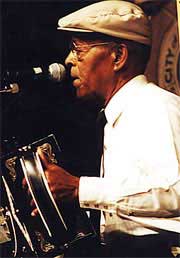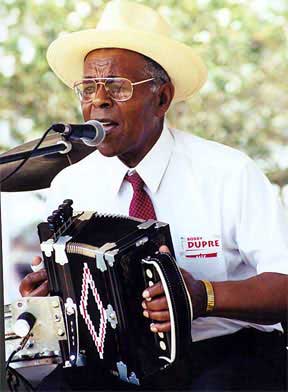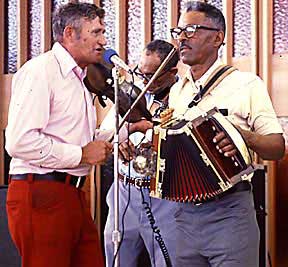 Pictured, from top to bottom, are Bois Sec Ardoin with Morris Ardoin, one of his sons, at the Liberty Theater in November 1999; with Dirk Powell and Christine Balfa at Festivals Acadiens in 1999; other performances at the Liberty; at the Church of the Annunciation in Duralde; and in 1979 in the LSUE Acadian Center with Vinesse LeJeune and Canray Fontenot (in back) during a program organized by Dewey Balfa.