In 2005, Keith Frank continues to dominate the zydeco scene in Southwest Louisiana and beyond, attracting large crowds everyone he goes.

His popularity has been enhanced even more by his 2005 CD, Going to See Keith Frank, released on his Soulwood Records label. With 20 cuts, the CD has everything that Keith's fans want: smooth, highly danceable tunes like "Keep on Trucking [Without You]," the more up-tempo funk of "Keith Frank Will Make You Sweat," the reggae rhythms of "Zydeco Gangsta," a couple of French numbers with John Delafose's "Lake Charles Two-Step" and a zydeco version of Iry LeJeune's "Evangeline Special," plus a slow drag blues with "Nine Pound Steel," and even "Flatpiken Flamenco Medley," with the most eclectic guitar sounds on any zydeco CD.

Click here for more 2005 photos.
Click here Eunice Mardi Gras photos.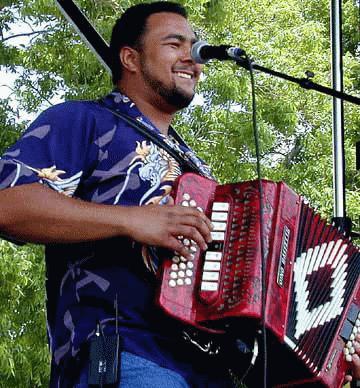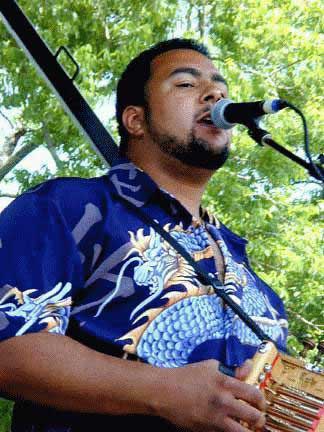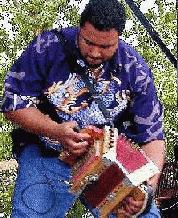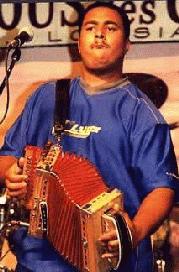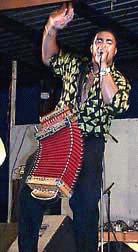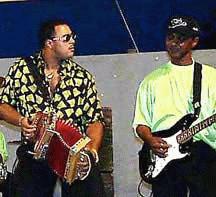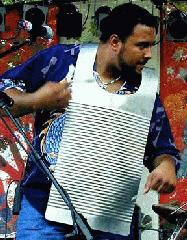 ---
In the top photographs, taken at the 2000 Breaux Bridge Crawfish Festival, a bearded Keith Frank looks quite a bit like his father, Preston Frank. The fourth photo was taken at the Liberty Theatre when Frank performed with a group he calls "Creole Connection" (including his great uncle Carlton Frank and other family members). The next two photos were taken at the 1999 Southwest Louisiana Zydeco Festival in Plaisance (a helicopter delivered Frank to the stage area). In the photo directly above, Frank plays scrubboard in Breaux Bridge, and the photo below shows the Soileau Band on the Breaux Bridge stage.
Go to Keith Frank's Official Web Site.
Click here for information on Keith Frank's 2001 CDs, including The Creole Connection.
Click here for 2003 photos and information on Keith's Zydeco Icon CD.

Keith Frank and the Soileau Zydeco Band are one of the most popular zydeco groups performing in Southwest Louisiana and East Texas today. They play typically play several times each week at clubs, trail rides, festivals, and other events. The band's name refers to the rural community of Soileau, where Frank was born in 1972.
Frank got his musical start performing drums in his family's band, led by his father, Preston Frank. According Michael Tisserand, Frank also gained experience playing guitar with JoJo Reed before switching to accordion in the family band. When he decided to form his own band, he drew both from traditional players like Boozoo Chavis and from the nouveau zydeco sound of Zydeco Force.
Frank says that he listens to many types of music, not just zydeco. Tisserand, who book The Kingdom of Zydeco offers a good account of the feud between Frank and Beau Jocque, describes the Soileau Band's sound as a combination of "double-kicking zydeco, anachronistic but pleasing classic R&B and doo-wop, and accordion-powered reggae." Frank even performed at the 2000 Lafayette Reggae and Cultural Festival.
Frank has recorded some 10 albums, beginning with a cassette, "On the Bandstand," released in 1993 by Lanor and Church Point producer Lee Lavergne, followed by recordings like "Get On Boy!" produced by Eunice's Fred Charlie, albums like "What's His Name?" (1994) and "Movin' On Up!" (1995) on the Maison de Soul label from Ville Platte, and most recently, releases under the national Shanachie label, including "Live at Slim's Y-Ki-Ki" (1999) recorded at the famous Opelousas zydeco club and featuring classic songs like "Why You Wanna Make Me Cry" and "Co Fa" along with Frank's own compositions, and the 2000 release of another Shanachie CD, "Ready or Not."
For booking information, go to Keith Frank's Official Web Site.