High res photos of BeauSoleil avec Michael Doucet posted on Flickr.

Congratulations to BeauSoleil avec Michael Doucet, who received a Grammy in the Zydeco/Cajun Category for the CD Live at the 2008 New Orleans Jazz & Heritage Festival, presented Feb. 8, 2009, in Los Angeles. This was the second year that the category has been in existence. Over the years, BeauSoleil has received 10 Grammy nominations. In 1997, the band won the first Grammy ever given to a Cajun band when the CD L'amour ou la Folie won in the Best Traditional Folk Album category. In early 2009 BeauSoleil released a new CD, Alligator Purse (photos of the CD release party at the Blue Moon are posted in the Flickr collection at the link provided above). Click here for more information on the CD.

Click here for information on Jimmy Breaux and Friends: Live at Festivals Acadiens, released in 2008.

Smithsonian Folkways releases 2008
Michael Doucet CD From Now On

From Now On, Michael Doucet's first recording on the Smithsonian Folkways label, is the product of studio sessions, but everything is laid-back and casual, the way musicians groove alone or together at home just for their own pleasure, playing whatever moves them.
Click here for more information.

---

BeauSoleil avec Michael Doucet celebrates 30 years

The top two rows of photos were taken at Festivals Acadiens in Lafayette Oct. 15, 2006, during the BeauSoleil Review, which included past members of the group like accordionists Bessyl Duhon and Errol Verret. The other photos were taken at the final Louisiana Crossroads series performance of BeauSoleil at the Liberty Theater in Eunice, Nov. 18, 2006. Shown in the bottom photo, from left, are Michael Doucet, Billy Ware, Jimmy Breaux, David Doucet, Tommy Alesi, and Mitch Reed. Click on thumbnails to access larger photos.

2006 was the the 30th anniversary year of BeauSoleil avec Michael Doucet. Probably the most musically adventurous of all Cajun bands, BeauSoleil has drawn on, or Cajunized, many musical traditions, but they remain fundamentally Cajun to the core. As the liner notes to their 2006 CD demonstrate, the band's list of "influences and masters they've worked directly with reads like an encyclopedia of Cajun cultural history" and also includes legendary Creole musicians.

BeauSoleil began their fourth decade Live in Louisiana, the title of a CD recorded at the Louisiana Crossroads series performances in New Iberia and Lafayette in early January 2006. The CD presents the best of BeauSoleil: original compositions by Michael Doucet, including "Chanson d'Acadie," "Bunk's Blues" (a tribute to the trumpeter Bunk Johnson), "Conja [New Orleans 1786]," "Newz Reel," "Quelle Belle Vie," and "L'Ouragon" (about an 1893 hurricane that washed away Chenière Caminada). Also featured are BeauSoleil's versions of "Flammes d'enfer," "Ti Monde," "Bye Bye Boozoo," "Freeman's Zydeco" (Michael Doucet's lyrics set to music by Freeman Fontenot), and two Dennis McGee reels, "Tasso/One-Step de McGee'."

For more information about the CD, go to www.waydowninlouisiana.com.

Posted 12-21-06

---

Michael Doucet and BeauSoleil in 2005

In 2005, Michael Doucet, is one of twelve artists who have been awarded the prestigious National Heritage Fellowship by The National Endowment for the Arts. Beausoleil's 2004 CD Gitane Cajun was nominated for a Grammy in the Best Traditional Folk Album--the group's 10th Grammy nomination (BeauSoleil won in 1997). Click here for more photos from the group's appearance in downtown Baton Rouge in May 2005.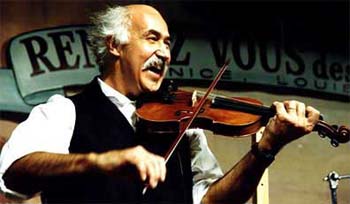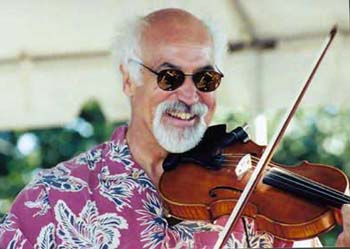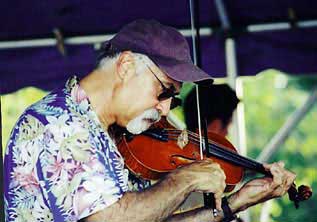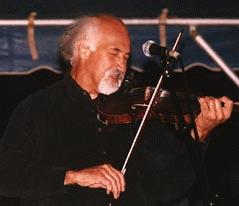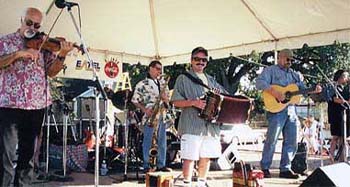 Michael Doucet is pictured, top, performing at the Liberty Theater during a special tribute to Amédé Ardoin and Dennis McGee, and playing at Downtown Alive in Lafayette in 1999. The next two shots were both taken during performances in Eunice by the Savoy-Doucet Band: Michael Doucet performs with Marc and Ann Savoy on several albums and in concerts around the nation. The bottom picture is from the 1999 performance at Downtown Alive.
Michael Doucet and BeauSoleil have deservedly gained international renown for their inspired interpretation of traditional Cajun music and their innovation in "Cajunizing" other musical styles--jazz, Caribbean, or even Tex-Mex. Doucet began playing in a folk rock band with his cousin, Zachary Richard, when they were about 12. Growing up in Scott near Lafayette at a time when the Cajun renaissance was just beginning, Doucet did not fully appreciate the rich musical heritage of his native region until he visited France, where he discovered that French bands were performing traditional Cajun music. On his return to Louisiana, he sought out musicians like Dewey Balfa, Canray Fontenot, and Dennis McGee. Doucet originally planned to attend graduate school in New Mexico to study English Romantic poetry, but, as he told Barry Ancelet in Cajun and Creole Music Makers, "J'ai barguiné Blake pour Balfa et je suis rentré plutôt chez nous." [However, Doucet has recorded music to accompany Blake's Songs of Innocence and Experience on Red House Records.] Through his close friendship with McGee, who died in 1989 at age 96, Doucet learned about traditional Cajun music extending back before the introduction of the accordion and including music produced through the collaboration between McGee and Amédé Ardoin.

Doucet was a member of Coteau, a mid-seventies band that combined Cajun and rock styles, but at the same time he was performing with friends who came together to form BeauSoleil. The band's name BeauSoleil comes from a nickname for Joseph Broussard, one of the heroes in the Acadian resistance against the English in Acadie who later joined the Acadians in Louisiana. The nickname is said to describe Broussard's smile, which was bright as the sun.

BeauSoleil's debut album, "The Spirit of Cajun Music," was released in 1977. The band has recorded regularly ever since. "L'Amour ou Folie" won the Grammy award as the best traditional folk album for 1998. BeauSoleil has received seven other Grammy nominations, including a contemporary folk nomination for their 1999 CD, "Cajunization," in which they continue to explore varied musical styles while also offering interpretations of traditional Cajun songs. Their 2001 CD, "Looking Back Tomorrow," released during the 25th anniversary of the group, was recorded live at Wolf Trap in Vienna, Va., where BeauSoleil performed for first time at a major national venue. The CD, which has received a 2001 Grammy nomination in the Best Traditional Folk category, reprises some favorites like "Travaillier c'est trop dur," "J'ai été au bal," "Grand Mamou," "Pa Janvier" and "Parlez-nous à boire," but also introduces new songs, including one song in which Amédé Ardoin sums up his music and his life and another song in which Doucet describes his own recollections of fiddler Varise Connor. The other 2001 CD is Best of the Crawfish Years, 1985-1991, with 17 classic BeauSoleil cuts from Rounder Records.

BeauSoleil has more than 20 recordings, among them "L'Echo" (1994), "La Danse de la Vie" (1993), "Bayou Deluxe" (1993: a "best of" album), "Cajun Conja" (1991), "Deja Vu" (1990), and "Live! From the Left Coast" (1989). Doucet has a number of other recordings, including several with the Savoy-Doucet Band.

In one interview, Doucet gave explanation of the evolution of Cajun music as played by BeauSoleil: "Cajun music is wrapped up in emotion. Maybe some of the emotions, the more modern emotions, aren't adequately covered by the old songs. So that's what we try to do through our new compositions. In many ways we're the same individuals our ancestors were 300 years ago, but the times around us have changed. If the music captures where we are now, it just adds to the preservation of Cajun music."

Click here for more pictures of Michael Doucet and BeauSoleil.

Click here for more information from Doucet's booking agent.