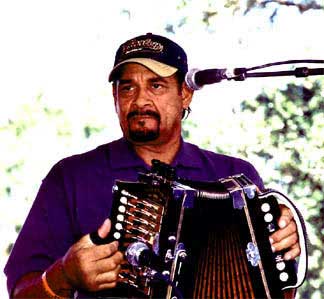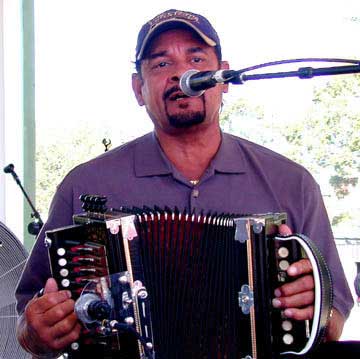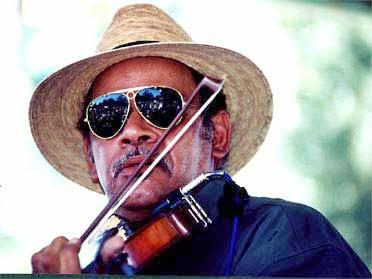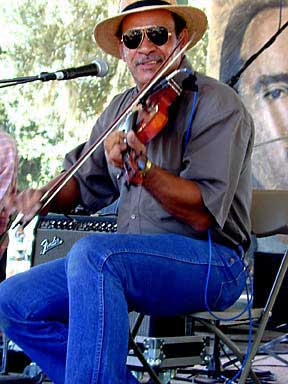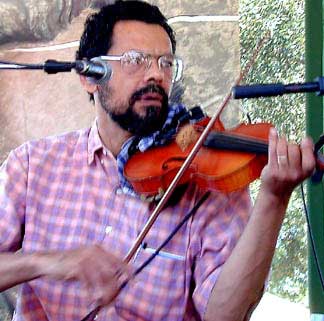 Only a few weeks after the release in Spring 2001 of the CD Poullard, Poullard & Garnier, Danny Poullard died. He was a native of Richie, a rural settlement located just a few miles south of LSUE, but he spent his adult life in California, where he learned to play the accordion and was a leader in bringing Creole and Cajun music to the West Coast.

The music on the CD, primarily songs either composed or performed by the legendary Creole fiddler Canray Fontenot, is a significant contribution toward perpetuating one of the most important legacies in Louisiana French music. For listeners who know that Danny Poullard passed away so soon after the album's release, there may also be an elegiac echo in the music: will other, younger musicians emerge who can keep alive this soulful, gentle, captivating sound that originated in the homes of French-speaking Creoles before the arrival of electricity?

On the CD, Danny Poullard's smooth accordion style blends sweetly with the fiddle playing of his brother Ed Poullard, whose vocals are very much reminiscent of Canray Fontenot's, direct, natural expressions of basic emotions. D'Jalma Garnier plays guitar on ten numbers and picks up his fiddle for some twin fiddling with Poullard on four songs.

The majority of the songs are instrumentals: "La danse de la misère," "La valse d'Oberlin," "Wandering Aces Special," "Port Arthur Blues," "Midland Two Step," "La valse de quartre-vingt-dix-neuf ans," "Fifi Poncho," "Rosina," "Salty Dog," "Home Sweet Home."

Ed Poullard provides vocals on "Jolie Bassette," "Bee de la Manche," "Les barres de la prison," and "Two Step de Grand Mallet."

The CD seven studio tracks, but the others were recorded live at Chez Boutte near Arnaudville and at Vermilionville in Lafayette.

Liner notes were written by Barry Ancelet. The CD was released by LouisianaRadio.Com, P. O. Box 3232, Lafayette, LA 70502; phone 337-291-2666.
---
The pictures on this page were all taken during a performance at Festivals Acadiens in Lafayette during September 2000.
Danny Poullard, shown on accordion, had a history of heart problems that led up to his fatal heart attack while at home in Fairfield, Calif., at the age of 63 on April 27, 2001. His family had moved from Richie to Beaumont, Texas, when he was 13, and eventually he settled in California after he completed military service. His father, John Poullard, played the accordion, but Danny did not take up the instrument until he began playing with Cajun accordionist John Simeon and his San Francisco Bay Area band, the Opelousas Playboys. Eventually, Danny Poullard got together with Suzy and Eric Thompson to form the California Cajun Orchestra, which recorded albums for Arhoolie, including Not Lonesome Anymore (1991) and Nonc Adam Two Step (1995).
Ed Poullard, who lives in Beaumont, has performed with Lawrence Ardoin's Tradition Creole band, but he also plays Cajun fiddle, as he did, for example, at the Liberty Theater with accordionist and fellow Texan Bubba Brown. At a workshop held during the Southwest Louisiana Zydeco Festival in 1999, Poullard explained that he used to play accordion but switched to fiddle after an injury. In 2002, his live performance with Jesse Legé at the Iselton Crawdad Festival in California was released on CD by Arhoolie Records. He recorded a CD, Les Amis Creoles, with Cedric Watson and James Adams in 2006 released by Arhoolie Records. (The group has a web page and a MySpace page.)
D'Jalma Garnier, who is pictured playing both fiddle and guitar, also has moved back and forth between Cajun and Creole music as fiddler with the group Filé, which disbanded at the end of 2002.
All members of the trio performed with Canray Fontenot. The Poullard brothers are heard performing with him in Long Beach, Calif., on Canray's CD Louisiana Hot Sauce, released by Arhoolie in 1992. Garnier studied with Fontenot in 1993, and Fontenot toured with Filé in Europe shortly before his death.
As Barry Ancelet writes in his liner notes, Poullard, Poullard, and Garnier were inspired by both the Creole and Cajun traditions: "Their music is a seamless blend of Louisiana French influences."
For more information on Danny Poullard and Creole music in California, see Mark F. DeWitt, Cajun and Zydeco Dance Music in Northern California: Modern Pleasures in a Postmodern World (Jackson: University Press of Mississippi, 2008) and Blair Kilpatrick, Accordion Dreams: A Journey into Cajun and Creole Music (Jackson: University Press of Mississippi, 2009).