High resolution photos of the Red Stick Ramblers are now posted on Flickr.

The Red Stick Ramblers released their fourth CD, My Suitcase Is Always Packed, on May 19, 2009. Click here for a short review of the CD, which features mostly original songs.

Scroll down the page for more information on the Red Stick Ramblers or check out their official web site, which includes a great music video of "Made in the Shade." Or go to the band's MySpace page, which includes a link to the video on YouTube.

New CD, Made in the Shade, and new EP released on Sugar Hill Records. Another Sugar Hill CD is in the works. In other news, Linzay Young has been nominated for the 2009 Best of the Beat Award in the fiddle category, sponsored by offBeat Magazine.

The Red Stick Ramblers are shown early Sunday morning, Nov. 12, 2006, at the first annual Blackpot Festival and Cookoff. With the help of many friends and volunteers, the Red Stick Ramblers organized a very successful festival featuring Cajun, Creole, and other roots music. Check out the link to the Blackpot Festival for details about the annual festival.
Photos from Downtown Alive in Lafayette, Oct. 20, 2006
(click on thumbnails for larger photos)
Photos from Festival International in Lafayette, April 29, 2006
2005 Update: Ramblers' Third CD Released
Be sure to go to the Red Stick Ramblers' Official Web Site
for the latest news from the band.


Shown in the top photos from left are Chas Justus, Kevin Wimmer, Glenn Fields, Linzay Young, and Eric Frey performing before a large crowd at Festival International in Lafayette April 23, 2005. The photo immediately above, taken November 24, 2004, at the Liberty Theater in Eunice, shows the same musicians and Wilson Savoy at far right on keyboard. Savoy plays piano on seven cuts on the group's 2005 CD.

The top photos shows Linzay Young, followed by a photo of Young with Kevin Wimmer making the fiddle strings do double-duty with fiddle sticks, a technique Wimmer learned from Dewey Balfa. Chas Justus is shown immediately above.

Posted 7-9-05

The Red Stick Ramblers released their third CD, Right Key, Wrong Keyhole, in late April 2005, once again on the Memphis International label. During summer 2004, fiddler Kevin Wimmer joined the group. A long-time member of Balfa Toujours, Wimmer has recorded numerous CDs displaying his mastery of a wide variety of musical styles, so he was immediately at home with the Ramblers' diverse mix and blend of tunes from different traditions. Right Key, Wrong Keyhole gives us more authentic Cajun gypsy swing, with a generous helping of blues.

The band's rendition of Clifton Chenier's "It's Hard to Love Someone" offers Linzay Young's smooth vocals rolling along with guitar, fiddle, piano, bass, and drums that flow sweetly with joy moving past sorrow into a river of zydeco blues.

The instrumental interplay between Chas Justus and Kevin Wimmer and the other band members on numbers like "Sweet and Slow" is one of the many other pleasures listeners will enjoy on this CD.

The title cut, "You've Got the Right Key, But the Wrong Keyhole," recovered from decades ago and now brought back to life, is brimming with the youthful energy that inspired Eddie Green when he wrote the song in 1923 and it was recorded by Virginia Liston and the Clarence Williams Blues Five, with Louis Armstrong and Sidney Bechet in 1924.

Several other numbers, like "The Devil with the Devil," originally recorded by Larry Clinton and His Orchestra in the late 1930s, are also obscure gems that have been waiting for a group like the Red Stick Ramblers to find them a new audience in the 21st century.

"That's What I Like About the South," the most familiar song on the CD, done in the swing style of Bob Wills (rather than the later Phil Harris version), features more of the band's perfect blend of vocals and instrumentation.

The CD also includes several original songs. "It's Too Late" is a country blues number by Chas Justus. Justus and Young collaborated to compose "Closing Time Blues." Visitors to LSUE's Cajun web site will be especially pleased by Young's original French song, "La Valse de Chaoui" ("The Raccoon Waltz"), with lyrics that celebrate drinking and friendship, taking life as it comes, raccoons and all. The liner notes include French and English words to the song.

The CD's other French cut, the Cajun classic "Grand Texas," features Terry Huval on pedal steel guitar. Huval, leader of the Jambalaya Cajun Band, also plays on "Closing Time Blues." Wilson Savoy plays piano on most of the cuts. Dirk Powell, who recorded and mixed the CD at his Cypress House Studios, performs on the piano on two numbers.

Click here for more photos from 2004-2005.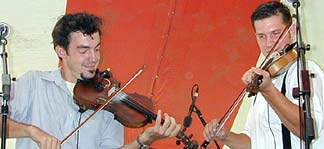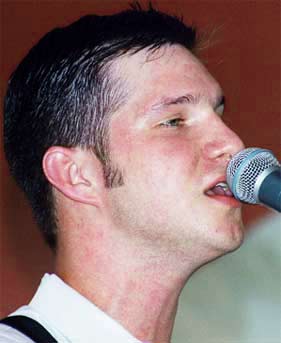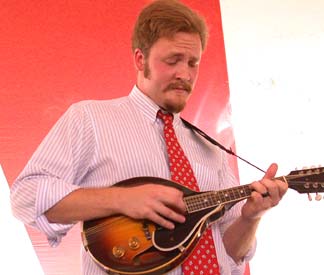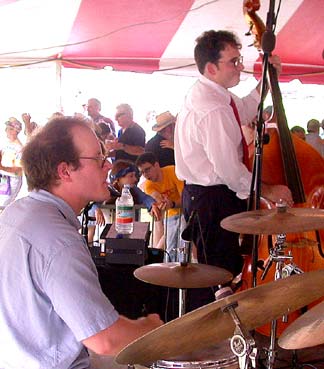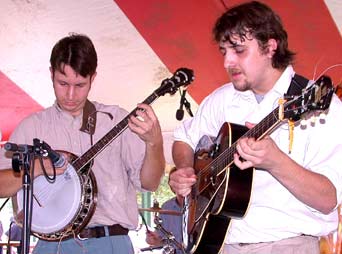 The Red Stick Ramblers are pictured above during a performance at Festival de Musique Acadienne on Sept. 15, 2001, during Festivals Acadiens in Lafayette. In the top photo, Joel Savoy, left, and Linzay Young are shown on twin fiddles. Young, the group's lead vocalist, is shown in the next photo. Josh Caffery is shown playing the mandolin. Glen Fields is on drums, and Ricky Rees is playing the upright bass. In the picture immediately above, Chas Justus is shown at right playing guitar with guest musician Richard Burgess on banjo.
---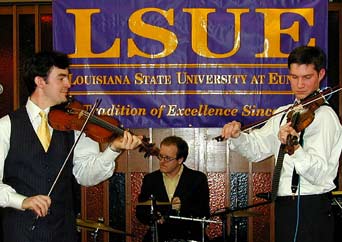 The Red Stick Ramblers performed in November 2000 in the LSUE Acadian Center at a benefit to raise money for the LSUE intercollegiate athletic program. Joel Savoy is shown at left, and Linzay young is at right. The drummer is Glenn Fields. Fields is not visible in the other photo from the LSUE performance at the bottom of this page. The other members of the band, from left, are Chas Justus, Joel Savoy, Ricky Rees, Linzay Young, and Josh Caffery.
Go to the official web site of The Red Stick Ramblers for a history of the band, profiles of each member, a performance calendar, sound clips, and more information on the group's first CD.
Click here for photos taken at the 2002 Breaux Bridge Crawfish Festival and at Festivals Acadiens.
The Red Stick Ramblers received offBeat Magazine's Award as the Best Emerging Cajun Band for 2002.
The Red Stick Ramblers have quickly established themselves as one of the most unique, innovative bands performing in Louisiana. They are certainly Cajun enough to be included in LSUE's collection of Cajun-oriented web pages, but their music has roots going in all directions, producing what the band calls "authentic Cajun gypsy swing."
In his liner notes to the group's first CD, virtuoso Cajun fiddler Michael Doucet refers to The Red Stick Ramblers as "cultural bohemians" who have traveled through many different musical regions. The influences they mention in an LSU student newspaper interview are eclectic, ranging from the "Western and gypsy swing of Bob Wills and Django Reinhardt to the Cajun and bluegrass of Dennis McGee and Doc Watson."
The band's two fiddlers are both Cajuns from Eunice who are in their early twenties and are students at LSU. Joel Savoy, son of the renowned Cajun musicians Marc and Ann Savoy, and Linzay Young, who is also the band's lead vocalist, have been playing together for years, including membership in Les Jeunes Gens de la Prairie, a teenage Cajun band. In its January 9, 2002, issue, the Lafayette weekly Times of Acadiana named them to its 2002 list of "Faces to Watch." Michael Doucet says that they "play like brothers. This is harmony. This is real music." Young's vocals, like everything else the band does, are smooth and natural. These are musicians who really enjoy playing together.
Though many of the songs The Red Stick Ramblers perform date back decades, everything about the music is stimulating and fresh, and, of course, many younger listeners have never heard this kind of music before. When a band can appear before a cheering college crowd at the Varsity Theater in Baton Rouge and also evoke strong praise from members of the Eunice Rotary Club, something extraordinary is happening.
Other members of the band are Josh Caffery, whose mandolin really sparkles on numbers on the CD like "Nagasaki"; Glen Fields, a veteran drummer who has also played with groups like the Savoy-Doucet Band and the Bluerunners; Chas Justus on guitar, a full-time musician who especially admires Django Reinhardt's guitar style; and Ricky "Railroad" Rees on bass, an English instructor at Southern University whose musical experience ranges from blues to zydeco to Cajun to rockabilly and beyond.
The CD, released in late January 2002, has 12 cuts. In "I've Been Alone Before," an original song by Josh Caffery, the easy-going but poignant lyrics swing along with the music, the kind of perfect blending that makes the swing sound so appealing. The pace of "Alabama Jubilee" is much faster, but the song rolls along, with each musician finding room to express himself while they all blend together.
"Tchavalo Swing," by gypsy jazz guitarist Dorado Schmitt, gives the band members a chance to display their instrumental virtuosity. They also perform "Tears" by Django Reinhardt and Stephane Grappelli.
As a Cajun singer, Linzay Young captures the beauty and the intensity of "Valse de Balfa." Joel Savoy on lead fiddle and Young bring their own twin-fiddling style to a couple of classic Dennis McGee tunes, "Danse Carrée" and "One Step de McGee," with the entire band joining in. But the most beautiful selection may be "Grand Tasso," a traditional song with additional lyrics by Savoy and Young. The song is dedicated to Linzay's paternal grandfather, Gil Young, who grew up in the rural community near Eunice known as Tasso and who subsequently has contributed in many ways to the development and preservation of Cajun music, including leadership in the establishment of the Cajun Music Hall of Fame and Museum in Eunice. The melody of "Grand Tasso," carried by fiddles and by Linzay's voice, is simple but haunting, conveying the deep emotions that make Cajun music so powerful.
The CD was produced by Tony Daigle and released by Louisiana Radio Records.
As the photos at the bottom of this page demonstrate, we at LSUE were fortunate enough to get to host The Red Stick Ramblers in one of their first appearances in Acadiana. The Ramblers, who were already popular in Baton Rouge, soon began performing at major Acadiana venues like Grant Street Dance Hall and Whiskey River Landing. They have also performed at the region's two major festivals, Festival International de Louisiane and Festivals Acadiens, both held in Lafayette, as well as at Bonne Fête, a festival in Baton Rouge. In 2002, they are already booked to return to Festival International, and they will be on stage at one of the nation's premier music events, the New Orleans Jazz and Heritage Festival. They have also been performing at weddings and other private functions.