When John Broussard and Melvin Ceasar, the long-time hosts of the Saturday morning "Zydeco Est Pas Salé" program on KRVS Radio Acadie, decided that old-style zydeco players were not getting the recognition they deserved, they decided to invite them to a special video taping session where they could not only perform but also talk about their experiences playing zydeco and Creole music. Acadiana Open Channel, the public access channel in Lafayette, agreed to tape the session, and Slim Gradney let the musicians use his legendary Slim's Y-Ki-Ki zydeco club in Opelousas.

.The result was a truly extraordinary evening of music. The session was held 4-8 p.m. Saturday, December 23, 2000.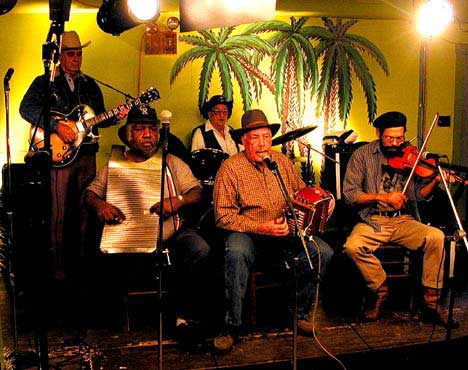 Goldman Thibodeaux is pictured above on accordion on the stage at Slim's Y-Ki-Ki Club. Thibodeaux recently recorded an album of Creole music with Calvin Carrière on fiddle. Carrière was unable to be present for the session at the club, so D'Jalma Garnier, who plays fiddle with the band Filé, sat in for him. Jimmy Latiolais on guitar and Russell DeVille on drums, shown above, played on the recording.
Early in the session, in between numbers by Creole musician Goldman Thibodeaux, John Broussard and Melvin Ceasar got the musicians to talk about themselves and their music, and they also got a group of accordionists to play together, a line a legendary zydeco musicians stretching in front of the stage. Then, individual band leaders took their turn performing.

Because Acadiana Open Channel was taping the session (using three video cameras), almost all of the still shots on these web pages were taken without flash using a digital camera with an ASA equivalent-rating for daylight photography. As a result, many of the photographs were converted to black and white so that they could be digitally lightened without producing distorted colors.


Additional pages provide more pictures of some of the musicians who performed: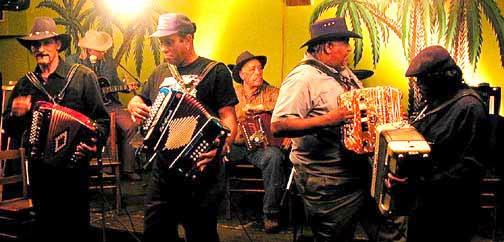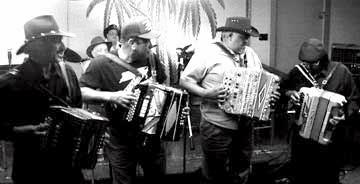 Pictured from left are Zydeco Joe Mouton, Fernest Arceneaux, Roy Carrier, and Murphy Richard. Sitting behind them holding his accordion is Goldman Thibodeaux.
All photographs and text by David Simpson.