General Tourism Information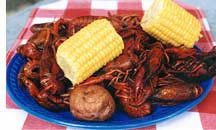 A Plate of Louisiana Crawfish
Acadiana is a popular tourism destination for tens of thousands of visitors who want to sample the region's unique culture or who enjoy hunting and fishing. These pages do not list motels, bed and breakfast inns, or restaurants. For information on these facilities, contact the chambers of commerce or tourism agencies listed in these pages. The weather is generally hot from mid-May through September, punctuated during most summers by frequent cooling showers. From late November through February, cold spells can occasionally bring temperatures below freezing, but typical winter weather is mild. Spring and fall offer many days of pleasant weather.
General Economic Development Information
As of early 2009, Louisiana's economy is faring better than in most other parts of the country. Though the immediate future is uncertain in the face of worldwide recession, the long-term prospects remain bright. New major natural gas discoveries in Northwest Louisiana will contribute to the state's economic growth, and, when petroleum prices recover, Louisiana will benefit from its long-term leadership in activities related to exploration and production. As the state continues to rebound from effects of hurricanes, emphasis remains on economic diversification and on fostering business development.
Louisiana workers have a proven record of productivity and dependability in industries as diverse and demanding as aerospace, automobile manufacturing, shipbuilding, and petrochemicals. The state is committed to providing educational opportunities to match workforce needs.
For more information, go to the Louisiana Department of Economic Development site.
Updated March 2009.
These pages were established and maintained by David Simpson, who retired from LSUE in 2009.